2023 Dynasty Rookie Mock Draft #1
Making rookie rankings is cool and all. But what's the point?
The draft, of course.
That's why we pulled together six members of the Draft Sharks staff for our first (of many) 2023 dynasty rookie mock draft.
You can see how many of the guys stuck to their previously posted rookie rankings -- and who might have strayed.
You won't be surprised by who went first. But nothing is obvious from 1.02 on ...
Dynasty Rookie Mock Draft -- Round 1
1.01 -- Alex Korff: Bijan Robinson, RB, Texas
Alex's analysis: Why are you bothering to read this? Bijan is a stud prospect who is likely to land in a great situation after being drafted in the first round.
Every rookie draft starts at 1.02 this year. Those with the 1.01 won the "Bijan lottery." The rest of this mock draft should be more interesting!
Check out our full breakdown of Bijan Robinson's dynasty value.
1.02 -- Matt Schauf: Quentin Johnston, WR, TCU
Matt's analysis: Guess I'll start the draft now, then.
If you prefer JSN, fine. If you'd rather take Gibbs, fine. I believe Johnston brings the highest ceiling among this WR class -- and the downside risk might be overstated because of past TCU busts (re: Jalen Reagor, Josh Doctson).
Why WR over RB? I expect the WR upside to drop off more than it will at RB by this slot in Round 2.
Check out our full breakdown of Quentin Johnston's dynasty value.
1.03 -- Kevin English: Jaxon Smith-Njigba, WR, Ohio State
Kevin's analysis: Hamstring trouble cost Smith-Njigba most of last season, but I'm swayed more by his 2021.
That year, he outproduced Garrett Wilson and Chris Olave by a wide margin. JSN looks like a top-20 draft pick and a potential WR2 as soon as 2024.
Check out our full breakdown of Jaxon Smith-Njigba's dynasty value.
1.04 -- C.H. Herms: Jahmyr Gibbs, RB, Alabama
Herms' analysis: Gibbs at 1.04 is an excellent value. He brings a ton of upside in half or full-PPR scoring, and could be justified as high as the 1.02.

Jordan Addison is also worthy of consideration in this spot, but whether you go RB or WR here, you're ending a tier.
Check out our full breakdown of Jahmyr Gibbs' dynasty value.
1.05 -- Jared Smola: Jordan Addison, WR, USC
Jared's analysis: Addison is an easy pick for me here, with a tier drop after the top 5.
Addison's 173-pound frame is a slight concern and figures to push him into the slot for the majority of his NFL snaps. But he checks the analytical boxes as an early breakout and early declare. And I don't expect him to have trouble creating separation against NFL DBs.
Maybe there isn't WR1 upside here, but Addison should supply a whole bunch of WR2-level seasons.
Check out our full breakdown of Jordan Addison's dynasty value.
1.06 -- Luke Sawhook: Zach Charbonnet, RB, UCLA
Luke's analysis: This pick was tough. I believe that there's a pretty substantial tier break here, so I took the top RB available.

The UCLA back has the potential to become a dynamic between-the-tackles runner in a Nick Chubb-like role. He's a powerful, yet agile runner with a nice build and capable hands.
I think Charbonnet has the talent to be a top 20 RB in his rookie season, depending on landing spot. Rookie mock drafts like this are great for finding those tier breaks and helping look for places to trade up or down.
Check out our full breakdown of Zach Charbonnet's dynasty value.
1.07 -- Alex: Jalin Hyatt, WR, Tennessee
Alex's analysis: Hyatt is the WR1 in my rookie prospect model, and his profile checked all the boxes. He scored as one of the most athletic WRs at the combine, he hit a lot of the production metrics in college, and he had top 5 film scores for the WR prospects.
I expect I will end up with a lot of Hyatt unless he falls on NFL draft day.
Check out our full breakdown of Jalin Hyatt's dynasty value.
1.08 -- Herms: Devon Achane, RB, Texas A&M
Herms' analysis: Yes, Achane is short and he weighs less than 200 pounds. But with his blazing speed (4.32-second 40-yard time), receiving skills, and elusiveness, he'll be a dangerous offensive weapon if deployed properly.

The 1.08 selection is a touch on the aspirational side, but I think there's a more-than-decent chance this ages well.
Check out our full breakdown of Devon Achane's dynasty value.
1.09 -- Jared: Zay Flowers, WR, Boston College
Jared's analysis: Flowers is a similar archetype to Jordan Addison: small but explosive. He gets dinged a bit for staying in school four years, but he broke out as a sophomore and posted strong market shares in his final two seasons.
Like Addison, Flowers has the potential to be a perennial WR2-type for dynasty squads.
Check out our full breakdown of Zay Flowers' dynasty value.
1.10 -- Kevin: Josh Downs, WR, North Carolina
Kevin's analysis: Yeah, he's small … but have you seen the guy play?
A dynamic slot, Downs is also one of the most productive WRs in the country over the past two seasons (195-2,364-19).

I anticipate Round 2 draft capital, with the Chargers or Bills as dream landing spots.
Check out our full breakdown of Josh Downs' dynasty value.
1.11 -- Luke: Tyjae Spears, RB, Tulane
Luke's analysis: I'm very happy that Spears was still on the board for me here. He has top-notch burst in the open field, and I am absolutely in love with his film.

If he receives Day 2 draft capital, Spears could have a very impactful rookie year in fantasy football.
Check out our full breakdown of Tyjae Spears' dynasty value.
1.12 -- Matt: Dalton Kincaid, TE, Utah
Matt's analysis: Early for a TE? Maybe. But Kincaid earned the fifth-best score of all offensive players in the Draft Sharks Rookie Model.

He delivered strong receiving production across two stops, broke out early, and looks the part athletically. I'm betting on him being the best of this studly TE class.
Check out our full breakdown of Dalton Kincaid's dynasty value.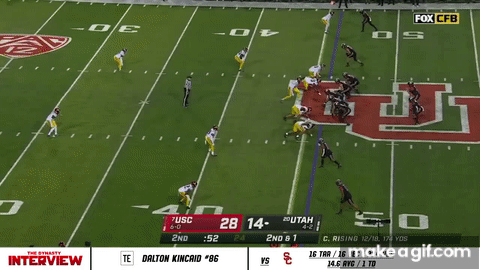 Dynasty Rookie Mock Draft -- Round 2
2.01 -- Alex: Bryce Young, QB, Alabama
Alex's analysis: Bryce Young (or any of the Tier 1 QB options) at the top of the second round in this rookie mock draft feels like a steal! Even in a 1-QB format, it is great to get a top prospect that can lock down your QB position for an extended period.
The NFL draft could easily make this pick want to shift from Young to C.J. Stroud or Anthony Richardson if they get better capital or end up in a better position. It felt like the right time to shift away from the RBs and WRs, though.
Check out our full breakdown of Bryce Young's dynasty value.
2.02 -- Matt: Rashee Rice, WR, SMU
Matt's analysis: At the risk of getting banned from dynasty Twitter, I'll take a four-year WR.
Rice had a fine breakout age, going 48-683-5 as a 20-year-old sophomore. He dominated SMU's pass offense as a senior. Rice then delivered an above-average speed score and high-level Relative Athletic Score.
He's a potential sleeper -- at least until we see his draft position.
2.03 -- Kevin: Anthony Richardson, QB, Florida
Kevin's analysis: This might be a tad early for Richardson, but I don't see much of an opportunity cost.
I want to swing for the fences at QB, where it's relatively easy to find streamers in standard-sized leagues.
Richardson's rushing, of course, could make him a no-doubt weekly starter within a couple of seasons.
Check out our full breakdown of Anthony Richardson's dynasty value.
2.04 -- Herms: Zach Evans, RB, Ole Miss
Herms' analysis: Strict adherence to my rankings would suggest that I should've taken C.J. Stroud. That said, in a 1-QB mock, I'm making this pick on the assumption that I already roster a good QB.

For as much as there is missing in Evans' production profile, I believe he showed enough on film to be considered one of the very best RBs in this class. I'm more than OK with loading up at the position in a time when many of the league's top backs are aging out of max production.
Check out our full breakdown of Zach Evans' dynasty value.
2.05 -- Jared: Michael Mayer, TE, Notre Dame
Jared's analysis: It seems the dynasty community has gotten a bit bored with Mayer.
The dude has simply been awesome for a while now. He broke out as a true freshman at Notre Dame and then topped 800 receiving yards in his sophomore and junior seasons.
He's not an elite athlete but can certainly move for a 252-pounder. Widely expected to get first-round draft capital, Mayer should quickly emerge as a focal point of his NFL team's passing game.
Check out our full breakdown of Michael Mayer's dynasty value.
2.06 -- Luke: C.J. Stroud, QB, Ohio State
Luke's analysis: I'm honestly quite surprised that the likely No. 1 overall pick of the NFL Draft was still here.
Stroud is my favorite real-life QB of this draft class. His accuracy is off the charts, and I hope he can provide long-term fantasy football value in Carolina.
Check out our full breakdown of C.J. Stroud's dynasty value.
2.07 -- Alex: Marvin Mims, WR, Oklahoma
Alex's analysis: Mims tested out as the WR10 in my rookie prospect model and had a high agreement factor. That indicates all the key metrics that build the model agreed he would be a good prospect. No glaring red flags in the data.
His route tree was a little limited at Oklahoma, but his speed (4.38 40-yard) was regularly displayed with 19.5-yard average depth of target for his college career.
Here's hoping he lands in a good situation with the time to work on his route running.

2.08 -- Herms: Luke Musgrave, TE, Oregon State
Herms' analysis: Between the COVID-shortened 2020 season and a knee injury in college, Musgrave didn't have a ton of college production.

But if you look at his size-speed combo and how well he performed at the Senior Bowl, it's easy to get excited.

This dude's got gobs of potential and a much higher fantasy ceiling than Michael Mayer does at an even cheaper price.
Check out our full breakdown of Luke Musgrave's dynasty value.
2.09 -- Jared: Cedric Tillman, WR, Tennessee
Jared's analysis: Rewind the clock 12 months and Tillman (not Jalin Hyatt) would be the Tennessee WR going in the first round of rookie drafts.
Tillman busted out a 64-1,081-12 line as a redshirt junior, registering a huge 37.3% Dominator Rating.
His 2022 senior season was wrecked by injuries, including a left ankle injury that required surgery. But this 6'3, 213-pounder with a 95th percentile Relative Athletic Score remains a high-upside prospect.
2.10 -- Kevin: Tank Bigsby, RB, Auburn
Kevin's analysis: An elite high school recruit, Bigsby broke out as a true freshman at Auburn. He brings a nice size-power profile that helps forecast fantasy-friendly usage in the pros.

It sounds like there's a decent chance he sneaks into Round 3 of the NFL Draft.
2.11 -- Luke: Darnell Washington, TE, Georgia
Luke's analysis: I believe Darnell Washington is capable of being much more than a blocking TE at the next level. If he can develop into an every-down TE, he presents immense value late in the second round here.
Check out our full breakdown of Darnell Washington's dynasty value.
2.12 -- Matt: Sean Tucker, RB, Syracuse
Matt's analysis: I wouldn't have guessed Tucker would make it to the end of Round 2.
The big question on him: Can he be more than a straight-line runner? My answer: I don't really care. Dude racked up 31 total TDs over three seasons at Syracuse. He averaged 21.2 touches per game over the past two years.
If Tucker leaves the NFL Draft board before the end of Day 2, bet on him not making it this far in your rookie draft.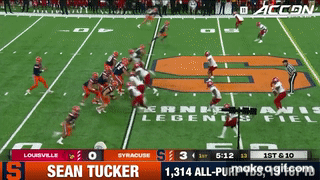 Dynasty Rookie Mock Draft -- Round 3
3.01 -- Alex: Tank Dell, WR, Houston
Alex's analysis: You might ask yourself, "Did Alex draft that dude because his name is Tank and that would be useful for pun-based team names?" Don't put words in my mouth.
Dell landed as the WR6 in the dynasty prospect model with an overall score of 7.89. He had the third-highest film score, fourth-highest production score, and middle-of-the-pack athleticism that seemed to show up more on film.
He has a lot of upside and pops as a prospect I would love to throw on my taxi squad. Short kings rise up.
3.02 -- Matt: Jayden Reed, WR, Michigan State
Matt's analysis: Reed broke out at 18, immediately outproducing D'Wayne Eskridge.
Then he transferred to Michigan State and topped 20% target share three straight seasons.
Then he rocked a 4.45-second 40 at the Combine.
If he were a little bigger, the guy would be at least an early second-round NFL Draft pick.
Check out our full breakdown of Jayden Reed's dynasty value.
3.03 -- Kevin: Tyler Scott, WR, Cincinnati
Kevin's analysis: Scott was a big-play machine at Cincinnati, tallying 14 TDs of 20+ yards.
He's a burner — with yards-after-catch chops — who's drawn comps to Tyler Lockett.
According to Scott, NFL teams have said he's most likely to be a Round 2 or early-Round 3 pick.
3.04 -- Herms: Roschon Johnson, RB, Texas
Herms' analysis: Despite living in the shadow of teammate Bijan Robinson, Johnson's size and ability to pass proctect should give him an opportunity to be a regular part of an NFL backfield committee.

With the right landing spot and potential for immediate opportunity, this pick at 3.04 could end up being a steal.
3.05 -- Jared: Israel Abanikanda, RB, Pittsburgh
Jared's analysis: Abanikanda is a fun watch, a 216-pounder with sneaky speed and excellent contact balance to fight off defenders. NFL.com's Lance Zierlein grades him as the fourth-best RB in the class.

The fact that Abanikanda doesn't turn 21 until October gives him even more room for growth than your average rookie.
3.06 -- Luke: Will Levis, QB, Kentucky
Luke's analysis: This pick seems like a no-brainer. Sure, it's only a 1-QB league. But getting a QB who is likely to be a top 15 draft pick in the middle of the third round is simply too good to pass on.
Great value for a guy who has nice fantasy upside.
3.07 -- Alex: Hendon Hooker, QB, Tennessee
Alex's analysis: Hooker has started to slip into the back end of the first round of NFL mock drafts, and it is time to pay attention.
The third round in a dynasty rookie draft is a great place to take some shots on upside. Hooker popped in the prospect model with a score of 8.28 (out of 10). Hooker outscored Levis and Richardson in the model, with a high agreement factor between his film, production, and athleticism scores.
He is an older prospect coming back from an ACL injury. I'm banking on him landing in a good spot with solid draft capital. If he is drafted in the third or later in the NFL Draft, he does not need to be picked in a rookie draft.
Alex's analysis revisited: Once I saw which prospects went after Hooker in this dynasty rookie mock draft, I felt even better about the selection. There were still plenty of prospects on the board and I don't feel like the opportunity cost of selecting Hooker here hurt me.
3.08 -- Herms: Kayshon Boutte, WR, LSU
Herms' analysis: We're just throwing darts at this point. The LSU product lived up to the pronunciation of his last name at the NFL Combine in Indianapolis and had a horrific final season with the Tigers, littered with off-field concerns.
Even so, it wasn't long ago that Boutte was considered the top WR prospect in this class. Should the right coaching staff get his head on straight, Boutte could wind up a dynamite selection at 3.08.
3.09 -- Jared: Kendre Miller, RB, TCU
Jared's analysis: Here's the the guy that forced Zach Evans to bolt from TCU.
Miller topped 7.0 yards per carry in each of his first two college seasons, and then exploded for 1,399 rushing yards and 17 TDs this past year.
He's a 20-year-old early declare with lead back size at 215 pounds.
3.10 -- Kevin: Andrei Iosivas, WR, Princeton
Kevin's analysis: I'll take a shot on one of the draft's top height-weight-speed prospects. In fact, at 6'3, 205 pounds, Iosivas is a near-perfect athlete.
Coming from Princeton, he'll have to prove he can make the jump in competition. But the tools are there for some team to develop.
3.11 -- Luke: Evan Hull, RB, Northwestern
Luke's analysis: I like Hull as a late dart throw. He really impressed me in person at the NFL Combine. If he can land decent draft capital, I think he has a real chance to climb the depth chart.
3.12 -- Matt: Jonathan Mingo, WR, Ole Miss
Matt's analysis: The NFL Draft will help sort this range of WR. For now, I like Mingo's size (6'1, 226), speed (96th-percentile speed score), and career 15.7 yards per catch in the SEC. He'd be more attractive if he had broken out earlier.
We have over 150 long days until the 2023 NFL season starts, which means the only way to stay sane is with some rookie mock drafts

Stay tuned for even more rookie picks and analysis.
The first superflex rookie mock draft is coming next week!
Your Turn to Draft
Check out our fantasy football mock draft simulator where YOUR custom league settings can be synced to practice like its gameday.
Practice makes perfect!
Our Mock Draft Trainer uses 17 draft indicators to pinpoint the best player for you at each pick. It tracks player values in real time, as you draft.
Learn how it all works right here. See how it rolls into our live Draft War Room as well!