2023 NFL Mock Draft | Fantasy reactions to Mel Kiper Jr.'s latest mock
Four QBs going THAT early?
ALL the WRs sliding down the board?
Love him, hate him, or something in between, Mel Kiper Jr.'s mock drafts have always been interesting.
And he's been covering the NFL Draft longer than the NFL Scouting Combine has been in Indy.
So let's take a look at the latest 2023 NFL mock draft from Kiper through a fantasy lens …
1. Carolina Panthers – C.J. Stroud, QB, Ohio State
Fantasy Spin: The Panthers obviously moved up to 1 for a QB. There has since been plenty of buzz that they really like Anthony Richardson.
Whoever lands here won't have a great pass-catching group. That hurts for 2023 fantasy value. But don't let that make you bet against Stroud's attractive long-term ceiling.
Check out Kevin's full breakdown of C.J. Stroud.
2. Houston Texans – Bryce Young, QB, Alabama
Fantasy Spin: This has been the assumed move since the Panthers leaped to 1 (and maybe before that). The betting markets do have Richardson closing the gap between him and Young. But we'd roll with this.
Young's size never seemed to be an issue in the SEC. Perhaps it'll impact his NFL durability, but we're not betting on it working against his production.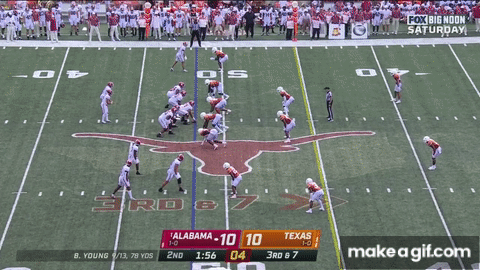 Like Stroud, Young would begin his career with a lackluster pass-catching corps. But we're looking for dynasty value here over 2023 upside.
Check out Kevin's full breakdown of Bryce Young.
3. Indianapolis Colts (trade) – Will Levis, QB, Kentucky
Fantasy Spin: Kiper projects a move up one spot for Levis. That would certainly indicate the Colts value him well ahead of Richardson (and Hendon Hooker).
That would be good for Levis' opportunity in Indy. It wouldn't answer questions about his development, however.
We have Levis WAY behind the other three QBs in our early dynasty rookie rankings. I can't speak for my colleagues, but this move wouldn't sway me to alter that much.
5. Seattle Seahawks – Anthony Richardson, QB, Florida
Fantasy Spin: The pre-draft rookie rankings found our writers split on Richardson. Two of us put him first among QBs. The other three ranked him third.
Landing in Seattle would likely hurt his chances of starting in Year 1 – and maybe beyond.
Geno Smith extension would challenge opportunity
Geno Smith just got a new contract with $40 million in guarantees. The Seahawks would take on $17.4 million in dead cap by cutting him in 2024. Or they could pay him $22.5 million to back up Richardson.
The dead cap would dip to $8.7 million in 2024, a little more palatable.
Waiting until Year 3 could help Richardson's development. But it would be undeniably bad for your dynasty roster if he's a two-year dead spot.
He'd probably fall a spot or two in my dynasty QB ranks with this landing. But he's making a splash in superflex dynasty rookie rankings wherever he lands.
18. Detroit Lions – Michael Mayer, TE, Notre Dame
Fantasy Spin: Mayer leads all TEs in the Film Score metric of our Rookie Model. Will he be first off the board in a loaded TE class?
Whoever lands in Detroit should find decent-to-good opportunity – and quickly.
T.J. Hockenson's departure left Brock Wright (24 targets) as the lead receiving TE. He's averaging 1.5 targets per game through two NFL seasons and caught just seven passes for his college career.
Mayer might struggle for 2023 target share, with Amon-Ra St. Brown, Jameson Williams, and two quality receiving RBs on hand. But if the Lions take him in Round 1, they clearly have high hopes for Mayer.
This would be at least solid for his dynasty value, and maybe better than that.
20. Seattle Seahawks – Jaxon Smith-Njigba, WR, Ohio State
Fantasy Spin: Are the WRs really going to stay on the board this long?
The closer JSN – and any other wideout – gets to Round 2 of the draft, the easier it will be to justify taking Jahmyr Gibbs ahead in 1-QB rookie drafts.
Landing in Seattle would also damage Smith-Njigba's immediate upside. D.K. Metcalf and Tyler Lockett have each topped 20% target share in each of Metcalf's four seasons. And each has topped 22% for three straight years.
Lockett's getting up there (31 in September), but is also signed through 2025. Metcalf's contract also runs through 2025.
I wouldn't love this spot for JSN.
Check out Jared's full breakdown of Jaxon Smith-Njigba.
21. Los Angeles Chargers – Dalton Kincaid, TE, Utah
Fantasy Spin: This might be the best match of talent and situation yet.
Kincaid leads all TEs in our Prospect Model score. He landed first among TEs for four of our five writers in our dynasty rookie rankings.
Chargers TEs have ranked a solid 15th, ninth and 14th in PPR points over Justin Herbert's three years. It's fair to say Kincaid could quickly be better than any of the TEs who contributed to that.
And if the Chargers take him in Round 1, it's fair to assume they believe that.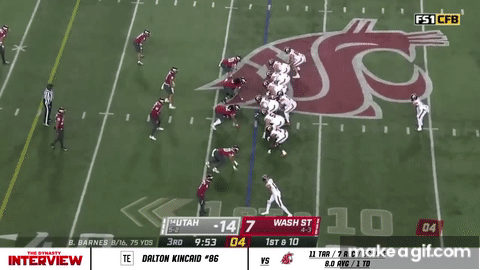 He'd face competition from Gerald Everett and Donald Parham in Year 1. But we already know a rookie TE isn't likely to deliver big numbers.
Kincaid would still be in play as a TE3 for best ball.
Check out Kevin's full breakdown of Dalton Kincaid.
22. Baltimore Ravens – Zay Flowers, WR, Boston College
Fantasy Spin: It's interesting to see Kiper favor Flowers as the No. 2 WR. Grinding the Mocks has him well behind JSN and Quentin Johnston, with a little space between Flowers and Jordan Addison as well.
Obviously, any WR who gets to Baltimore will face immediate opportunity. And we're still betting that guy will play with Lamar Jackson.
This landing could boost Flowers up our dynasty rankings. It would not, however, negatively impact my dynasty outlook for Rashod Bateman. There will be room for both if the team passes more, as OC Greg Roman's departure indicates.
23. Minnesota Vikings – Quentin Johnston, WR, TCU
Fantasy Spin: Whew. How many better landing spots could there be or a young WR with breakaway ability than opposite Justin Jefferson?
This would do nothing to quell my optimism, as one of two Sharks to rank Johnston No. 1 in this WR class.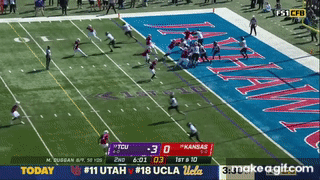 Check out Jared's full breakdown of Quentin Johnson.
25. New York Giants – Jordan Addison, WR, USC
Fantasy Spin: A pocket-sized wideout who spent most of college in the slot? Sounds perfect for these Giants.
OK, to be fair, Addison ran primarily from the slot at Pittsburgh, but then primarily outside at USC. That versatility would serve him well here.
And the Giants might seem like an iffy landing spot for a wideout. But Addison could immediately be their best player at the position.
This would be a positive landing for short-term opportunity. Long term? That becomes more about the player than the situation (which can change quicker than you'd think).
Check out Jared's full breakdown of Jordan Addison.
27. Buffalo Bills – Bijan Robinson, RB, Texas
Fantasy Spin: Bijan plus one of the league's top offenses seems like a dream combo, right?
Gotta say, I wouldn't love it.
Give me an offense without a TD vulture at QB, and one that throws more passes to the RBs.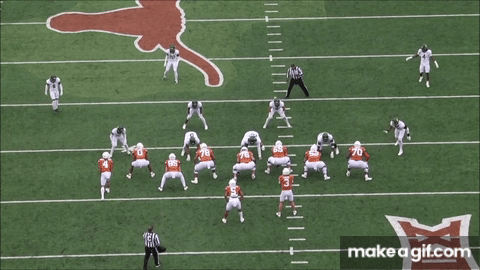 Would landing with the Bills knock Robinson from 1.01 in rookie drafts? No. But I don't think it would maximize his scoring upside.
Check out Herms' full breakdown of Bijan Robinson.
28. Cincinnati Bengals – Darnell Washington, TE, Georgia
Fantasy Spin: The athletic upside is obvious – and ridiculous for a 6'7, 264-pounder. How much receiving upside is there, though?
Washington totaled just 45 catches and 3 TDs across three seasons at Georgia.
Cincinnati might be the ideal place to find out. No team passed at a higher rate in neutral situations last year.
But fantasy players could easily overrate this landing. Bengals TEs have finished 29th, 30th, and 28th in PPR points through QB Joe Burrow's first three seasons.
Of course, spending a first-round pick would tell us a lot about how the team values Washington's potential.
Check out Kevin's full breakdown of Darnell Washington.
Other NFL mock drafts have pulled Jalin Hyatt, Josh Downs, and other skill-position rookies into Round 1. We'll keep pumping out profiles on all the fantasy-relevant rookies ahead of the NFL Draft.
Want to Mock Draft like a NFL GM?
Check out our fantasy football mock draft simulator where YOUR custom league settings can be synced to practice like its gameday.
Practice makes perfect!
Our Mock Draft Trainer uses 17 draft indicators to pinpoint the best player for you at each pick. It tracks player values in real time, as you draft.
Learn how it all works right here. See how it rolls into our live Draft War Room as well!