Jordan Addison Dynasty Fantasy Football Value
Jordan Addison, WR, Vikings
Height: 5'11
Weight: 173
BMI: 23.8
Draft Age: 21.2
NFL Draft Pick: Round 1, Pick 23
Draft Sharks Model Score: 7.77
Analytics Score: 0.62
Film Score: 0.51
Production Score: 0.82
Player Comp: Slower Brandin Cooks

Jordan Addison Dynasty Fantasy Football Value
Addison checks a lot of boxes as a prospect.
He broke out as an 18-year-old true freshman and turned in one of the best sophomore seasons in college football history.
He's a refined route runner and explosive mover on tape. And he got first-round draft capital.
Too Small?
The knocks against Addison are well-below-average size and average athleticism.
At 173 pounds, Addison is in the 3rd percentile among WRs invited to the Combine since 1999. Over the past 10 seasons, there have only been four WRs under 180 pounds to top 1,000 receiving yards (DeSean Jackson, John Brown, DeVonta Smith, and Darnell Mooney).
Jackson, Brown, and Mooney all tested as better athletes than Addison, in terms of Relative Athletic Score. (Smith didn't test.)
With a 59th percentile RAS score, Addison is just an average athlete -- even adjusted for his size.
Perhaps that lowers the ceiling on Addison's dynasty fantasy football value. Although it's worth noting that five of the top 14 WRs in our Dynasty Rankings check in under 190 pounds:
Jaylen Waddle
Tyreek Hill
DeVonta Smith
Garrett Wilson
Chris Olave
Jordan Addison Team Fit: Minnesota Vikings
Addison might have been stretched as a No. 1 WR in the NFL. But he won't need to worry about that in Minnesota, where Justin Jefferson has established himself as one of the best in the game.
Jefferson puts a cap on Addison's fantasy ceiling, but this still looks like a nice landing spot for the rookie.
Immediate Target Opportunity
Adam Thielen's departure leaves the No. 2 WR job in Minnesota up for grabs. Addison's only legitimate competition for that spot is K.J. Osborn, a 2020 fifth-rounder who has yet to top 655 receiving yards through three NFL seasons.
It'll be disappointing if Addison isn't able to dispatch of Osborn early in 2023.
Assuming he wins that No. 2 job, Addison will see tons of exploitable coverage working alongside Jefferson. And there are plenty of targets available.
The Vikings quietly ranked third in pass rate and pass attempts last year. Thielen tallied 107 targets on a 15.9% share in 2022 -- a range Addison is capable of reaching this season.

We currently project him for 112.3 targets, which lands Addison 36th among WRs in the 2023 fantasy football PPR Rankings.
Longer term, he could push for a ~20% target share even behind Jefferson.
Life After Cousins?
It's worth noting that QB Kirk Cousins is signed only through 2023, so there are long-term QB questions for Addison and the Vikings.
We'll see where that situation goes, but it's not a big enough to concern to knock Addison down the dynasty rankings.
Mixed News This Offseason
The rookie missed offseason workouts with an undisclosed injury. And in late-July, he was cited for reckless driving (allegedly going 140 mph in a 55 mph zone).
On the happier side of the news — Addison has turned some heads early in training camp. He's drawn public praise from Vikings QB Kirk Cousins, as well as head coach, Kevin O'Connell.
Check out this quote from O'Connell:
"He's off to a really good start… What he's done on the grass so far is confirming a lot of the things that we expected from Jordan. He's also done some things instinctively just playing football within the confines of our scheme, whether it's a scramble drill – people probably saw that catch in the corner of the endzone – that's him improving with a 12-year NFL quarterback to be in the right place at the right time."
We realize "coach speak" in August doesn't necessarily turn into targets in September. But Addison certainly seems on track to play a significant rookie-year role.
Dynasty Valuation
Our Dynasty Draft War Room assigns dynamic player values based on your league's specific settings. These values range from 100 to 0, with 100 being the most valuable player in your league and 0 being the worst rostered player. Use these values to compare players at the same position and across positions for help with draft, trade and add/drop decisions.
Jordan Addison Dynasty Values
Dynasty: 1-QB, Non-PPR – 54.5
Dynasty: 1-QB, PPR – 50.2
Dynasty: 1-QB, PPR, TE Premium – 51.2
Dynasty: Superflex, Non-PPR – 36.2
Dynasty: Superflex, PPR – 40.8
Dynasty: Superflex, PPR, TE Premium – 38.0
Jordan Addison Combine Results
Wingspan: 74.5"
Arm length: 31"
Hand size: 8.75"
40-yard dash: 4.49 seconds
10-yard split: 1.56 seconds
Bench press: DNP
Vertical: 34"
Broad jump: 10'2
3-cone drill: DNP
20-yard shuttle: DNP
Percentiles vs. Combine wide receivers since 1999, per MockDraftable.
Jordan Addison College Stats
| | | | | | | |
| --- | --- | --- | --- | --- | --- | --- |
| | Games | Targets | Receptions | Rec. Yards | Yards Per Rec. | TDS |
| 2020 | 10 | 87 | 60 | 666 | 11.1 | 4 |
| 2021 | 14 | 144 | 100 | 1593 | 15.9 | 17 |
| 2022 | 11 | 79 | 59 | 875 | 14.8 | 8 |
Addison was a four-year starter at Tuscarora High School in Frederick, Md., playing WR, QB, and DB. He posted a 25-544-8 receiving line as a senior and was tabbed a four-star prospect by most recruiting services.
Addison didn't receive scholarship offers from many powerhouse programs, ultimately opting to enroll at Pittsburgh.
Instant Impact
He immediately took over as the team's top receiver, pacing the Kenny Pickett-led Panthers in catches, receiving yards, and receiving scores in 2020. He became the first freshman to lead Pitt in receiving since Tyler Boyd in 2013.
Addison was named a freshman All-American by The Athletic, Rivals, and 247Sports.
Sophomore Season Explosion
He rolled that momentum into a truly massive 2021.
Addison's 100 catches set a Pitt record and ranked sixth nationwide. He finished fourth in the country in receiving yards and tied for first in receiving scores. Both of those marks rank second in school history, behind only Larry Fitzgerald.
Addison accounted for 27.2% of Pitt's receptions, 33.7% of the receiving yards, and 38.6% of the receiving scores. Huge market shares for any player – and especially impressive marks from a true sophomore, boding well for Addison's dynasty fantasy football value.
Addison averaged a big 2.94 yards per route run in 2021 – 23rd among 334 WRs with 40+ targets – and ranked 12th among those 334 in Pro Football Focus' receiving grades.
Addison was named first-team All-ACC and first-team All-American. He also won the Biletnikoff Award, given to the nation's top WR.
Cross-Country Move to USC
With Pickett off to the NFL and Pitt set to break in a new OC, Addison entered the transfer protocol ahead of 2022. He eventually opted to join forces with HC Lincoln Riley and QB Caleb Williams at USC.
"I was looking for a great coach and a good football opportunity," Addison said. "Just where USC is at, everything around it and with Lincoln here now, there's a lot of great things I feel like I can do in his offense."
The 2022 Trojans were one of the most prolific passing games in the country, finishing third in yards and tying for first in TDs. Addison was a big part of it – although his per-game production, market shares, and efficiency metrics dipped a bit from 2021.
2022 Only Relatively Disappointing
Addison played in 11 of 14 games last year, missing the Arizona and Cal contests with a left leg injury and the Cotton Bowl vs. Tulane with an ankle issue. He still paced the Trojans in all major receiving categories, averaging:
5.4 catches
79.5 yards
0.73 TDs
His market shares in 11 games played:
23.5% of the receptions
25.3% of the receiving yards
27.6% of the receiving TDs
Addison's PFF grade dipped from 88.6 in 2021 to 82.4 last year, although the latter mark still ranked 23rd among 377 qualifiers.
His 2.78 yards per route run was also down from the previous season but still good for 24th among those 377 WRs.
Jordan Addison Highlights
Games watched: Virginia Tech (2021), Duke (2021), Rice (2022), Utah (2022), UCLA (2022)
At 5'11 and 173 pounds, Addison is slenderly built. Think DeVonta Smith.
Positional Versatility
His size is not a limiting factor before the catch, though. Addison proved capable of playing all over the formation throughout his three-year college career.
He lined up in the slot for 84% and 69% of his snaps in two seasons at Pitt. But he played 79% of his snaps on the outside for USC last year.
For his career, Addison averaged 2.50 yards per route run from the slot and 2.49 yards per route run from the outside.
That type of position versatility is good news for his dynasty fantasy football value.

Separation Expert
Addison consistently defeats press coverage with quicks and explosiveness. He accelerates to top speed quickly and has the rare ability to make cuts without losing speed.

Add it all up and Addison has the ability to create separation at all levels of the field.
He sells a vertical route here before snapping the comeback.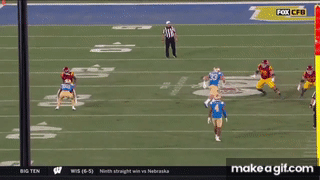 Here's a double move that illustrates Addison's ability to maintain speed through his breaks.
Addison blows by this defender with top-end acceleration and speed. He plays at least a bit faster than his 4.49-second 40 time.
Deep-Ball Prowess
Addison was especially lethal on deep balls last year. He was one of 12 WRs in the nation to earn a 99.9 PFF receiving grade on targets 20+ yards downfield.

He saw 17 deep targets, parlaying them into nine catches, 370 yards, and two TDs.
Size Limitations
Addison's size can be an issue at the catch point, though. I didn't see him make any contested grabs in the five games I watched. And he can sometimes struggle to snare passes outside his frame, giving him a relatively small catch radius.
After-Catch Skills
Not surprisingly, Addison isn't much of a tackle-breaker after the catch. But he creates yards with his change of direction and speed.
He averaged 6.3 yards after the catch for his college career, including 7.0 at USC this past season
Here's an ankle-breaking cut: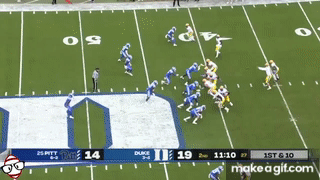 Addison's speed beats the angle of one defender and nearly beats a second.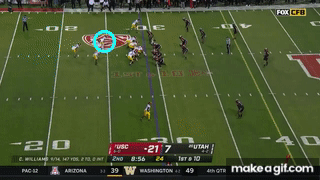 Addison doesn't project as an elite after-catch weapon at the next level, but he should certainly add fantasy value in that department.
Where Does Jordan Addison Land in the Dynasty Rankings?
Everyone has dynasty rankings. But not like these ...
Our dynasty rankings start with the award-winning Draft Sharks projections. Then we apply career aging curves specific to each player type.
The result: You get 1-year, 3-year, 5-year, and even 10-year outlooks for every player.
Not only that, you get a specific DMVP value for each player customized to your league format.
So you get a clear picture of who to select at every turn of your dynasty rookie draft. And you'll know exactly where the value lies in your dynasty trades.
More Dynasty Strategy Talk