Jalin Hyatt Dynasty Fantasy Football Value
Jalin Hyatt, WR, Giants
Height: 6'0
Weight: 176
BMI: 23.9
Age: 21.6
NFL Draft Projection: Round 3, Pick 10 (73rd overall)

Draft Sharks Model Score: 7.36
Analytics Score: 0.78
Film Score: 0.51
Production Score: 0.76
Player Comp: Paul Richardson
Jalin Hyatt Dynasty Fantasy Football Value
Hyatt had just one big year of production at Tennessee. And a good deal of that production was schemed up.
He wasn't asked to run a wide variety of routes and will have a sizable transition to make to a pro-style offense.
But Hyatt's speed will translate to the NFL. He clocked a 4.40-second 40 time at the Combine and might play even faster. He consistently ran by SEC defenders on his way to 18.9 yards per catch last year.
Jalin Hyatt Team Fit: New York Giants
Considered a potential first-round pick in media circles, Hyatt wound up falling to the middle of Round 3.
Draft Capital a Knock on Hyatt's Fantasy Value
Over the past five years, there have only been 43 seasons of 200+ PPR points (top-24 territory) from WRs drafted in Round 3 or later.
Round 1 and 2 WRs, meanwhile, have produced 77 seasons of 200+ PPR points.
Weak Competition on an Ascending Offense
On the plus side, Hyatt landed in a solid spot with the Giants. This WR corps has a ton of names, but no one that's locked into a big target share:
Isaiah Hodgins
Darius Slayton
Parris Campbell
Wan'Dale Robinson
Sterling Shepard
Jamison Crowder
When Hyatt is ready, there's a chance for him to emerge as a big part of this passing game. Any signs of that this summer could move him up our fantasy football WR rankings.
This also seems to be an ascending offense under HC Brian Daboll, who led the Giants to a No. 18 ranking in total yards and No. 15 in points in his first season with the team. Those marks were way up from New York's 31st-place finishes in yards and points in 2021.
As for the plan for Hyatt, Daboll compared him to another big-play receiver he worked with in Buffalo: "I think he's a good player. I think he runs some of the routes that we run here. You can see, a little bit like Gabe [Davis], how it might translate."
Lofty Goals
The rookie has turned heads with his field-stretching speed in the Giants training camp — consistently beating DBs for long gains in 7-on-7 drills. The Giants claim to have tracked Hyatt at 24 mph in practice. The record for an actual NFL game is 23.24, notched by Tyreek Hill.
Hyatt has publicly stated that his goal for 2023 is to win the Offensive Rookie of the Year award. Let's see how far he moves up our rankings as the regular season gets closer.
Dynasty Valuation
I like Hyatt's chances of emerging as a big-play weapon at the next level. But he might lack the size, physicality, and route-running acumen to become the focal point of the passing game.
Consider Hyatt more of a long-term WR3 – maybe a boom/bust WR2 – than a guy with a chance to become dominant.
Our Dynasty Draft War Room assigns dynamic player values based on your league's specific settings. These values range from 100 to 0, with 100 being the most valuable player in your league and 0 being the worst rostered player. Use these values to compare players at the same position and across positions for help with draft, trade and add/drop decisions.
Jalin Hyatt Dynasty Values
Dynasty: 1-QB, Non-PPR – 31.2
Dynasty: 1-QB, PPR – 22.6
Dynasty: 1-QB, PPR, TE Premium – 13.1
Dynasty: Superflex, Non-PPR – 17.8
Dynasty: Superflex, PPR – 7.4
Dynasty: Superflex, PPR, TE Premium – 6.2
Jalin Hyatt Combine Results
Wingspan: 77.5"
Arm length: 32.5"
Hand size: 9"
40-yard dash: 4.40 seconds
10-yard split: 1.50 seconds
Bench press: DNP
Vertical: 40"
Broad jump: 11'3
3-cone drill: DNP
20-yard shuttle: DNP
Percentiles vs. Combine wide receivers since 1999, per MockDraftable.
Jalin Hyatt College Stats
| | | | | | | |
| --- | --- | --- | --- | --- | --- | --- |
| year | games | Targets | Receptions | rec. yards | yards per rec. | tds |
| 2020 | 10 | 30 | 20 | 276 | 13.8 | 2 |
| 2021 | 13 | 32 | 21 | 226 | 10.8 | 2 |
| 2022 | 12 | 89 | 67 | 1267 | 18.9 | 15 |
Hyatt hails from Dutch Fork High School in South Carolina, where he set school records in career receiving yards (3,624) and TDs (57), including a 66-1,361-26 line as a senior.
He was a unanimous four-star prospect and chose Tennessee over offers from Michigan, Penn State, and Miami, among others.
Quiet Freshman Season
Hyatt's freshman-year numbers don't jump off the page, but he actually ranked third on the Vols in receiving yards and TDs, behind WRs Josh Palmer and Velus Jones.
(That Tennessee team finished 86th in the country with just 205 passing yards per game.)
Hyatt actually beat Jones in 2020 Pro Football Focus receiving grade.
Sophomore Regression
Hyatt took a step back as a sophomore, both in terms of per-game production and market shares.
He ranked fourth among Tennessee WRs in pass routes, behind Cedric Tillman, JaVonta Payton, and Velus Jones.
Hyatt edged Payton in catches 21-18 but finished well behind Tillman and Jones, who both topped 60 grabs

Hyatt ranked fourth on the team in receiving yards and fifth in receiving scores.
Junior Breakout
Then came a breakout junior season.
Hyatt played in 12 of 13 games, opting out of the Orange Bowl after declaring for the draft.
He easily led the Vols in all major receiving categories, accounting for 24.7% of the receptions, 31.8% of the receiving yards, and 42.9% of the receiving TDs in his 12 games.
Hyatt's 37.3% Dominator Rating (which combines market share of yards and TDs) ranks sixth among 26 of this year's top WR prospects – notably ahead of Jordan Addison and Quentin Johnston.
Hyatt ranked fifth in the country with his 1,267 receiving yards and tied for second with 15 TDs. He won the Biletnikoff Award as the nation's top WR and was a unanimous first-team All-American.
Hyatt's 78.2 Pro Football Focus (PFF) receiving grade ranked 51st among 377 qualifiers. His big 3.27 yards per route run was good for sixth among those 377.
Vertical Slot Receiver
Hyatt had a unique usage profile in 2022, playing 85% of his snaps in the slot but registering a 14.1-yard average depth of target.
Hyatt was excellent working deep, corralling 14 of 24 targets 20+ yards downfield for 677 yards and eight TDs. He was one of 12 WRs in the country to earn a 99.9 Pro Football Focus receiving grade on deep targets.
It's worth noting that Hyatt was actually more efficient outside the numbers than in the slot. He averaged 3.39 yards per route when lined up out wide vs. 2.87 from the slot.
Jalin Hyatt Highlights
Games watched: LSU, Alabama, Kentucky, Georgia, Missouri
Speed, Speed, Speed
Hyatt is a long-legged 6'0, 176-pounder. He chews up cushion and smokes defenders with long-striding speed.
He looks like one of the most dangerous deep-ball receivers in this year's class.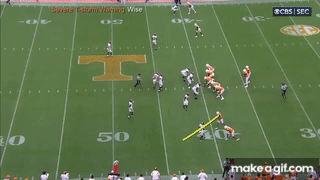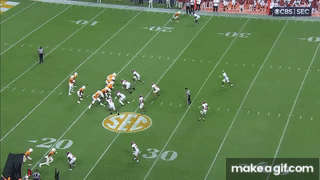 Easy Production
It's worth noting that a lot of Hyatt's 2022 production came via good scheme and/or bad coverage.
Tennessee often used Hyatt as the off-the-line WR in stacked formations, giving him a free release to blow by DBs.
We can't totally hold it against him, but it's notable (and why it's important to actually watch all of these incoming rookies).
Speed Creates Separation
Hyatt's success on other routes works off the threat his speed presents.
He does a nice job attacking downhill off the line of scrimmage and getting defenders on their heels before snapping off comebacks and post routes.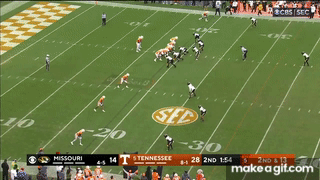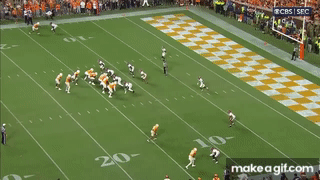 Good Hands
Hyatt possesses a reliable pair of hands, registering a solid 6.9% drop rate in 2022, and flashes the ability to make grabs outside his frame.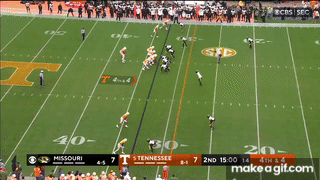 Transition to NFL
Hyatt was not asked to run a wide variety of routes at Tennessee, though, and will have some adjusting and refining to do as he transitions to a more pro-style offense.
Hyatt also needs to learn how to beat press coverage. He faced press on just 62 snaps his entire college career, per Pro Football Focus, and struggled when he did run into physical coverage.
Don't be surprised if Hyatt's NFL career gets off to a slow start.
Where Does Jalin Hyatt Land in the Dynasty Rankings?
Everyone has dynasty rankings. But not like these ...
Our dynasty rankings start with the award-winning Draft Sharks projections. Then we apply career aging curves specific to each player type.
The result: You get 1-year, 3-year, 5-year, and even 10-year outlooks for every player.
Not only that, you get a specific DMVP value for each player customized to your league format.
So you get a clear picture of who to select at every turn of your dynasty rookie draft. And you'll know exactly where the value lies in your dynasty trades.
See where Jalin Hyatt sits in our dynamic dynasty rankings.
More Changing Dynasty Values ...
C.H. Herms breaks down the five biggest surprises of the 2023 NFL Draft -- and what they mean for your dynasty team.