Quentin Johnston Dynasty Fantasy Football Value
Quentin Johnston, WR, TCU
Height: 6'3
Weight: 208
BMI: 26.0
Age: 21.5
NFL Draft Projection: Round 1
Draft Sharks Model Score: 7.97
Analytics Score: 0.67
Film Score: 0.49
Production Score: 0.48
Player Comp: Demaryius Thomas
Quentin Johnston Dynasty Fantasy Football Value:
Johnston isn't as refined a prospect – and therefore probably not as safe – as guys like Jaxon Smith-Njigba and Jordan Addison. But his combination of size, power, and athleticism gives him a higher fantasy ceiling than those other likely first-rounders.
NFL Projection
Johnston projects as a big-play guy in the NFL, especially after the catch but also on deep balls. There are shades of the late Demaryius Thomas to his game.
Unlike Thomas, Johnston might not command massive volume because he'll struggle creating separation at times. But he won't need massive volume to pile up fantasy points via big plays and TDs.
Ideally he finds an offensive coordinator ready to scheme the ball into his hands via screens, crossers, and other quick hitters. If things break right, there's long-term WR1 upside here.
Dynasty Value
Our Dynasty Draft War Room assigns dynamic player values based on your league's specific settings. These values range from 100 to 0, with 100 being the most valuable player in your league and 0 being the worst rostered player. Use these values to compare players at the same position and across positions for help with draft, trade and add/drop decisions.
Quentin Johnston's values:
Dynasty Rookie Only: 93.7
Dynasty Superflex Rookie Only: 58.0
Dynasty Startup: 43.5
Dynasty Superflex Startup: 44.8
To see Quentin Johnston's value for your exact league setup, check out our Dynasty Draft War Room.
Quentin Johnston Combine Results:
Wingspan: 81.5"
Arm length: 33.5"
Hand size: 9.5"
40-yard dash: DNP
10-yard split: DNP
Bench press: DNP
Vertical: 40.5"
Broad jump: 11'2
3-cone drill: DNP
20-yard shuttle: DNP
Percentiles vs. Combine wide receivers since 1999, per MockDraftable.
Quentin Johnston Stats:
| | | | | | |
| --- | --- | --- | --- | --- | --- |
| Year | Games | Rec | Rec Yards | YPR | TDs |
| 2020 | 8 | 22 | 487 | 22.1 | 2 |
| 2021 | 8 | 33 | 634 | 19.2 | 6 |
| 2022 | 14 | 60 | 1069 | 17.8 | 6 |
A unanimous four-star prospect out of Temple High School in Texas, Johnston accepted a scholarship offer from TCU over in-state rival Texas, as well as offers from Oklahoma, Baylor, Notre Dame, Virginia Tech, and Nebraska, among others.
A Promising Debut
Johnston earned himself a significant role as a true freshman in 2020, leading the team in pass routes and receiving yards. He ranked second in both catches and receiving TDs for a TCU squad that finished 101st in the nation in passing yards per game.
Johnston accounted for 13.4% of the team's receptions, 24.8% of the receiving yards, and 18.2% of the receiving scores. He closed his freshman campaign with 114- and 133-yard outings in TCU's final two games.
Explosive Sophomore Season
Johnston played in nine of 12 games as a sophomore, missing one with a knee injury and the final two with an undisclosed injury. He still managed to lead TCU in receiving yards and TDs, ranking second to senior WR Derius Davis in catches.
Johnston registered strong market shares in his nine outings: 21.9% of the receptions, 29.5% of the receiving yards, and 46.2% of the receiving TDs.
He was a big-play machine, averaging 19.2 yards per catch on a huge 18.7-yard average depth of target. Johnston saw 26 of his 61 total targets (42.6%) came 20+ yards downfield. He caught just eight of those 26 but turned them into 265 yards and 5 TDs.
New Career Highs in 2022
Johnston dealt with an ankle injury for parts of this past season but ultimately played in 14 of TCU's 15 games. He matched his 6 TDs from the previous year but set new career highs with 4.3 catches and 76.4 receiving yards per game. Johnston led the Horned Frogs in all major receiving categories, accounting for 23.3% of the receptions, 30.7% of the receiving yards, and 22.2% of the receiving TDs in his 14 games.

Johnston earned a personal-best 77.0 Pro Football Focus (PFF) receiving grade in 2022, ranking 68th among 377 qualifying WRs. His 3.05 yards per route run was good for 10th out of those 377 wideouts.
Johnston's average depth of target sunk to 12.9 yards this past year, but he still averaged a big 17.8 yards per catch. He was a monster with the ball in his hands, ripping off an average of 8.9 yards after the catch. That ranked ninth among those 377 qualifying WRs.
Johnston remained busy downfield, too, drawing 25 targets of 20+ yards. He caught 10 of those for 427 yards and 5 TDs.
Quentin Johnston Highlights:
Games watched: West Virginia (2021), Kansas, Oklahoma State, Kansas State, Michigan
YAC Monster
Johnston is at his best with the ball in his hands. In fact, he's one of the most exciting after-catch WR prospects in recent memory.
The 215-pounder is in attack mode as soon as he secures the ball. He regularly uses this head-fake spin move to avert defenders before turning upfield.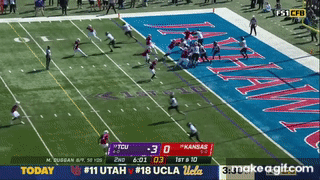 Johnston has no issue fighting through contact to pick up extra yards and possesses a pretty nasty stiff arm.
Most impressive, though, is his agility. He cuts and accelerates like a much smaller WR.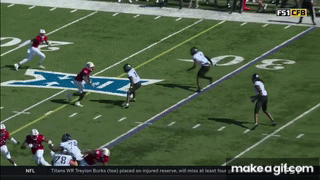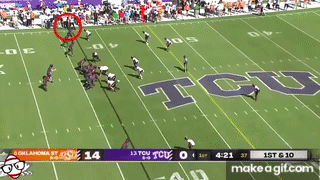 Downfield Prowess
Johnston is also a deep-ball weapon, thanks to his size and long-striding speed.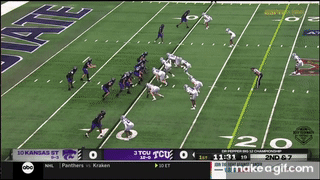 He also flashes the ability to win 50-50 balls downfield.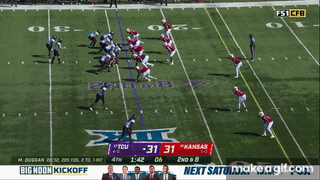 Contested-Catch Underachiever
But I was generally underwhelmed by Johnston's performance in contested situations. The numbers agree: Johnston converted just 42.7% of his contested opportunities over three college seasons, according to PFF. That includes just eight of 23 (34.8%) last year.
Johnston has a bad habit of letting the ball get into his body when defenders are near, which ends up negating his size advantage.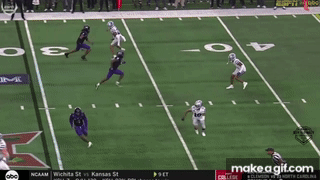 Needs Improvement: Route Running
Johnston is just OK as a route runner. He's best on crossing routes where he can simply use his speed to run away from defenders. But he struggles at times creating separation on routes like slants and comebacks that require sharper breaks.
His combination of size and movement ability at least suggests that he has the potential to improve as a route runner.
To stay up to date on all free agency news, make sure to download the Free Draft Sharks app from the Apple Store or Google Play store. And follow our Shark Bites for immediate fantasy analysis.
Looking for more on this year's rookie WR class? Check out:
More Dynasty Fantasy Football Analysis:
Find out which 2022 rookie WRs are already worth selling -- or buying -- in your dynasty league ...