Jaxon Smith-Njigba Dynasty Fantasy Football Value
Jaxon Smith-Njigba, WR, Seahawks
Height: 6'1
Weight: 196
BMI: 25.9
Age: 21.2
NFL Draft Pick: Round 1, Pick 20

Draft Sharks Model Score: 7.91
Analytics Score: 0.67
Film Score: 0.57
Production Score: 0.36
Player Comp: Amon-Ra St. Brown

Jaxon Smith-Njigba Dynasty Fantasy Football Value:
Smith-Njigba isn't the most comfortable projection. We essentially have 13 college games to go on.
But – damn! – they were an impressive 13 games. Going for 1,600 yards as a sophomore in the Big Ten is one thing. Doing it alongside a couple guys who look like potential NFL stars in Garrett Wilson and Chris Olave puts Smith-Njigba's 2021 in truly elite territory.
The tape is clean, too. Smith-Njigba can separate against man and zone coverage – and make contested catches when he doesn't. His after-catch ability might be his best trait.
The Next Amon-Ra St. Brown?
We see shades of Amon-Ra St. Brown in Smith-Njigba's pro projection – in terms of size, play style and likely deployment.
Jaxon Smith-Njigba Team Fit: Seattle Seahawks
Smith-Njigba is unlikely to match St. Brown's early career production, though, after landing in Seattle with the 20th overall pick of the 2023 NFL Draft.
Smith-Njigba will share the field with D.K. Metcalf and Tyler Lockett, who both ranked top 25 in Pro Football Focus receiving grade and yards per route run last year.
Overtaking either guy in terms of snaps or targets would be a tall task for Smith-Njigba as a rookie. Although, after he out-produced Wilson and Olave two years ago, we won't completely rule it out.
2023 Fantasy Value
It's much more likely that JSN settles in as the Seahawks' No. 3 WR this season. It's a tough spot for fantasy production considering Metcalf and Lockett soaked up 45.0% of the team's targets last year. All other Seahawks WRs combined for 75 targets on a 13.1% share.
But we're projecting Smith-Njigba to surpass that mark based on talent alone.
Strong Start
The start of training camp has been huge for the Seahawks' first-round rookie. There are no signs of the hamstring injury that sidelined him for a chunk of the 2022 season.
From what we've seen so far, his route-running has been exceptional. There's no doubt the Ohio State star is an NFL-ready WR — and there's no doubt he'll be a top-3 WR opposite veterans Metcalf and Lockett this season.
Brock Huard (former NFL QB) has likened Smith-Njigba to a blend of "Marvin Harrison and Reggie Wayne." Ok — it's only training camp chatter, but still…
After his first week of camp, the rookie proclaimed that "the best is yet to come." We're counting on it. Keep an eye on our dynasty and redraft rankings for the balance of the preseason.
Long-Term Dynasty Value
Metcalf is a significant roadblock to Smith-Njigba's fantasy ceiling. He turns just 26 in December and is signed through the 2025 season.
Lockett, on the other hand, will turn 31 in September. His contract runs through the 2025 season but carries cap hits of nearly $24 million in both 2024 and 2025. It wouldn't be surprising to see Seattle cut ties with Lockett in one of those two years and elevate Smith-Njigba.
Ultimately, Smith-Njigba is too big a talent to knock down the dynasty rankings based on a less-than-ideal short-term landing spot.
Dynasty Valuation
Our Dynasty Draft War Room assigns dynamic player values based on your league's specific settings. These values range from 100 to 0, with 100 being the most valuable player in your league and 0 being the worst rostered player. Use these values to compare players at the same position and across positions for help with draft, trade and add/drop decisions.
Jaxon Smith-Njigba Dynasty Values
Dynasty: 1-QB, Non-PPR – 57.1
Dynasty: 1-QB, PPR – 52.4
Dynasty: 1-QB, PPR, TE Premium – 53.3
Dynasty: Superflex, Non-PPR – 38.0
Dynasty: Superflex, PPR – 42.6
Dynasty: Superflex, PPR, TE Premium – 39.6
Jaxon Smith-Njigba Combine Results
Wingspan: 75.5"
Arm length: 30.5"
Hand size: 9"
40-yard dash: n/a
10-yard split: n/a
Bench press: n/a
Vertical: 35"
Broad jump: 10'5
3-cone drill: 6.57 seconds
20-yard shuttle: 3.93 seconds
Percentiles vs. Combine wide receivers since 1999, per MockDraftable.
Jaxon Smith-Njigba College Stats
| | | | | | | |
| --- | --- | --- | --- | --- | --- | --- |
| | Games | Targets | Receptions | Rec. Yards | Yards Per Rec. | TDS |
| 2020 | 7 | 14 | 10 | 49 | 4.9 | 1 |
| 2021 | 13 | 112 | 95 | 1606 | 16.9 | 9 |
| 2022 | 3 | 9 | 5 | 43 | 8.6 | 0 |
Smith-Njigba posted some silly numbers at Rockwall High School in Texas. He caught 97 balls for 1,828 yards and 20 TDs as a junior and then went for 2,094 yards and 35 scores on 104 grabs as a senior.
Smith-Njigba was named the 2019 Texas 6A State Player of the Year and earned a 5-star rating from Rivals and 247Sports. He opted for Ohio State over offers from 15+ other schools, including Notre Dame, Oklahoma, and Ole Miss.
Quiet 2020 in Loaded WR Room
Smith-Njigba joined a 2020 Buckeyes squad that featured junior Chris Olave and sophomore Garrett Wilson. Smith-Njigba finished fourth among WRs in both snaps (162) and routes (75) in that COVID-shortened season, behind Olave, Wilson, and sophomore Jameson Williams.
Outshines Garrett Wilson and Chris Olave
Then came a massive 2021 campaign.
Smith-Njigba ranked third in the nation with 1,606 receiving yards and 9th with 95 catches. He topped 100 yards in seven of 13 games, including five straight to close the season. That included an otherworldly 347-yard, 3-TD outing in a Rose Bowl win over Utah, with both Olave and Wilson out.
That production is even more impressive when you consider that most of it came alongside a pair of 2022 first-round picks who both turned in strong rookie seasons. Smith-Njigba easily beat both Wilson and Olave in catches and yards, as well as yards per route run and Pro Football Focus receiving grade.
| | | | | |
| --- | --- | --- | --- | --- |
| | Receptions | Rec Yards | Yards Per Route | PFF Rec grade |
| Smith-Njigba | 95 | 1606 | 4.01 | 91.9 |
| Wilson | 70 | 1058 | 3.00 | 84.5 |
| Olave | 65 | 936 | 2.29 | 79.9 |
Remember, too, that Smith-Njigba was a sophomore at this point. Wilson was a junior and Olave a senior.
Smith-Njigba not only led Ohio State WRs in yards per route run and PFF grade … he led all 199 WRs in the country with 40+ targets in both metrics. A few of the names right behind him: Drake London, Treylon Burks, Wan'Dale Robinson, and Skyy Moore.
Hamstring Erases Smith-Njigba's 2022
Unfortunately, a hamstring injury wrecked Smith-Njigba's 2022 season. He went down in the first quarter of the opener vs. Notre Dame and missed Week 2. He aggravated the injury in Week 3 and then appeared in just one more game the rest of the season.
Smith-Njigba wound up playing just 60 snaps all year.
Jaxon Smith-Njigba Highlights
Games watched: Oregon (2021), Penn State (2021), Nebraska (2021), Utah (2021)
Smith-Njigba is a sum-of-the-parts WR. He might not have one dominant trait, but he doesn't have any weaknesses.
No Problem Getting Open
Smith-Njigba has no trouble creating separation against man or zone coverage. He earned an 89.9 PFF grade vs. man coverage and a 90.0 against zone in 2021, both top-6 marks in the nation.
Smith-Njigba's quicks and explosiveness make him a nightmare to stick with in one-on-one coverage. (He confirmed his elite agility with top-end showings in the 3-cone and 20-yard shuttle at the Combine.)
Here, he freezes the defender before a quick break inside for a catch and run.
Smith-Njigba is also adept at finding soft spots in zone coverage. And he has a good feel for working back to his QB and presenting an open target when plays break down.
Comfortable in Traffic
When he doesn't create big separation, Smith-Njigba is comfortable and capable of making catches in traffic.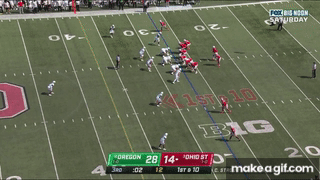 After-Catch Skills
He's also a weapon after the catch, with an impressive combination of strength, elusiveness, and speed.
Smith-Njigba puts the entire package on display here, beating press coverage, creating separation, shaking a would-be tackler, and then picking up big yards after the catch.
Can He Win Outside?
If there's a hole in Smith-Njigba's resume, it's that he did almost all of his damage from the slot. He ran 89% of his routes and compiled 85% of his yardage from the inside in 2021.
He ran just 45 total routes outside the numbers – although he did turn nine outside targets into eight catches, 239 yards and one TD.
Where Does Jaxon Smith-Njigba Land in the Dynasty Rankings?
Everyone has dynasty rankings. But not like these ...
Our dynasty rankings start with the award-winning Draft Sharks projections. Then we apply career aging curves specific to each player type.
The result: You get 1-year, 3-year, 5-year, and even 10-year outlooks for every player.
Not only that, you get a specific DMVP value for each player customized to your league format.
So you get a clear picture of who to select at every turn of your dynasty rookie draft. And you'll know exactly where the value lies in your dynasty trades.
More Dynasty Strategy Talk