Bryce Young Dynasty Fantasy Football Value
Bryce Young, QB, Panthers
Height: 5'10
Weight: 204
BMI: 29.3
Age: 21.7
NFL Draft Pick: Round 1, Pick 1
Draft Sharks Model Score: 8.81
Analytics Score: 0.81
Film Score: 0.69
Production Score: 0.98
Bryce Young Dynasty Fantasy Football Value
Special Talent
Let's begin with HC Nick Saban's poetic assessment of Young's talent...
"This guy plays quarterback like a point guard in basketball," Saban said via AL.com. "He's got eyes all over. He knows where everybody is. He can extend plays. He creates throwing lanes for himself, which is important for a guy his size. He can make all the throws. He's smart."
Does that sound like a QB you'd want on your dynasty squad?
Bryce Young Height: Is It An Issue?
Bryce Young is 5'10. It's not like we're talking about a 5'6, 150-pound passer here.
There's precedent in Kyler Murray (5'10, 207). And he's already nailed three top-12 fantasy finishes.
You can knock Young's lack of elite rushing ability. It likely keeps him from hitting the overall QB2 ceiling we saw from Murray in 2020.
Beyond that, it's time to stop crushing Young for his stature. Last year, he had only two batted balls on 359 attempts.
Most critically: He's missed only one college game in two seasons.
NFL Team Fit: Carolina Panthers
A WR corps of Adam Thielen, DJ Chark, Jonathan Mingo, and Terrace Marshall won't strike fear in opponents. But Young's polished skill set makes him a likely QB2-level fantasy performer for this season. (Young is described as a "mental savant" inside Carolina's building, per ESPN's Jeremy Fowler.)

Beyond that? Carolina doesn't have a Round 1 pick in 2024 after trading up for Young. They do have plenty of cap space to improve the weapons around him, though. Hayden Hurst also arrived in free agency to upgrade TE.
Ultimately, you're not chasing Young aggressively in rookie drafts. But the 'Bama rookie still projects favorably in our updated, post-draft Dynasty Rankings.
Question: Play in 2-QB leagues? See where Young came out in our consensus superflex rookie rankings.
Dynasty Valuation
Our Dynasty Draft War Room assigns dynamic player values based on your league's specific settings. These DMVP values range from 100 to 0, with 100 being the most valuable player in your league and 0 being the worst rostered player. Use these values to compare players at the same position and across positions for help with draft, trade and add/drop decisions.
To see Bryce Young's value for your exact league setup, check out our Dynasty Draft War Room.
Bryce Young Dynasty Values:
Dynasty: 1-QB, Non-PPR – 32.7
Dynasty: 1-QB, PPR – 32.8
Dynasty: 1-QB, PPR, TE Premium – 25.1
Dynasty: Superflex, Non-PPR – 50.2
Dynasty: Superflex, PPR – 55.5
Dynasty: Superflex, PPR, TE Premium – 54.5
Bryce Young Combine Results
Young passed on testing (or throwing) at the Combine.
He measured 2 inches shorter than the Alabama listing (6'0 vs. 5'10); his weight increased from 194 to 204.
Arm length: 30 1/2"
Hand size: 9 3/4"
40-yard dash: n/a
10-yard split: n/a
Bench press: n/a
Vertical: n/a
Broad jump: n/a
3-cone drill: n/a
Percentiles vs. Combine Quarterbacks since 1999, per MockDraftable.
Bryce Young College Stats
| | | | | | | | | | | |
| --- | --- | --- | --- | --- | --- | --- | --- | --- | --- | --- |
| | Games | cmp | att | Cmp% | yds | Tds | ints | car | yds | tds |
| 2020 | 7 | 13 | 22 | 59.1% | 156 | 1 | 0 | 9 | -23 | 0 |
| 2021 | 15 | 366 | 547 | 66.9% | 4,872 | 47 | 7 | 81 | 0 | 3 |
| 2022 | 12 | 245 | 380 | 64.5% | 3,328 | 32 | 5 | 49 | 185 | 4 |
An Early Standout
Young tore up the high school circuit in Southern California, steering Mater Dei to a pair of state title games.
Ranked the #1 dual-threat QB by ESPN, Rivals and 247Sports, Young initially committed to USC.
For more than a year.
Then, given coaching uncertainty at USC, Young took his talents to Tuscaloosa.
"I just wanted to do what was best for me, football-wise," Young told USA Today in 2020. "I felt that Alabama was the best fit for me."
Boy, was he right.
Patience … and a Breakout
Mac Jones started for the 2020 Crimson Tide. Come 2021, though, Young proved ready to dominate the SEC.
Nationally, he ranked second in passing yards and passing TDs. With help from a pair of eventual top-50 picks – Jameson Williams and John Metchie – Young also secured a Heisman Trophy.
His top Heisman moment? A dazzling performance against Georgia's vaunted defense in the SEC Championship:
421 yards
3 TDs
0 INTs
98.1 QBR (his 2nd best mark of the season)
Young struggled against the same defense in a National Championship defeat weeks later. But keep in mind: Jameson Williams suffered an ACL tear early in the 2nd quarter.
His loss completely changed Alabama's offense.
WR Turnover
Williams turned pro last year. As did Metchie, and Young's #3 WR from 2021, Slade Bolden.
That trio accounted for 59.2% of Young's completions, 64% of his passing yards, and 55.3% of his passing TDs.
Surely, Alabama – basically "Wide Receiver U" – could restock the shelf for 2022. Right?
Not so much.
Supporting Cast Declines
Remember how Tua Tagovailoa threw to DeVonta Smith, Jaylen Waddle, Jerry Jeudy, and Henry Ruggs? And how evaluators used that as a knock against Tua?
Well, Young's 2022 was a complete 180.
Injuries played a part. Sophomore WR JoJo Earle suffered a Jones fracture in August, and redshirt senior Tyler Harrell barely played due to a foot injury.
In 14 combined games, that duo tallied:
In fact, no Alabama WR topped 40 catches or 700 yards for the season. Their leader in receptions? RB(!) Jahmyr Gibbs.
So, how did Young handle the tricky situation?
Like a pro.
NFL Potential Remains Clear
Young recorded 8.8 yards per attempt and an adjusted completion rate of 77.4%. The former mark matched what he did in 2021. The latter fell just shy.
Both years, he earned a 2.0% turnover-worthy play rate – a Pro Football Focus stat to isolate QB decision making. That ranked top 10 in the nation both seasons (among QBs with 400+ dropbacks, a sample of 50+ players in 2021 and 2022).
All impressive, for sure. But how would Young handle the first injury setback of his career?
Bryce Young Injury: Shoulder Scare
Despite a Week 5 sprained AC joint, Young missed just one game.
PFF actually graded his passing higher post-injury. And it wasn't like Bama tried to hide him. His attempts rose from 30.25 pre-injury to 35.1 post.
Think about that. After all, Young's taken heat from league observers as a short, slightly built prospect.
But this kid is tough. (More on that below.) Remember, he played in the NFL pipeline that is the SEC…
And he missed only 1 game … in 2 seasons.
Let's move on.
Bryce Young Highlights
Games watched: Georgia (2021), Tennessee (2022), Texas (2022), Georgia (2022), Utah State (2022), Auburn (2022), Ole Miss (2022)
Majoring in Improv
Think about the QBs who make 'wow' throws outside the pocket.
Guys like Patrick Mahomes, Jalen Hurts, Josh Allen.
That was the signature trait Young showed at Alabama. And it wasn't just an occasional flash.
Here's a 33-yard throw. On a line … dropped. Consider: Bama pass-catchers combined for an 8.2% drop rate this past year, up from 7.6% in 2021.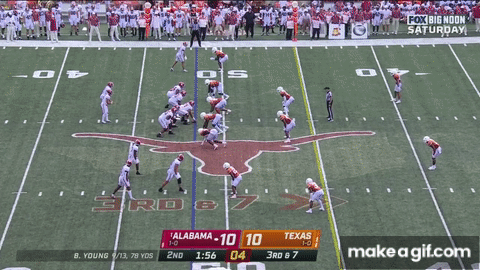 Accurate Everywhere
While there's no doubt Young's NFL team will get him on the move, he also proved lethal in the pocket.
Whether you want deep accuracy…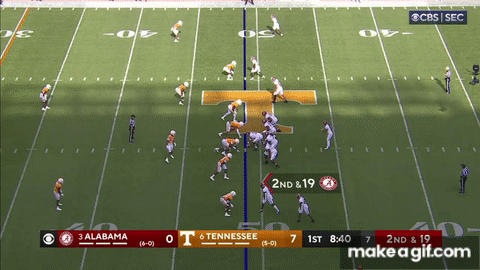 … or timing and anticipation, Young looks pro-ready: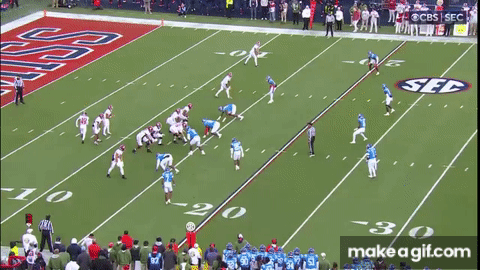 Per ESPN, he leads this draft class in off-target throw rate (8.3%). Any way you slice it: Young's tape shows an ability to make each throw.
Rushing Upside and Pressure
Alabama's rushing offense rarely utilized Young. (Have you seen their backfields?!)
In fact, across two seasons, Young executed only 15 designed runs.
Expect him to be selective in the pros. When given a lane, though, he can exploit it. (Note the excellent pocket presence, too.)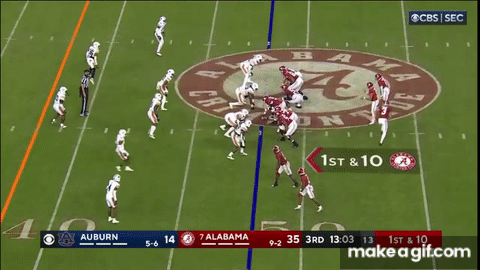 Young can deliver the ball in the face of pressure. Heavy pressure, even …
The issue? In my seven-game sample, I saw a few too many of those violent collisions. The type that'd stun even the thickest QBs.
Improving there could prove critical for his NFL longevity.
More Dynasty Content
Bryce Young looks like a polished Week 1 starter. But how should he fit into your overall dynasty strategy?