Bijan Robinson Dynasty Fantasy Football Value
Bijan Robinson, RB, Falcons
Height: 5'11"
Weight: 215
BMI: 30.0
Draft Age: 21.2
NFL Draft Pick: Round 1, Pick 8

Draft Sharks Model Score: 9.36
Analytics Score: 0.88
Film Score: 0.71
Production Score: 0.98

Bijan Robinson Dynasty Fantasy Football Value
Robinson should be the 1.01 in all rookie drafts. Yes, that means superflex, too.
With his rushing skill and durability, Robinson is a hammer-like RB that can secure around a 70% snap share in an NFL backfield. He's a true workhorse, entering a league that keeps moving toward committee backfields.
An athlete like Robinson is rare in modern football.
Bijan Robinson Team Fit: Atlanta Falcons
Robinson is reminiscent of former Pro Bowler Corey Dillon as a runner. A bruiser that'll run with the same force and energy in the first quarter as he does in the fourth, sucking the life out of opposing defenses.

Couple that with his solid receiving skill set, and we're talking about a genuine fantasy superstar.
This type of back fits nicely into what HC Arthur Smith wants to do.
Smith's Run-Heavy Ways
Smith wants to run the ball, and the Falcons do it well. Here's how the Falcons' offense ranked in 2022
2nd in team rushing rate (55.29%)
3rd in Football Outsiders' Rushing Offense DVOA
5th in PFF offensive line run blocking grade
Remember, this is the same coach that spent time as the OC with the Titans from 2019 to 2020 and built his offense around Derrick Henry.
It shouldn't surprise you that Robinson already sits pretty high in our 2023 fantasy football rankings.
Dynasty Valuation
Our Dynasty Draft War Room assigns dynamic player values based on your league's specific settings. These DMVP values range from 100 to 0, with 100 being the most valuable player in your league and 0 being the worst rostered player. Use these values to compare players at the same position and across positions for help with draft, trade and add/drop decisions.
Bijan Robinson Dynasty Values:
Dynasty: 1-QB, Non-PPR – 94.1
Dynasty: 1-QB, PPR – 80.3
Dynasty: 1-QB, PPR, TE Premium – 80.3
Dynasty: Superflex, Non-PPR – 85.3
Dynasty: Superflex, PPR – 78.5
Dynasty: Superflex, PPR, TE Premium – 78.5
To see Bijan Robinson's value for your exact league setup, check out our Dynasty Draft War Room.
Bijan Robinson Combine Results
Wingspan: n/a
Arm length: 31 1/8"
Hand size: 9 3/4"
40-yard dash: 4.46 seconds
10-yard split: 1.52 seconds
Bench press: n/a
Vertical: 37"
Broad jump: 10'4
3-cone drill: n/a
20-yard shuttle: n/a

Percentiles vs. Combine running backs since 1999, per MockDraftable.
Bijan Robinson College Stats
| | | | | | | | | | |
| --- | --- | --- | --- | --- | --- | --- | --- | --- | --- |
| | Games | carries | yards | ypc | tgts | rec | yards | ypr | tot tds |
| 2020 | 9 | 86 | 703 | 8.2 | 17 | 15 | 196 | 8.9 | 6 |
| 2021 | 10 | 195 | 1127 | 5.8 | 31 | 26 | 295 | 6.4 | 15 |
| 2022 | 12 | 258 | 1580 | 6.1 | 29 | 19 | 314 | 6.8 | 20 |
A Star is Born
Robinson was the No. 1 RB recruit in the nation in 2020. The five-star prospect from Tucson, Ariz., received 21 FBS offers before choosing Texas over USC and Ohio State.
The talented back immediately entered a featured role as a freshman in 2020. Robinson led the Longhorns with 86 carries and 703 rushing yards in a timeshare with teammates Roschon Johnson and Keaontay Ingram.
The massive coming-out party for Robinson came in the final 2 games, though. Robinson tallied a 9-172-3 rushing line against Kansas State and a stellar 10-182-0 against Colorado in the Alamo Bowl. That one earned him game MVP honors.
Robinson Delivers Much More
From that point on, dynasty managers knew Bijan's name. Even folks who don't watch a ton of college football have been champing at the bit to get this player onto their squads.
He finished his sophomore campaign with 1,422 scrimmage yards, 15 total touchdowns, and a first-team All-Big 12 nod in only 10 games (due to a season-ending elbow injury).
As a junior, Robinson ranked second in the nation among RBs in total scrimmage yards (1,894) -- behind only Deuce Vaughn of Kansas State -- and scored 20 total TDs.
Robinson Earns Recognition
Robinson earned unanimous All-American selection and a second consecutive All-Big 12 tap. He also finished ninth in Heisman Trophy voting and won the Doak Walker Award (top RB in the country).
He ranks fourth in school history in rushing yards (3,410) and tied for third in rushing TDs (33), ahead of former All-Pro Jamaal Charles (among others).

Beyond the traditional counting stats, Robinson also stacks up well in the metrics department.

Inside the Numbers
The Longhorn ranked top 10 in Pro Football Focus rushing grade and Elusive Rating (minimum 100 carries) among RBs in both 2021 and 2022. Robinson also ranked third in missed tackles forced in 2021 (78) and 1st in 2022 (104), according to PFF. The dude's tough to bring down, to say the least.
Robinson ranked 19th in PFF receiving grade among RBs (min. 20 targets) in 2022. His 319 receiving yards ranked sixth among FBS RBs on just 19 receptions. Only 1 other player in the top 20 recorded fewer than 30 receptions (Frank Peasant of Middle Tennessee State).

We know the name. We know the numbers. But what can dynasty managers expect from Robinson in the NFL? Let's look at the film ...
TIP
The Draft War Room is your fantasy football cheat sheet for dynasty rookie drafts. Sync your league today to see how Bijan Robinson and the rest of the rookies rank in your league.
Bijan Robinson Highlights:
Games watched: Kansas State 2020, Oklahoma State 2021, Iowa State 2021, Kansas 2022, Alabama 2022, Baylor 2022, Iowa State 2022

When you watch Bijan Robinson on film, the control in the lower half of his body stands out most -- along with his core strength. That keeps him moving at all times.
A Human Jeep?
There are plenty of moments where he wobbles a bit after being hit. His contact balance isn't high end, but the sheer torque his lower half creates keeps him trucking along just fine. Robinson wins with the momentum his legs create and his pliability as a larger player. It's rare to see a player Robinson's size so bendy.
Watching Robinson run is like a Jeep Wrangler commercial. His proverbial suspension provides confidence even in rugged terrain. Robinson is basically a human Jeep.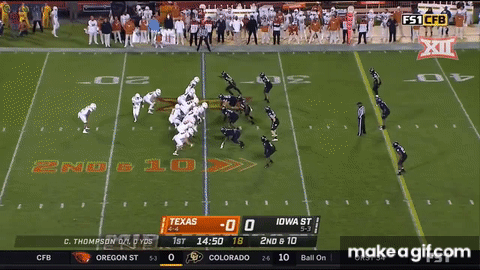 It's worth noting that there's not a ton of long speed in Robinson's profile. He kicks into that optimal speed quickly and maintains it well, but he doesn't possess a burner-like third gear. He's not slow by any means. But speed isn't how he wins.
Robinson also usually falls forward and keeps his pad level in a good spot. He leverages his size extremely well in most situations. He's powerful but not necessarily aggressive. Generally, Robinson is an excellent cut-and-go rusher with natural force and good downhill form.
Size + Stamina = A True Workhorse
You can also see the evolution of his footwork as his experience grows. He can shift speed up and down to avoid contact to a remarkable degree.
Robinson's footwork isn't ninja-like technical. It would be fair to characterize his cuts and bag of tricks as more "smooth" than "sharp" in general.
Robinson doesn't avoid unnecessary contact as much as he should. Though admirable at times, his awareness of his size can get him into trouble in situations where bouncing further to the perimeter would be likelier to keep plays alive. His general vision is acceptable but circumstantially risky.
That said, even his "unsuccessful" shorter runs are chunk plays that go 1-3 yards further than most RBs could manage. This play style and his generally high-end stamina bode well for him to break off bigger plays late in games.
You'll see the same form and effort throughout the game. Robinson's tape vs. Baylor provides an excellent example.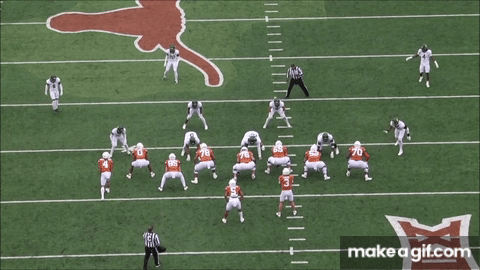 Scratching The Surface As a Receiver?
Robinson consistently shows capable acumen to be trusted in dump-off situations. His head and hips snap back and swivel quickly to process what's in front of him after the catch.

There are examples of him lining up wide and making good catches, but he's not the separator as a receiver that Christian McCaffrey or Saquon Barkley is.
Robinson fits more of the "capable" receiver archetype than the "natural" one over the course of his career. He's more like a Leonard Fournette in this area.
(Though, to be fair, NFL Network's Daniel Jeremiah called Robinson's hands "natural" during Combine receiving drills.)
Robinson displayed growth in this area as a junior. This play against Iowa State in 2022 shows Robinson flash a tremendous catch radius and solid route-running skills.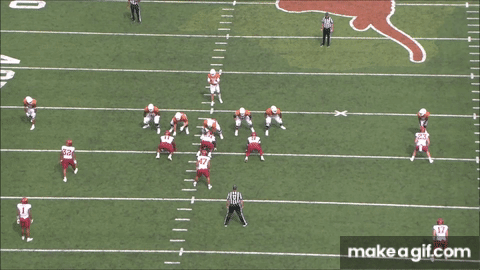 Perhaps Robinson can grow into the mold of Barkley with the right coaching and receiving development.

Counting on that happening would be unfair, of course. And there's a solid enough pass-catching floor already.
Where Does Bijan Robinson Sit in the Dynasty Rankings?
Everyone has dynasty rankings. But not like these ...
Our dynasty rankings start with the award-winning Draft Sharks projections. Then we apply career aging curves specific to each player type.
The result: You get 1-year, 3-year, 5-year, and even 10-year outlooks for every player.
Not only that, you get a specific DMVP value for each player customized to your league format.
So you get a clear picture of who to select at every turn of your dynasty rookie draft. And you'll know exactly where the value lies in your dynasty trades.
See where Bijan Robinson sits in our dynamic dynasty rankings.
More Rookie RB Info
Before we got landing spots for this year's rookie RBs, here's how the guys felt about the top options and a few sleepers ...