Dalton Kincaid Dynasty Fantasy Football Value
Dalton Kincaid, TE, Utah
Height: 6'4
Weight: 246 (BMI: 29.9)
Age: 23.4
NFL Draft Projection: Late Round 1-2
Draft Sharks Model Score: 8.33
Analytics Score: 0.72
Film Score: 0.59
Production Score: 0.94
Player Comp: Early-career Zach Ertz
Dalton Kincaid Dynasty Fantasy Football Value
Let's start with a 30,000-foot view:
Since 2000, only 6 rookie TEs have recorded a top-10 fantasy finish.
Only 2 are active: Kyle Pitts and Evan Engram.
Not great, but let's take a step back.
We're talking about Dalton Kincaid's dynasty fantasy football value. So a slow start isn't a big deal in the grand scheme…
Could He Be An Instant Hit?
It's worth considering the outlier case for Kincaid. (Perhaps you're a plug-and-play TE away from contending.)
He'll enter the league at almost 24 years old — ancient for a pro prospect. In theory, that could knock time off the typical TE learning curve.
His film also suggests he could be a Year 1 factor. (More on that later.)
And, if he lands in the perfect spot … jackpot.
Draft Analysts Agree: Kincaid Is Legit
The Athletic's Dane Brugler calls Kincaid "the best pure receiver" in this TE class.
NFL Network's Daniel Jeremiah describes the tape as "outstanding."
And here's Pro Football Focus' Mike Renner: "[Kincaid] looks like a receiver who just so happens to be tight end sized."
You get the gist.
A Mismatch Weapon And A Future TE1?
While he doesn't profile as a traditional Y (inline) TE, there's a role that fits his skill set in the pros.
Kincaid is a size mismatch for DBs; an athletic mismatch for LBs. Just look at his career yards per catch (15.0) and TD rate (15%).
We expect Kincaid to come off the board by the middle of Round 2, and there's a shot he enters Round 1. If that happens, Kincaid's pro team will have a clear plan for maximizing his receiving talent.
Long term, there's a clear path to top-10 dynasty value.
*To see the Dalton Kincaid dynasty fantasy football value for your league setup, visit the Dynasty Draft War Room.
Dalton Kincaid Combine Results
At the NFL Combine, Kincaid told reporters he wouldn't participate in drills. Per NFL Network's Ian Rapoport, Kincaid is resting a "tiny" back fracture.
He's aiming to participate in Utah's March 23 Pro Day.
Wingspan: 78 3/8"
Arm length: 32 5/8"
Hand size: 10.25"
40-yard dash: DNP
10-yard split: DNP
Bench press: DNP
Vertical: DNP
Broad jump: DNP
3-cone drill: DNP

Percentiles vs. Combine tight ends since 1999, per MockDraftable.
Dalton Kincaid College Stats
| | | | | | |
| --- | --- | --- | --- | --- | --- |
| | Games | Rec | Yards | YPR | TDs |
| 2018 | 12 | 24 | 374 | 15.6 | 11 |
| 2019 | 12 | 44 | 835 | 19.0 | 8 |
| 2020 | 5 | 1 | 14 | 14.0 | 0 |
| 2021 | 13 | 36 | 510 | 14.2 | 8 |
| 2022 | 12 | 70 | 890 | 12.7 | 8 |
Kincaid grew up with a basketball background, even earning an AAU National Championship as a kid.
In fact, he played just one season of high school football.
And that takes us to the first major stop on his football journey — the University of San Diego.
Kincaid Quickly Enters NFL Radar
He dominated the lower level of competition, racking up 68-1,209-19 in 2 seasons. His efforts earned him an All-American nod.
Then came a transfer to Utah, and soon, a PAC-12 breakout.
In 2021, Kincaid showcased big-play talent with 14.2 yards per catch and 8 TDs — 5th most among TEs in the FBS.
The Vegas native saved his best work for 2022.
Senior-Year Breakout … With a Catch
Across 12 games, he paced the team in catches (70), yards (890) and TDs (8). Among TEs, he ranked top-5 nationally in reception and yardage market shares.
Now, Kincaid benefited from a September ACL tear that struck TE teammate Brant Kuithe.
In 2021, Kuithe actually out-produced Kincaid…
Brant Kuithe College Stats: 71 targets, 50 catches, 611 yards, 6 TDs
Dalton Kincaid College Stats: 45 targets, 36 catches, 510 yards, 8 TDs
Still, Kincaid's 2022 presented its own pitfalls.
In late October, an injured shoulder cost him a game. About a month later, another upper-body injury contributed to his decision to sit out the Rose Bowl.
Call it a slight disappointment for evaluators.
But with 55 career games played, there's a hefty sample to assess Kincaid's dynasty fantasy football value.
Dalton Kincaid Highlights
Games watched: Arizona St. (2022), Washington St., (2022), USC (2022), Oregon (2022), Colorado (2022)
Utah often used Kincaid as a jumbo WR. Per Pro Football Focus, he lined up in the slot or out wide on 64.5% of his 2022 passing snaps.
Here, he's split out for one of two screen passes I observed in five games. While the play's well blocked, you get a sense of his burst…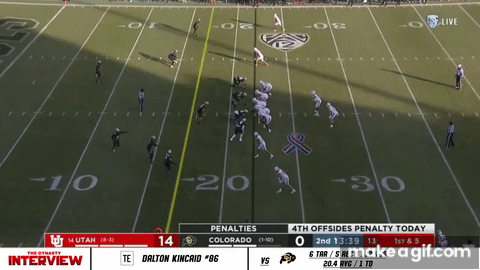 No matter the alignment, PAC-12 defenders struggled to contain this 5th-year senior.
Next, you see Kincaid get vertical from the slot vs. senior LB (and Alabama transfer) Shane Lee. Kincaid isn't supersized -- at least for a TE -- at 6'4, 240. But he's a natural receiver: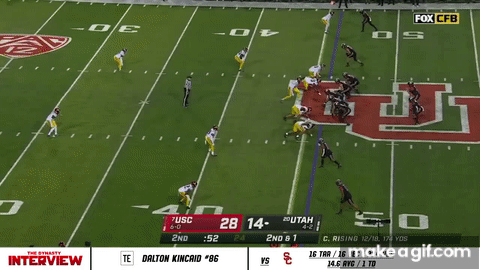 It's no surprise, but Kincaid wasn't a strong blocker on tape. Still, he excelled as an in-line pass catcher. Below, you get a look at his elusiveness in space.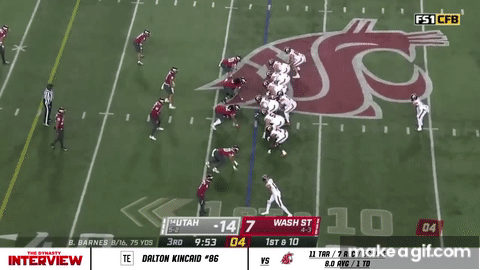 Per PFF, Kincaid's 16 forced missed tackles ranked 3rd among TEs. He ranked 2nd (among qualifiers) in one of our favorite efficiency metrics: yards per route run.
Reliable hands are a must to gain the trust of any QB. Kincaid shows no weakness there with a career drop rate of only 1.6%. In fact, his only 2 drops came in 2022.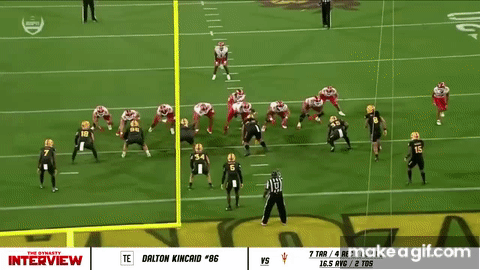 See where Kincaid and the rest of this year's rookies sit in our updated dynasty rankings.
Make sure to check out all of our rookie profiles to get up to speed on this strong 2023 draft class!
Bijan Robinson's dynasty fantasy football value.
Jaxon Smith-Njigba's dynasty fantasy football value.
More Dynasty Analysis
Want to know which veteran TEs you should consider selling to make room for this strong class of rookies? Check out this dynasty trades podcast on TE ...