Cedric Tillman Dynasty Fantasy Football Value
Cedric Tillman, WR, Browns
Height: 6'3
Weight: 213
BMI: 26.6
Age: 23.0
NFL Draft Pick: Round 3, Pick 11 (74th overall)
Draft Sharks Model Score: 6.97
Analytics Score: 0.54
Film Score: 0.43
Production Score: 0.52
Player Comp: Alshon Jeffery
Cedric Tillman Dynasty Fantasy Football Value
Cedric Tillman's 2022 injury might turn him into a big value in dynasty rookie drafts. A September high-ankle sprain required surgery and limited him to just three more games the rest of the way.
But Tillman tallied 230 yards and 1 TD in two healthy games before that injury, after exploding for 1,081 yards and 12 TDs in 2021. He easily out-produced both 2022 third-rounder Velus Jones Jr. and fellow 2023 prospect Jalin Hyatt that year.
Size + Athleticism = Fantasy Upside
Unlike many of the WRs in this class, Tillman puts big check marks in the size and athleticism boxes.
He's 6'3, 213 pounds and earned an 86th-percentile Relative Athletic Score, highlighted by a good-enough 4.54-second 40 time and a strong 37-inch vertical.
That package gives him one of the higher fantasy ceilings in this WR class.
Tillman's Profile Not Without Warts
But Tillman didn't break out until his fourth college season, spent five total years at Tennessee, and will already be 23 when his rookie campaign gets going. Plus, he's coming from a funky, college-style offense, meaning he'll likely have a big transition to make to his NFL system.
Add it all up and Tillman looks like one of the bigger boom/bust prospects in the WR class.
Cedric Tillman Team Fit: Cleveland Browns
Tillman got decent draft capital, coming off the board in Round 3 as WR11 -- one pick behind college teammate Jalin Hyatt.
Sneaky Good Landing Spot
The Browns seem primed to make a philosophical shift toward a more pass-centric offense. Since March 2022, they've swung a big trade for QB Deshaun Watson, acquired WRs Amari Cooper and Elijah Moore, signed TE David Njoku to a big extension, and drafted Tillman. If Watson rediscovers pre-suspension form, this could turn into an elite passing game as soon as this year.
There's stiff competition for playing time for Tillman out of the gate. He's not a great bet for 2023 fantasy value.
Long-Term Opportunity
But WR Donovan Peoples-Jones is entering the final year of his contract. Tillman looks like a perfect replacement as a big-bodied, downfield weapon.
Looking out a bit further, Cooper and Moore are set to hit free agency after the 2024 season.
So there's opportunity for Tillman to ascend this depth chart over the next couple of years.
There wasn't a ton of buzz on Tillman pre-draft. And there's not much post-draft, either.
But he looks like a high-upside prospect in a high-upside landing spot to us. Highlight him as a top value target in your dynasty rookie drafts.
Off to a Good Start
Through the first week of training camp — as well as the Hall of Fame game — Tillman has looked like an NFL-ready WR. Whispers from Browns training camp say that Tillman is the team's No. 4 WR, with a chance to eventually displace People-Jones as the outside WR opposite WR Amari Cooper. If that happens, look for Tillman to rocket up our player rankings, not to mention our Dynasty rankings.
Dynasty Valuation
Our Dynasty Draft War Room assigns dynamic player values based on your league's specific settings. These values range from 100 to 0, with 100 being the most valuable player in your league and 0 being the worst rostered player. Use these values to compare players at the same position and across positions for help with draft, trade and add/drop decisions.
Cedric Tillman Dynasty Values:
Dynasty: 1-QB, Non-PPR – 26.3
Dynasty: 1-QB, PPR – 18.4
Dynasty: 1-QB, PPR, TE Premium – 9.9
Dynasty: Superflex, Non-PPR – 11.2
Dynasty: Superflex, PPR – 1.0
Dynasty: Superflex, PPR, TE Premium – -0.2
Cedric Tillman Combine Results
Wingspan: n/a
Arm length: 32.75"
Hand size: 10"
40-yard dash: 4.54 seconds
10-yard split: 1.53 seconds
Bench press: DNP
Vertical: 37"
Broad jump: 10'8
3-cone drill: DNP
20-yard shuttle: DNP
Percentiles vs. Combine wide receivers since 1999, per MockDraftable.
Cedric Tillman College Stats
| | | | | | | |
| --- | --- | --- | --- | --- | --- | --- |
| year | games | targets | Receptions | rec. yards | yards per rec. | tds |
| 2018 | 4 | 2 | 1 | -3 | -3.0 | 0 |
| 2019 | 11 | 7 | 4 | 60 | 15.0 | 1 |
| 2020 | 10 | 13 | 3 | 67 | 22.3 | 1 |
| 2021 | 13 | 86 | 64 | 1081 | 16.9 | 12 |
| 2022 | 16 | 59 | 37 | 417 | 11.3 | 3 |
Tillman attended powerhouse Bishop Gorman High School in Nevada, helping the school to national titles in 2016 and 2017. He capped his high school career with a 774-yard, 7-TD senior season.
Tillman was just a three-star recruit, though, and only received scholarship offers from Tennessee, Hawaii, UNLV, and Weber State.
Biding His Time
Tillman headed to Knoxville but had to wait a while to find significant playing time.
He took a redshirt after playing just 37 snaps as a freshman and then totaled only 289 snaps across the next two seasons, sitting behind WRs like Josh Palmer, Jauan Jennings, Marquez Callaway, Velus Jones, and Jalin Hyatt.
TIP
See where all of Tillman's former college teammates sit in the updated Dynasty Rankings.
It's worth noting that Hyatt as a true freshman in 2020 out-snapped Tillman 252 to 171, tallying 20 catches for 276 yards and two TDs.
2021 Breakout
But it was Tillman who enjoyed a breakout 2021 campaign under new HC Josh Heupel and new QB Hendon Hooker.
(Note: Check out our take on Hendon Hooker's dynasty fantasy football value.)
Tillman edged Velus Jones (at that point in his SIXTH college season) 64 to 62 in catches and easily led Tennessee with 1,081 receiving yards and 12 TDs. The market shares were huge:
26.3% of the team's receptions
32.3% of the receiving yards
36.4% of the receiving scores
Tillman ranked a solid 60th among 334 qualifying WRs in both Pro Football Focus receiving grade and yards per route run.
He did a lot of work deep downfield, with a 16.3-yard average depth of target. Tillman saw 27 targets of 20+ yards, hauling in 12 of them for 492 yards and 5 TDs. He ranked top 18 in the nation in both yards and TDs on deep balls.
Cedric Tillman Injury
Unfortunately, Tillman's 2022 season was hampered by a left high-ankle sprain suffered on Sept. 17. Tillman needed "tightrope" surgery and missed Tennessee's next four games.
He returned in late October and played vs. Kentucky and then Georgia. But that ankle continued to give Tillman trouble and limited him to just one more game the rest of the way.
Playing Hurt
He still flashed this past season, though. Tillman posted a 6-68 line in the season opener and then exploded for 162 yards and a score in Week 2. He out-gained Hyatt 230 to 101 across those first two games.
Even after hurting his ankle, Tillman managed to catch 7 balls for 68 yards vs. Georgia and then smoke South Carolina for 81 yards and two TDs on nine grabs.
Tillman said at the NFL Combine in March that he was "kind of about 80%" when he returned from ankle surgery.
"Obviously dealing with a high ankle sprain, running straight is pretty good, but cutting and stuff like that gets pretty difficult," Tillman said. "There was games that my ankle was just swollen like an orange, but like I said, the competitor in me wanted to go out there and fight for my team."
Tillman added that he was finally back to 100% by January and was able to participate fully at the Combine.
Cedric Tillman Highlights
Games watched: Florida (2021), Alabama (2021), Georgia (2021), Ball State, South Carolina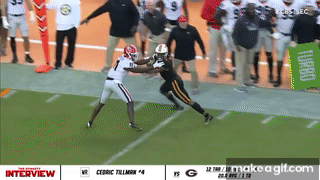 Physicality is the Name of the Game
Tillman is bigger and stronger than most of the DBs he lines up against, and he knows it.
He has no issue fending off press coverage.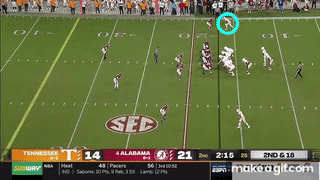 And he's not afraid to get physical at the top of his routes.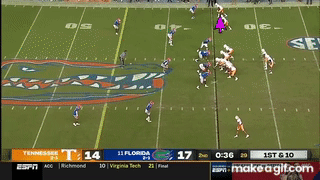 Tillman is also excellent working in traffic, using his 6'3, 213-pound frame to box out smaller DBs for the football.
Contested-Catch Dominator
On top of the big frame, Tillman displays impressive spatial awareness and body control to come down with 50-50 balls.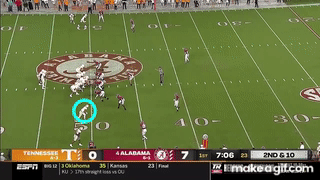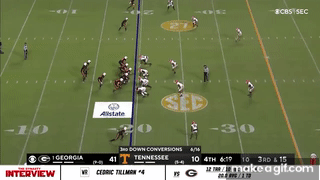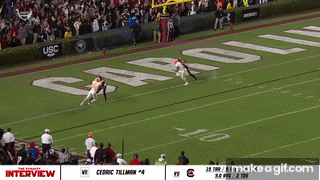 Per Pro Football Focus, Tillman corralled 19 of 32 contested opportunities (59%) over the last two seasons, including 13 of 18 (72%) in his healthy 2021.
A Bully After the Catch
Not surprisingly, Tillman is also a brute with the ball in his hands. You're not going to bring him down with an arm tackle. And he can chew up yards in a hurry in the open field.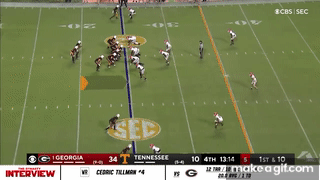 Missing: Separation Ability
Tillman is often forced to make tough contested catches because he doesn't create much separation. He's a bit lumbering in his routes and has below-average start-stop ability.
That's not a death knell, especially considering he has the size, vertical, and ball skills to continue winning in the contested game at the next level.

But Tillman will need to find a QB willing to throw him the rock even when he's covered.
Transition to Pro-Style Offense
It also needs to be noted that Tillman played in the same up-tempo, spread-the-field passing attack that sprung Jalin Hyatt for so many big plays last year.
Tillman's production didn't appear as scheme-boosted as Hyatt's, but it's fair to assume that Tillman will have a significant transition to make to his NFL offense.
Where Does Cedric Tillman Land in the Dynasty Rankings?
Everyone has dynasty rankings. But not like these ...
Our dynasty rankings start with the award-winning Draft Sharks projections. Then we apply career aging curves specific to each player type.
The result: You get 1-year, 3-year, 5-year, and even 10-year outlooks for every player.
Not only that, you get a specific DMVP value for each player customized to your league format.
So you get a clear picture of who to select at every turn of your dynasty rookie draft. And you'll know exactly where the value lies in your dynasty trades.
See where Cedric Tillman sits in our dynamic dynasty rankings.
More Changing Dynasty Values ...
Matt, Jared, and Herms break down the post-NFL Draft rookie landscape.