Sean Tucker Dynasty Fantasy Football Value
Sean Tucker, RB, Buccaneers
Height: 5'9
Weight: 207
BMI: 30.6
Draft Age: 21.5
NFL Draft Pick: Undrafted Free Agent
Draft Sharks Model Score: 6.26
Analytics Score: 0.57
Film Score: 0.40
Production Score: 0.40

Sean Tucker Dynasty Fantasy Football Value
Tucker is a small-yet-thick back that plays football like a track runner.
He's unlikely to ever be a workhorse in the NFL. But Tucker can be a big-play complement in the NFL.
Take a flier on him in your rookie drafts and tuck him away on your taxi squad. The results may surprise you.
That said, he doesn't come without some red flags ...
Possible Heart Issue?
An undisclosed injury kept the Syracuse back from participating in drills at the NFL Combine. He didn't partake in the school pro day either.
Tucker eventually held a personal pro day on campus on April 24th, but he didn't run the 40-yard dash or perform any speed-based drills whatsoever.
All we have to go on in terms of Tucker's speed is the private workout video Tucker posted on Twitter.
Eventually, a report from Bob McGinn, former contributor to The Athletic, from late-April cited a heart condition as the reason Tucker didn't participate at the NFL Combine.
Per the article, an anonymous team executive said "This sounds like it's not going away ... Essentially, [Tucker] could be done."

This may explain why Tucker went undrafted.
And if this turns out to be true, he's nothing more than a speculative pick-up with little dynasty value.
Sean Tucker Team Fit: Tampa Bay Buccaneers
Regardless of his health concerns, the Bucs felt comfortable enough to sign Tucker promptly after the NFL Draft concluded.
So let's assume for the sake of this exercise that Tucker can, in fact, remain healthy:
The Bucs' O-Line = Bad
The Buccaneers' offensive line ranked 25th in PFF run blocking grade and 28th in Football Outsiders' Adjusted Line Yards in 2022.
Both Leonard Fournette and Rachaad White saw the majority of their fantasy production last season come through the receiving game because of this.
The franchise made a few moves this offseason to address these concerns, but it's difficult to say how much they'll improve in 2023.
The good news is that Tucker was fairly effective as a pass-catcher at Syracuse, registering 94 targets across 3 seasons.
The RB Depth Chart is Thin (At Best)
The other piece of good news is that the Buccaneers cut Fournette earlier this offseason, leaving White as the de facto RB1.
Beyond that, the team has virtually no depth at the RB position.
Chase Edmonds signed a one-year, $1.1 million deal with the Buccaneers this offseason fresh off a 2022 campaign that saw him fall out of favor with the Dolphins and get traded to the Broncos.
Former 3rd round NFL Draft pick Ke'Shawn Vaughn will be around too, but 79 career carries across 3 seasons says everything that fantasy managers need to know about how the Bucs view him at this point.
Tucker has a viable path to becoming the RB2 in this offense should he make the final roster cuts by the end of the summer.
But when you weigh that against the poor Bucs' o-line, and his possible heart issue, it's hard to get too excited about him.
Plainly speaking, Tucker = lottery ticket.
Tucker Gets Back on the Field
The best news for anyone following Tucker is that his heart condition did not keep him from participating in training camp.
After the first week, the coaching staff acknowledged that Tucker "has another gear" and is the fastest among Tampa Bay's RBs.
Combined with his elite athleticism, Tucker might find himself as the Bucs #3 RB. If that happens, he'll have some value in our Dynasty rankings.
Dynasty Valuation
Our Dynasty Draft War Room assigns dynamic player values based on your league's specific settings. These values range from 100 to 0, with 100 being the most valuable player in your league and 0 being the worst rostered player. Use these values to compare players at the same position and across positions for help with draft, trade and add/drop decisions.
Sean Tucker Dynasty Values:
Dynasty: 1-QB, Non-PPR – 11.3
Dynasty: 1-QB, PPR – 10.6
Dynasty: 1-QB, PPR, TE Premium – 10.8
Dynasty: Superflex, Non-PPR – 11.0
Dynasty: Superflex, PPR – 10.6
Tip: Create your own Dynasty Draft War Room now to see how Miller fits in your specific dynasty league.
Sean Tucker Combine Results
Arm length: 30"
Hand size: 9 1/2"
40-yard dash: n/a
10-yard split: n/a
Bench press: n/a
Vertical: n/a
Broad jump: n/a
3-cone drill: n/a
20-yard shuttle: n/a

Percentiles vs. Combine running backs since 1999, per MockDraftable.
Sean Tucker Stats
| | | | | | | | | | |
| --- | --- | --- | --- | --- | --- | --- | --- | --- | --- |
| | GMS | car | Yds | ypc | Tgts | rec | Yds | ypr | tds |
| 2020 | 9 | 137 | 626 | 4.6 | 18 | 8 | 113 | 14.1 | 4 |
| 2021 | 12 | 246 | 1,496 | 6.1 | 24 | 18 | 255 | 12.8 | 14 |
| 2022 | 12 | 206 | 1,060 | 5.1 | 52 | 37 | 254 | 7.1 | 13 |
The Owings Mills, Md., native didn't receive much national acclaim as a three-star recruit from Calvert Hall College High School.
However, he achieved a smattering of local accolades in football and track.
Tucker earned a spot on the All-Maryland Interscholastic Athletic Association (MIAA) football team twice and secured first-place finishes in the 100-meter and 4 x 200-meter events at the MIAA Championships.
The speedster received only five football scholarship offers.
Immediate Opportunity, Little Success
Tucker immediately became the Orange's starting RB as a freshman in 2020. Unfortunately, Syracuse was bad, finishing 1-10.
Tucker accumulated 137 carries for 626 rushing yards and 4 TDs.
Now the story gets better ...
2021: All Juice, No Pulp
Tucker's production took off in his second season and put him on the national map.
Tucker ranked first in the ACC and sixth in the NCAA with 1,496 rushing yards. This total broke a Syracuse single-season school record that stood for 42 years.
He also put his track speed on display with 44 runs of 10+ yards in 2021 (fourth among all NCAA RBs).
These feats earned him first-team All-ACC and second-team AP All-America honors. Tucker was also a semifinalist for the Doak Walker Award (college's top RB) and the Maxwell Award (overall player of the year, judged by the Maxwell Club) in 2021.
On top of the statistical success, Tucker ranked inside the top 30 RBs (min. 100 carries) in Pro Football Focus' elusive rating and rushing grade.
Back to Earth
Tucker regressed in 2022. He dipped to 206 carries and 1,060 rushing yards. Each was still good enough for third in the ACC, however.
Tucker did increase his receiving. He ranked eleventh in receptions (36) and sixth in receiving market share (15.8%) among all Power 5 conference RBs in 2022, per Campus2Canton.
But he also regressed in efficiency. You can see the dips in yards per carry and per reception above.
According to PFF, Tucker's yards after contact per attempt fell to a career-low 2.79, tied for just 116th among 168 FBS backs with 100+ carries. That came despite Tucker getting a career high 2.41 yards before contact per attempt.
Was he gaining less than the blocking should have allowed? Let's check the tape.
Sean Tucker Highlights
Games watched: Clemson 2021, Purdue 2022, Florida State 2022, N.C. State 2022, Louisville 2022
Full transparency: I came into this process as a big fan of Tucker.
But as this film analysis went along, it became more important to ask myself "why?" and confront the flaws in my process.
My conclusion: Just because a player is "fun" doesn't mean he's a high-end prospect.
The Mighty Mouse Effect
Tucker fits into an archetype of RB that I've fallen for in the past.
Despite standing 5'9, he's built like a brick house, and his straight-line speed (especially on the perimeter) is exciting: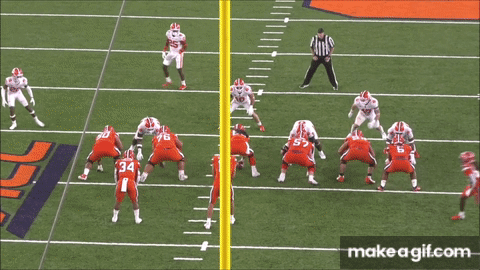 RBs that ramp up to top speed quickly with big-play highlights are tantalizing. Even more so when their physical stature makes you say, "watch that little guy go!"
As thrilling as Tucker and similar RBs are, sometimes that's all they have.
Keep your enthusiasm in check when watching these types of players. Betting on a smaller back being the next Mighty Mouse in the mold of Maurice Jones-Drew or Ray Rice because they're fun on the surface is bad.
Really taking a closer look will help filter out the noise of the visual stimulation.
Not Just a One-Trick Pony
Tucker is a bottle rocket that will immediately flip the max speed switch. But that's not his only dimension.
The other trait working in his favor: tap-dancing footwork and elusiveness in close quarters.
This guy can make a defender miss in tight spacees and boogie his way to open areas before contact: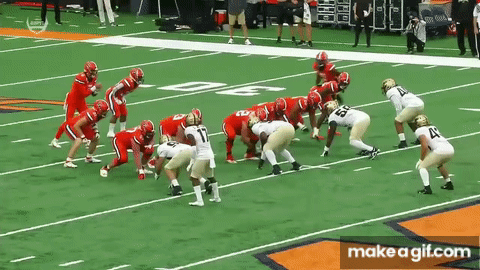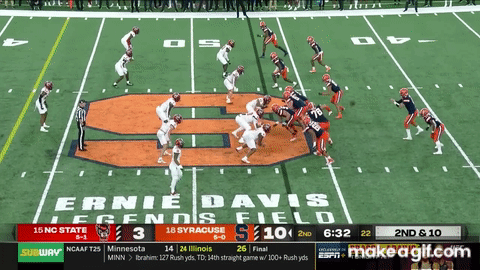 That said, this is where Tucker's list of strengths ends.

He is fast and occasionally turns his dancing into long perimeter runs.
But he shows little as an interior runner. His eager play style mixed with his smaller stature and lack of contact balance gets his inside runs stuffed more often than not.
Lacking Vision
Tucker's vision is not particularly great. And it doesn't get any better at the second level and beyond. Tucker goes for broke and doesn't really have a backup plan.
That's fun, but it's also a red flag.
Tucker's desire to bounce to the perimeter is emblematic of his discomfort and lack of ability to churn out tough yards in heavy traffic.
It's important for an NFL RB to be able to have at least some interior rushing ability and acumen to receive a larger work share.

What Should You Expect from Tucker?
The way Tucker plays is how I tend to treat RBs in Madden.

Snap the ball, hand it to the back, smash and hold the 'R2' trigger to accelerate, and whatever happens after that happens.
A player like that will tend to grind out a couple extra yards per play. They'll break off a long run every now and then.
But it's a suboptimal and inefficient way to operate in the NFL.
Is There Difference-Making Upside?
Tucker's skills on the perimeter and decent pass-catching acumen, on the other hand, remind me of former Washington RB Chris Thompson.
An NFL offense will have a tough time leaning on Tucker for heavy usage. But properly designed touches in a part-time role can make Tucker a flex-worthy RB with occasional RB2 upside.
More Dynasty Fantasy Football Info
Be sure to look at some more of our rookie RB profiles:
Bijan Robinson
Jahmyr Gibbs

Zach Charbonnet
Zach Evans
Devon Achane
Tyjae Spears
Tank Bigsby
Israel Abanikanda
Kendre Miller
Give this podcast a watch to hear about which incoming rookie RBs interest us most ...