Zach Evans Dynasty Fantasy Football Value
Zach Evans, RB, Rams
Height: 5'11
Weight: 202
BMI: 28.2
Draft Age: 21.9
NFL Draft Pick: Round 6, Pick 215
Draft Sharks Model Score: 6.40
Analytics Score: 0.51
Film Score: 0.49
Production Score: 0.52

Zach Evans Dynasty Fantasy Football Value
Evans is a former uber-recruit who struggled with injury and tough draws in terms of opportunity throughout college. That said, there are flashes in his film that suggest he could be one of this class' top backs.
His 5'11, 202-pound frame is smaller than some had hoped. But Evans' second-level vision and quick acceleration suggest he's capable of handling an impact role in a wide-zone scheme.
The NFL didn't seem to care for him as much, however.
After falling to the Rams in the 6th round of the NFL Draft, his long-term outlook is suspect at best.
Zach Evans Team Fit: Los Angeles Rams
Early proponent of Evans, like myself, were disappointed to see what happened during the draft.
The odds of a late Day 3 RB hitting are fairly low.
We certainly shouldn't expect too much from him at this point.
But if he can make the most of his opportunity in this open Rams' backfield, Evans might look like a draft steal a year from now.
Easy Path to Being the Rams' RB2?
Cam Akers had an explosive end to the 2022 NFL season.
From Week 16 to Week 18, Akers averaged 21 carries, 115 rushing yards, and 21.6 PPR point per game.
It's safe to assume Akers will be the starter in 2023, but there's not much behind him on the depth chart.
Kyren Williams and Ronnie Rivers each had one game of double-digit touches last season, and neither was remarkable with his opportunities.
It's possible Evans can win the RB2 job outright by the end of the preseason.
The only question is, how much is the RB2 for the Rams even worth for fantasy?
Will Evans Even Matter in Fantasy?
The Rams finished 29th in PFF team offensive rushing grade and 19th in run blocking grade last season.
Running behind this rebuilding offensive line will be a challenge for any RB.
On top of that, HC Sean McVay has a track record of using the "hot hand" approach with his RBs ever since the departure of Todd Gurley in 2019.
In order for Evans to make a big fantasy impact, he'd need to:
a.) win the RB2 job
b.) hope Akers stinks at some point, and
c.) hold onto the opportunity to be the backfield leader (assuming he gets to that point)
If the number of things that need to go right for a player involves this amount of question marks, it's usually a good idea to bet against them.
Evans is a very talented player, but his draft capital and path to opportunity ahead of him suggests managers shouldn't get their hopes up.
Kyren Williams the Early Favorite for No. 2 RB job
ESPN's Jeremy Fowler reported in early August that the Rams view Kyren Williams as their No. 2 RB. That has Evans battling Ronnie Rivers and Royce Freeman for the No. 3 job -- and potentially a roster spot.
He continues to look like just a dynasty flier.
Dynasty Valuation
Our Dynasty Draft War Room assigns dynamic player values based on your league's specific settings. These values range from 100 to 0, with 100 being the most valuable player in your league and 0 being the worst rostered player. Use these values to compare players at the same position and across positions for help with draft, trade and add/drop decisions.
Zach Evans Dynasty Values:
Dynasty: 1-QB, Non-PPR – 19.0
Dynasty: 1-QB, PPR – 18.4
Dynasty: 1-QB, PPR, TE Premium – 16.3
Dynasty: Superflex, Non-PPR – 18.4
Dynasty: Superflex, PPR – 16.0
To see Zach Evans' value for your exact league setup, check out our Dynasty Draft War Room.
Zach Evans Combine Results:
Wingspan: n/a
Arm length: 31 5/8"
Hand size: 10 1/4"
40-yard dash: n/a
10-yard split: n/a
Bench press: n/a
Vertical: n/a
Broad jump: n/a
3-cone drill: n/a
20-yard shuttle: n/a

Percentiles vs. Combine running backs since 1999, per MockDraftable.
Zach Evans Stats
| | | | | | | | | | |
| --- | --- | --- | --- | --- | --- | --- | --- | --- | --- |
| | GMS | car | Yds | ypc | Tgts | rec | Yds | ypr | tds |
| 2020 | 9 | 54 | 415 | 7.0 | 12 | 8 | 30 | 9.5 | 4 |
| 2021 | 6 | 92 | 648 | 7.7 | 12 | 10 | 41 | 13.0 | 6 |
| 2022 | 12 | 144 | 936 | 6.5 | 19 | 12 | 197 | 9.9 | 10 |
A Wild Recruitment Journey
Evans ranked just behind Bijan Robinson in the 2020 RB recruiting class as the #2 prospect

At the time, he drew comparisons to Melvin Gordon III and was referred to as the best RB prospect from Texas since Adrian Peterson. As such, Evans received considerable interest from plenty of top college programs.
The saga of his recruiting process is worthy of reading for yourself.

At the end of it all, Evans chose to enroll at TCU, becoming the first five-star recruit to ever sign with the Horned Frogs.
Zach Evans Transfer - Tough Times at TCU
As a freshman in 2020, he saw an underwhelming usage, splitting work with Kendre Miller and Darwin Barlow, with QB Max Duggan leading in carries.
Barlow transferred to USC for 2021. Evans seized the workhorse role, logging 92 carries for 648 rushing yards and 5 TDs in six games. Unfortunately, a toe injury in late October cut his breakout campaign short.
Evans ranked 39th in Pro Football Focus rushing grade (86.3) and 10th in elusive rating (126.6) among 187 RBs with 90+ carries in 2021

Six games isn't a huge sample, but that production speaks to Evans' ceiling.
Solid Production with a Rebel Yell
After two seasons with TCU, Evans transferred to Ole Miss. He spoke candidly about his decision, citing being "underused" as a primary factor:
"Not a knock against (TCU). I'm not saying they don't know what they were doing. But I feel like I could've done a lot more and contributed a lot more to the team."
Evans was productive when healthy as a junior, tallying career highs in carries (144), rushing yards (936), and TDs (9) in the SEC.
The big knocks against Evans' 2022 season are that he sustained some nagging injuries and ceded work to true freshman RB Quinshon Judkins as the year wore on, eventually becoming the second option.
The Judkins Factor
Judkins ended 2022 as the SEC leader in rushing yards (1,567) and as PFF's 13th-highest graded RB (min. 90 carries), a surprising breakout from a three-star recruit.
There's a good chance we'll have an in-depth prospect profile on him in 2025.

How someone chooses to levy this factor against Evans depends on the individual.
It's not as though Evans was bad in 2022. And as stated earlier, nagging injuries forced him out of some second-half games.
If Judkins proves to be an out-of-nowhere mega-prospect over time, that could say more about him than Evans.
It's fair to say Evans never reached the lofty expectations he built up as a recruit.
But that recruiting profile and brief glimpses of high productivity are intriguing

What does the film say about the player?
Zach Evans Highlights
Games watched: Baylor 2020, Auburn 2022, Georgia Tech 2022, Vanderbilt 2022, Arkansas 2022

Evans is a solid north-south runner with the speed to turn the corner.

His greatest attributes are his instinct for reading defenders at the second level and his burst to break off chunk plays with ease.
Though Evans is not a complete back, he's a high-level athlete and with a variety of rushing skills.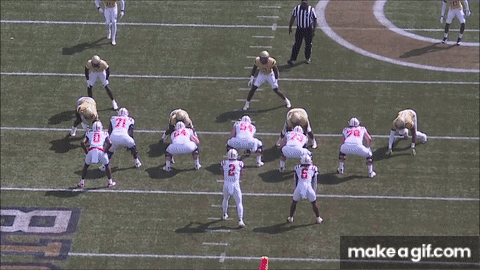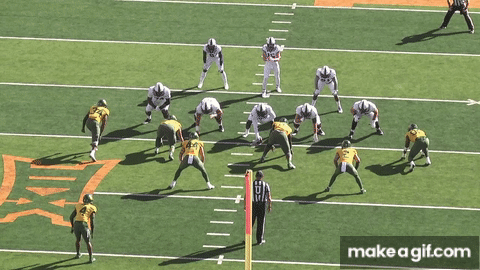 He's not exactly a burner, but Evans gets up to full speed quickly and identifies the proper path to position his body to fight for extra yards.
What he lacks in flashy jukes or spin moves he makes up for with good contact balance and angularly leveraging his body through initial contact.
Evans is also known to make a subtle cut and ward off defenders in open space.
Evans Struggles Near the Line
Those skills don't show nearly as well at the first level. He's not particularly inspiring to watch when confronted with heavy traffic early in his runs.
Evans will need to prove more physical than he showed in this sample of games. Otherwise, he'll find limited opportunities for yards after contact.
Moreover, his lateral movements lead him more toward the perimeter naturally anyhow, so scheme fit will be vital to his overall effectiveness in the pros.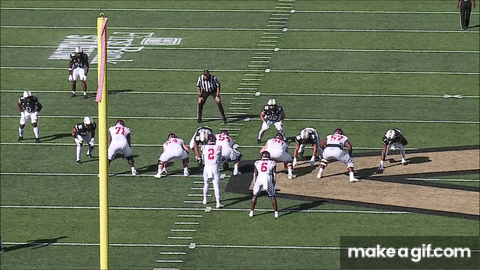 These deficiencies suggest Evans will thrive more in a wide zone scheme that accentuates his upfield vision and downhill form toward the perimeter.
The more space he gets, the better.
Evans also struggles in the passing game, especially in pass protection.

Plenty of RBs enter the NFL needing work in that area. But combine that with just 30 college catches across three seasons, and it's tough to expect an early passing-down role for Evans.
His range of outcomes lies somewhere between a smaller Melvin Gordon III and Jerome Ford, the Browns' fifth-round pick from 2022.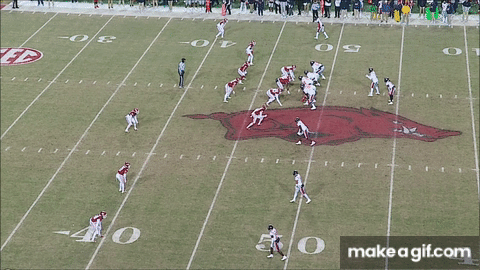 A lot of his appeal as a fantasy asset will depend on what we see from Evans' pro day and how high he's selected in the NFL Draft.
The raw talent is there. It's just a matter of whether he can put it together.

I like Evans a lot, but it's easy to understand the trepidation that many evaluators feel.
The beauty of Evans is ultimately in the eye of the beholder. How lucky do you feel?
Not sure how Zach Evans stacks up? Check out where all the rookies rank in the updated dynasty rankings!
More Dynasty Strategy Talk