Michael Mayer Dynasty Fantasy Football Value
Michael Mayer, TE, Raiders
Height: 6'4 1/2
Weight: 252
BMI: 29.9
Age: 21.8
NFL Draft Pick: Round 2, Pick 4
Draft Sharks Model Score: 8.08
Analytics Score: 0.62
Film Score: 0.61
Production Score: 0.70
Michael Mayer Dynasty Fantasy Football Value
With a pro-ready frame and skill set, Mayer could have started for NFL teams last season.
Instead, he enjoyed his most productive campaign at Notre Dame. The junior ranked top 3 among FBS TEs in catches, yards, and TDs.
Throughout his career, Mayer showed he could adjust to different starting QBs.
Three, actually. Plus a pair of head coaches.
So what does that say about Mayer's dynasty fantasy football value?
NFL Team Fit: Las Vegas Raiders
Last month, Mayer surprisingly dropped to Round 2. The upshot is that he landed on a team with no clear TE starter. Vegas' depth chart currently includes an uninspiring veteran duo of Austin Hooper and O.J. Howard.
At bottom, the smart money is on Mayer developing into at least a fantasy spot-starter by Year 2. Although he's not a top-flight athlete — think Pat Freiermuth or Dalton Schultz – those types have a place as useful TE1s.
Vegas' ability to find its long-term QB will be critical. But the way this roster is constructed -- in a brutal AFC -- says there's a decent chance Vegas holds a top-10 pick next year. The 2024 draft class includes several high-end QB prospects, including USC's Caleb Williams and UNC's Drake Maye.
Note: Jimmy Garoppolo is signed for two seasons. The Raiders could release him next year -- if they're willing to absorb a $11.25 million dead cap hit.
Training camp will ultimately show Mayer's readiness for a fantasy-friendly role. We'll also keep an eye on Hunter Renfrow, a rumored trade candidate. His departure would open up more opportunities for the rookie.
*See where Michael Mayer sits in our updated TE dynasty rankings.
Dynasty Valuation
Our Dynasty Draft War Room assigns dynamic player values based on your league's specific settings. These DMVP values range from 100 to 0, with 100 being the most valuable player in your league and 0 being the worst rostered player. Use these values to compare players at the same position and across positions for help with draft, trade and add/drop decisions.
Michael Mayer Dynasty Values:
Dynasty: 1-QB, Non-PPR -- 38.1
Dynasty: 1-QB, PPR -- 32.6
Dynasty: 1-QB, PPR, TE Premium -- 30.7
Dynasty: Superflex, Non-PPR -- 30.5
Dynasty: Superflex, PPR -- 29.3
Dynasty: Superflex, PPR, TE Premium: -- 38.8
*To see the Michael Mayer dynasty fantasy football value for your league setup, visit the Dynasty Draft War Room.
Michael Mayer Combine Results
Wingspan: 76.2"
Arm length: 31.6"
Hand size: 9.5"
40-yard dash: 4.70 seconds
10-yard split: 1.66 seconds
Bench press: DNP
Vertical: 32.5"
Broad jump: 9'10"
3-cone drill: DNP
Percentiles vs. Combine tight ends since 1999, per MockDraftable.
At his Pro Day, Mayer weighed in at 252 pounds. He told reporters that he played this past season at 260-265 pounds.
Michael Mayer Stats
| | | | | | | |
| --- | --- | --- | --- | --- | --- | --- |
| Year | Games | TGT | rec | yards | ypr | tds |
| 2020 | 12 | 59 | 42 | 450 | 10.7 | 2 |
| 2021 | 12 | 95 | 71 | 840 | 11.8 | 7 |
| 2022 | 12 | 101 | 67 | 809 | 12.1 | 9 |
Instant Impact
A top-5 TE recruit, Mayer quickly earned snaps for the Fighting Irish.
In fact, as a 19-year-old true freshman, he tied for the team lead in targets and catches.
Turns out, this was just the beginning of a special career.
Mayer Picks Up Steam
2021 brought a QB change to South Bend, but Mayer left no doubt about who was the team's No. 1 pass catcher.
Check out these WR-like market shares:
Target share: 22.9%
Reception share: 24.5%
Yardage share: 22.8%
Receiving TD share: 23.3%
Mayer hit 50 yards in 10 of 12 games; 100 yards in 2 contests. He did so despite a midseason adductor strain that forced one absence.
Another QB change came in 2022, plus a coaching change, with Brian Kelly bolting for LSU.
Mayer, though, couldn't have cared less.
Production Reaches New Heights
Mayer showed he could carry the passing attack as a sophomore.
As a junior, he did it again – while adding a few exclamation points.
Just look at these insane numbers:
Target share: 31.9%
Reception share: 31.7%
Yardage share: 30.0%
Receiving TD share: 36.0%
Yeah. We're talkin' prime DeAndre Hopkins-level involvement.
And that's with Mayer opting out of Notre Dame's bowl game. Still, he became the only FBS TE to reach 800 yards in 2021 and 2022.
So now you know about the numbers. But does the tape show a guy with future dynasty fantasy football value?
Michael Mayer Highlights
Games watched: Ohio State (2022), USC (2022), BYU (2022), Marshall (2022), USC (2021)
Meat and Potatoes
Mayer isn't the tastiest dish on the TE menu...
(That distinction goes to Dalton Kincaid.)
The Notre Dame record-holder doesn't showcase top-end speed. And he's not the best post catch.
But his strengths? They're five-star quality.
Chief among them – strong hands and contested catch ability: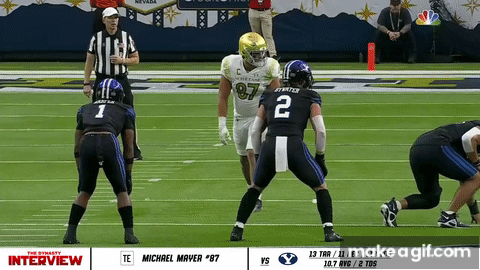 Mayer caught 65.4% of his contested-catch opportunities last year, per Pro Football Focus. Only 6 qualifying TEs beat that mark.
His drop rate over the past two seasons? Only 5%.
Boxes … checked.
Even on deep balls, Mayer showed well. Over the past 2 seasons, he tallied six scores of 20+ yards; four of those from 40+.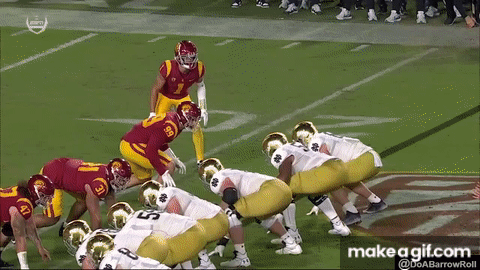 The clip below displays a nice, full-extension grab.
It's worth noting, though, that Mayer measured in with just seventh-percentile arm length at the NFL Combine. We'll see if those even tighter windows prove tricky in the pros.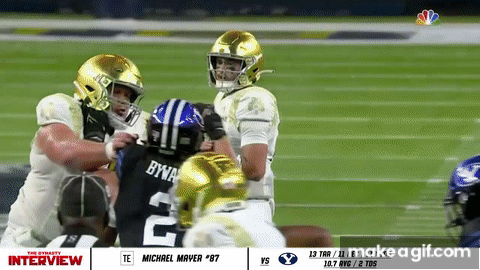 There's little doubt over his play strength and toughness – both as a blocker and a pass catcher. In the last clip, he quickly sheds the DB before making another physical grab.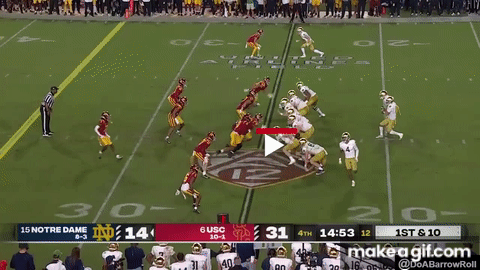 Productive and polished, Mayer projects as a high-floor dynasty asset. But how does he stack up vs. the rookies -- and the veterans? Find out by visiting our updated dynasty ranks.


Dynasty Fantasy Football Tools
Learn how Draft Sharks' cutting-edge dynasty tools are designed to make you a winning player.