Tyjae Spears Dynasty Fantasy Football Value
Tyjae Spears, RB, Titans
Height: 5'10"
Weight: 201
BMI: 28.8
Draft Age: 21.9
NFL Draft Pick: Round 2, Pick 21
Draft Sharks Model Score: 7.28
Analytics Score: 0.58
Film Score: 0.53
Production Score: 0.76

Tyjae Spears Dynasty Fantasy Football Value
Spears is a tremendously talented, small-school darling. He overcame an ACL tear in 2020 to become one of the best non-major conference RB prospects in recent memory.
Despite his wiry frame and injury history, Spears looks capable of being a fine change-of-pace back because he's a strong perimeter runner and quality pass catcher.

There's a world in which he becomes a high-end fantasy contributor, but Tulane's lower level of competition and Spears' skill set make you wonder how high the ceiling on his dynasty value truly goes.
On top of that, he's torn his right ACL twice and carries some health risk.
And that's without even getting into the fact that he'll be stuck behind one of the league's preeminent workhorse RBs as a rookie ...
Tyjae Spears Team Fit: Tennessee Titans
It's tough to imagine Spears receiving a ton of work behind Derrick Henry.
Since becoming a full-time starter in 2018, Henry leads the NFL in carries (1,464) and hasn't fallen below a 77.6% share of Titans RB carries in the last 4 seasons.
The Titans also don't throw to their RBs a lot. Over the past two years, pass-catching back Dontrell Hilliard never received more than 26 targets.
That might change with Spears, a better prospect than Hilliard. But it's tough to project a significant receiving role before we see it.
The Derrick Henry Handcuff
There has been no news that makes us think Spears' value is anything other than a handcuff to Derrick Henry.
But that makes him a valuable pick considering the volume Henry has absorbed throughout this career with the Titans. He's led the league in carries 3 out of the past 4 seasons. The exception was 2021 when he only played 8 games due to a broken foot.
Henry Could Be Gone Soon
Fortunately, 2023 is Henry's last year under contract. So we can target 2024 as the time when Spears can have a big impact.
By then, we hope the Titans will have rebuilt their offensive line.
In addition to losing two starting linemen this offseason, the Titans ranked 18th in Football Outsiders' adjusted line yards in 2022.
Dynasty Valuation
Our Dynasty Draft War Room assigns dynamic player values based on your league's specific settings. These values range from 100 to 0, with 100 being the most valuable player in your league and 0 being the worst rostered player. Use these values to compare players at the same position and across positions for help with draft, trade and add/drop decisions.
Tyjae Spears Dynasty Values:
PPR - 1 QB: 28.2
PPR - Superflex: 29.4
Non-PPR - 1 QB: 33.9
Non-PPR - Superflex: 30.6
TE Premium: 35.2
PPR - Superflex - TEP: 29.4
Tip: To see Tyjae Spears' value for your exact league setup, check out our Dynasty Draft War Room.
Tyjae Spears Combine Results
Wingspan: n/a
Arm length: 30 3/4"
Hand size: 10"
40-yard dash: n/a
10-yard split: n/a
Bench press: n/a
Vertical: 39"
Broad jump: 125"
3-cone drill: n/a
20-yard shuttle: n/a

Percentiles vs. Combine running backs since 1999, per MockDraftable.
Tyjae Spears Stats
| | | | | | | | | | |
| --- | --- | --- | --- | --- | --- | --- | --- | --- | --- |
| | gms | car | yds | ypc | tgts | rec | Yds | ypr | tds |
| 2019 | 4 | 32 | 192 | 6.0 | 7 | 5 | 133 | 26.6 | 2 |
| 2020 | 3 | 37 | 274 | 7.4 | 2 | 2 | 30 | 15.0 | 2 |
| 2021 | 12 | 129 | 863 | 6.7 | 25 | 19 | 145 | 7.6 | 9 |
| 2022 | 14 | 229 | 1,581 | 6.9 | 28 | 22 | 256 | 11.6 | 21 |
Spears hails from Ponchatoula, La., about an hour north of New Orleans. He was not highly-regarded coming out of high school, grading out as a three-star recruit with only five scholarship offers.
A Quiet Start
Frankly, there's not much to go over in Spears' early college career.
He appeared in four games as a redshirt freshman, logging minimal production in a backfield that took the RB committee approach to bizarre levels.
Darius Bradwell led the RBs with 111 carries. Six others finished in the 18-72 carry range (including Spears), with Amare Jones dominating the backfield receiving.
In 2020, Spears seemed to be pulling away with the starting job early on. He recorded a pair of games with 100+ rushing yards to open the year.
Unfortunately, he sustained a season-ending ACL and meniscus injury during Tulane's third game. This is the same ACL he tore in 2015 while in high school.
What Almost Wasn't
Spears also struggled with the rehab from that injury.
He admitted there was a point at which he contemplated quitting football and returning home:
"I wasn't seeing any progress when I was doing the work every day … Some days I was progressing in the training room, and then the next day I couldn't do anything and was back down to ground zero again."
It's a good thing he didn't give up.
From ACL to All-Star
Spears started 2021 slowly but then erupted. He recorded 747 of his 863 rushing yards over the final six games. Spears earned second-team All-American Athletic Conference (AAC) honors.
His final collegiate season proved even better. Spears led the AAC in carries (229), rushing yards (1,581), and TDs (19), en route to being named conference offensive player of the year.
Spears also saw a jump in his receiving production, tallying 22 catches for 256 yards and two TDs.
He ranked fourth in the nation in total yards (1,837) and tied with Pitt RB Israel Abanikanda (profile incoming!) for the FBS lead in total touchdowns (21).
But does the film match the stat sheet? Let's dive in ...
Tyjae Spears Highlights
Games watched: Cincinnati 2022, USC 2022, UCF 2022, Houston 2022, SMU 2022
There are plenty of moments in which Spears wows viewers with his bendy frame, agility, and acceleration.
Just watch him turn this corner, accelerate, and pull away from the defense: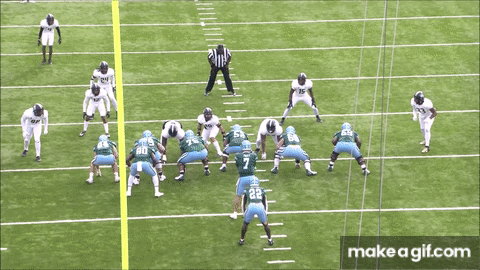 Note that subtle hesitation gallup-and-go move at the end of the run as well. Though this move doesn't extend the life of the play for too long, it speaks to Spears' presence of mind in the open field.
He isn't the type of player who will lower his shoulder and try to plow through defenders. Spears does his damage against would-be tacklers by making use of his physical pliability. This flexibility and bend in his lower half is a main feature of his play style.
Spears looks fast on tape, and confirmed that with 40 times in the range of 4.47 to 4.50 seconds at his pro day. (Though stat providers are using 4.54 as the "official" time.)

He also sports good balance, which serves him well when confronted with defenders at the second level and beyond.
Simply put, Spears is a slippery, home-run hitter at his very best:
Unfortunately, Spears lacks consistency, at least in this sample of games.
He didn't look bad at any point. But Spears needs the play to effectively evolve in front of him.
This is where the "level of competition" penalty comes into play. The fact that Spears falls into this archetype playing in the AAC raises some questions.
Going from there to the NFL means a steeper rise in competition level than if Spears were coming from the SEC or Big Ten. It would be easier to project how he'll make that leap if we saw Spears control the action a bit more.
To be fair, Spears did perform well against USC (a major program) in the Cotton Bowl this past year: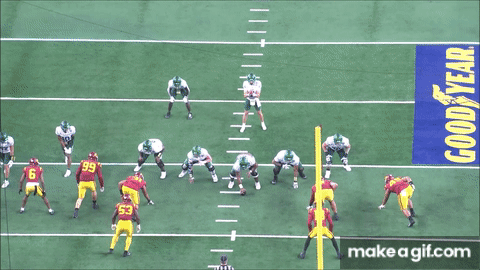 It's tough to say whether Spears can be more than a change-of-pace back in the NFL. He's capable of being a good fantasy asset, but how exactly good?
He's a sound and effective pass catcher. His dynasty fantasy football value will rely heavily on how much receiving work he can command in the pros.
But Spears' reliance on being flexible with such wiry legs and an ACL tear behind him is worrisome.
That coupled with Spears' lack of decisiveness at the line of scrimmage might make an NFL coaching staff hesitant to trust him with a high-volume role.
Let's not get carried away
A generous read from Spears' biggest proponents screams "look, it's a small school Alvin Kamara." But I see more lovechild of Chase Edmonds and Gumby.
That may not sound great, but think about a bendier 2020-21 era Edmonds with the Cardinals. Not the disappointment in Miami.
There is still upside to Spears, and he can be an attractive option in rookie drafts. The biggest question will be whether he's worth paying what it'll cost to get him.
Especially when you consider he's torn the same ACL twice before turning pro.
In short: Spears is good, but don't reach for him in rookie drafts.

Where Does Tyjae Spears Sit in the Dynasty Rankings?
Everyone has dynasty rankings. But not like these ...
Our dynasty rankings start with the award-winning Draft Sharks projections. Then we apply career aging curves specific to each player type.
The result: You get 1-year, 3-year, 5-year, and even 10-year outlooks for every player.
Not only that, you get a specific DMVP value for each player customized to your league format.
So you get a clear picture of who to select at every turn of your dynasty rookie draft. And you'll know exactly where the value lies in your dynasty trades.
See where Tyjae Spears sits in our dynamic dynasty rankings.
More Rookie RB Info
Before we got landing spots for this year's rookie RBs, here's how the guys felt about the top options and a few sleepers ...