2023 Dynasty Superflex Rookie Mock Draft #1
Is Anthony Richardson overrated ... or about to swing the balance in your dynasty league?
April means the NFL Draft is nearly upon us. And as usual, you can find QB opinions ranging all over the place.
Could Richardson be in play for the Carolina Panthers first overall? Will he fall outside the top 10?
Will some team trade up for Will Levis? Or will Hendon Hooker go ahead of him?
See how the QB value boost changes the draft
The answers to those questions will matter a lot more for dynasty superflex rookie drafts than for the 1-QB format. (We posted that mock draft last week.)
So we got the guys together again and did a three-round superflex rookie mock draft.
You'll want to see which upside non-QBs get pushed to the end of Round 2 (and beyond).
And you'll definitely want to check out which surprise name became the sixth QB off the board at the end of this exercise ...
Find our early superflex rookie rankings here.
Dynasty Superflex Mock Draft – Round 1
1.01 – C.H. Herms: Bijan Robinson, RB, Texas
Herms' analysis: The standard argument against Robinson being the 1.01 in superflex is that teams who finished in last place are unlikely to compete for a title soon enough to justify an RB this high.
But when was the last time dynasty managers coveted a non-QB entering the league this much?
Even if you can't trade the 1.01 before the draft, there's a strong chance Robinson can be dealt post-draft for a meaty return.
Of course, the worst-case scenario is that you're simply stuck with the consensus top player in the class.
Always take the best player available.
Bijan Robinson is one the best prospects in years. Don't miss our film and stat breakdown.
1.02 – Kevin English: Anthony Richardson, QB, Florida
Kevin's analysis: Chase. Upside. At. QB.
Richardson is far from a safe prospect, but if he hits – you'll have a perennial top-5 fantasy asset.
Check out our full breakdown of Anthony Richardson's.
1.03 – Luke Sawhook: C.J. Stroud, QB, Ohio State
Luke's analysis: Stroud feels like a safe choice: my real-life top QB prospect and the projected top pick in the NFL Draft.
Stroud could be a premium piece of any dynasty squad for a long time if the stars align for him in the NFL.
Don't miss the full scouting process for C.J. Stroud.
1.04 – Matt Schauf: Bryce Young, QB, Alabama
Matt's analysis: You might have them ordered differently, but the tier ends after these three QBs.
Size is a question, but the accuracy and movement skills give Young plenty of NFL and fantasy upside.
Check out our full breakdown of Bryce Young.
1.05 – Jared Smola: Jaxon Smith-Njigba, WR, Ohio State
Jared's analysis: This is an easy pick, with a tier drop behind the three QBs, Bijan, and Smith-Njigba.
JSN is a well-rounded receiver who should quickly become a high-volume target for his NFL team.
Jaxon Smith-Njigba's is a great prospect. See what we had to say in his full profile.
1.06 – Alex Korff: Jahmyr Gibbs, RB, Alabama
Alex's analysis: I would be shocked to see Gibbs selected at any pick besides 1.05 or 1.06 in most superflex dynasty (mock or otherwise) rookie drafts.
Bijan and then the big three QBs will likely always be the top 4. Then, it's a toss-up between JSN and Gibbs.
Gibbs popped in the rookie prospect model with a score of 8.00 (out of 10) and a 3.8 agreement factor (the highest for any RB this year). He is a great receiving prospect with strong comps to Alvin Kamara and Tony Pollard.
Check out our full breakdown of Jahmyr Gibbs' dynasty value.
1.07 – Luke: Quentin Johnston, WR, TCU
Luke's analysis: Johnston has the build of your prototypical NFL WR1, and I love it.
Over the years, guys of larger stature have been meaningful contributors in fantasy football. Johnston's freakish athleticism could put him next in line to be a top fantasy WR.
Don't miss the full scouting report for Quentin Johnston.
1.08 – Kevin: Jordan Addison, WR, USC
Kevin's analysis: You can critique him for his slim frame and underwhelming NFL Combine.
But if you strictly look at the film, he's arguably the best WR in this class.
Addison's huge 2021 – 100-1593-17 – certainly speaks for itself.
Jordan Addison is a polarizing prospect. Don't miss our film and stat breakdown.
1.09 – Herms: Zay Flowers, WR, Boston College
Herms' analysis: Despite his small stature and inconsistent play at Boston College, Flowers is excellent at operating in open space and creating yards post-catch.
I doubt we're looking at a true "alpha"-type WR here, but the right NFL offense could turn him into a mini-Deebo Samuel.
UCLA RB Zach Charbonnet was close to being my pick here, but Flowers might warrant the capital if he goes in the first round of the NFL Draft.
Zay Flowers is a solid prospect. See what we had to say in his full profile.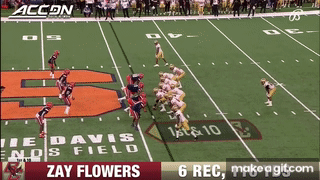 1.10 – Jared: Jalin Hyatt, WR, Tennessee
Jared's analysis: Hyatt isn't a perfect prospect.
He had just one big year of college production -- and it came in a gimmicky passing game. But you don't just stumble into 1,267 yards on 18.9 yards per catch against SEC defenses.
Hyatt can fly and should at least be a big-play threat in the NFL.
Jalin Hyatt is a bit of a "boom-bust" prospect. Don't miss our film and stat breakdown.
1.11 – Alex: Zach Charbonnet, RB, UCLA
Alex's analysis: My theory is that both Herms and Jared failed to notice that Charbonnet was still on the board when they made their selections.
Wide receivers are usually a great bet in dynasty leagues, but Charbonnet is one of few RBs in this class with strong three-down potential.
At 6'0 and 214 pounds, he has the upside to be the lead dog. You should be excited to see him drop to the 1.11 in a superflex rookie draft, and I would have considered trading up from the 2nd to get him here.
Does Zach Charbonnet have what it takes to be a 3-down back in the NFL? Check out his full report here
1.12 – Matt: Tyjae Spears, RB, Tulane
Matt's analysis: If I'm QB-needy and Hendon Hooker and/or Will Levis land in Round 1 of the NFL Draft, then I could see reaching a little on QB here.
As it stands, I'll go to my next RB. Spears capped off a nice career with a monster senior season.
The speed and burst are there. And he's big enough to be involved on all three downs, even if he doesn't have a workhorse future. (Who does at this point?)
Check out our full breakdown of Tyjae Spears' dynasty value.
Dynasty Superflex Mock Draft – Round 2
2.01 – Matt: Devon Achane, RB, Texas A&M
Matt's analysis: At 5'9 and 188 pounds, Achane is headed for specific NFL use. But he's well-equipped to max out that area.
He brings 99th-percentile speed, caught 60 passes over the past two years, and outperformed Isaiah Spiller before the Chargers drafted Spiller last April.
Devon Achane is a polarizing prospect. Don't miss our film and stat breakdown.
2.02 – Jared: Josh Downs, WR, North Carolina
Jared's analysis: Downs' 171-pound frame is a concern -- and his tape was just "meh" to me. But the production demands respect.
Downs caught 101 balls for 1,335 yards as a true sophomore and then set new career highs with 8.5 catches per game this past year. He has a chance to be a high-volume slot receiver as a pro.
Check out our full breakdown of Josh Downs' dynasty value.
2.03 – Herms: Hendon Hooker, QB, Tennessee
Herms' analysis: We're one ACL tear away from talking about Hooker as a likely first-round NFL Draft pick, based on how well he produced at Tennessee this past season. Heck, he might land there anyway.
Many folks will harp on the simplistic nature of the Volunteers' offensive scheme, but the coaches didn't make all the big-play throws.
Any team looking to push the ball vertically should trust him to drop dimes from the pocket with his poise and mechanics.
Don't miss the full report on Hendon Hooker
2.04 – Kevin: Will Levis, QB, Kentucky
Kevin's analysis: I'm not high on Levis, but he's a nice value here.
2021 showed the upside case. I know Levis stunk last year, but injuries, a coaching change, and a lousy supporting cast are legit excuses.
I'd be surprised if he slips beyond the middle of Round 1 in the NFL Draft later this month.
2.05 – Luke: Michael Mayer, TE, Notre Dame
Luke's analysis: Mayer reminds me so much of Steelers TE Pat Freiermuth in the best way possible.
Mayer profiles as a reliable pass-catching TE at the next level, with plenty of PPR and TD upside.
Mayer could develop into a top 5 dynasty TE in the right situation.
Check out our full breakdown of Michael Mayer's dynasty value.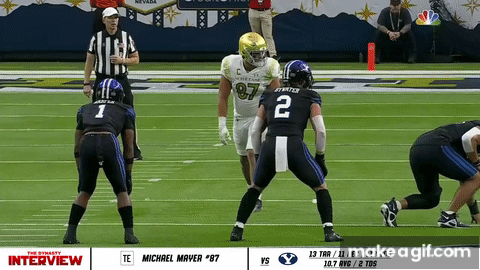 2.06 – Alex: Marvin Mims, WR, Oklahoma
Alex's analysis: At the end of the day, we are all human. Sometimes we need to realize we have a type and try to correct our biases. Sometimes we just lean into them.
Apparently, my type is "speedy boiz." Not to be confused with Herm's "smol zoomy boiz."
Mims tied for the fourth-fastest 40-yard time (4.38), and his speed shows up on tape. He graded out as the WR10 in the rookie prospect model with a high agreement factor.
There are a lot of NFL offenses that can use a WR like Mims.
2.07 – Kevin: Dalton Kincaid, TE, Utah
Kevin's analysis: A back injury kept Kincaid out of the NFL Combine and Utah's pro day. But I saw enough on tape to get excited about him as a future TE1.
The 23-year-old boasts excellent career production, WR-like movement skills, and strong YAC ability.
Dalton Kincaid is looking like a stud. Don't miss our film and stat breakdown.
2.08 – Alex: Rashee Rice, WR, SMU
Alex's analysis: Rice has all the physical gifts (0.72 Athleticism Score, out of a possible 1.0) we look for in a solid wide receiver but sometimes needs more focus when on the field.
NFL.com's Lance Zierlein summarized it well: "Rice must play with better consistency and urgency."
Rice is an upside play, and 2.08 is a great spot to shoot for upside in a rookie mock draft.
2.09 – Jared: Luke Musgrave, TE, Oregon State
Jared's analysis: Musgrave feels a little boom/bust.
He totaled just 47 catches across four college seasons and will turn 23 just before his rookie season begins.
But he averaged 13.5 yards per catch at Oregon State and then earned a 99th-percentile Relative Athletic Score.
There's dynamic pass-catching potential here that's worth a shot in the back half of Round 2.
Check out our full breakdown of Luke Musgrave's dynasty value.
2.10 – Herms: Jayden Reed, WR, Michigan State
Herms' analysis: Matt and I are disproportionately higher on Reed than our Draft Sharks counterparts. I see a lot of Diontae Johnson in his game.
Johnson was also a smaller guy coming out of college with big-time special teams contributions and the ability to be a matchup problem.
A bit more projection goes into this selection, but that's what you need to do at this point in a rookie draft.
Jayden Reed is a highly debated prospect. Don't miss our film and stat breakdown.
2.11 – Matt: Sean Tucker, RB, Syracuse
Matt's analysis: If you read our first dynasty rookie mock draft and noticed that I've taken Tucker in both, you might be getting the wrong idea.
It's more timing than me being especially bullish. That said, Tucker already has speed, workload history, and receiving production behind him.
All Tucker needs is Day 2 draft capital to lock him in as a solid-to-good dynasty buy.
2.12 – Luke: Tank Bigsby, RB, Auburn
Luke's analysis: I mean, his name is Tank Bigsby. Need I say more?
Just kidding, I'll say more.
Bigsby feels like a solid, underrated back in this deep class. I believe he has the potential to develop into a consistent starting RB in the NFL at his ceiling as a between-the-tackles runner with plenty of juice to get the job done.
I love the value here at the end of the second round in a mock draft.
Dynasty Superflex Mock Draft – Round 3
3.01 – Kevin: Cedric Tillman, WR, Tennessee
Kevin's analysis: A strong tester, Tillman adds plus size (6'3, 213 pounds) and enough on tape to intrigue me.
An ankle injury ruined his 2022. But 2021 included a pair of impressive games vs. Georgia (10-200-1) and Alabama (7-152-1).
Overall, he outproduced both Jalin Hyatt and Velus Jones Jr. There's a chance Tillman sneaks into the middle of Round 2 in the NFL Draft.
3.02 – Matt: Kayshon Boutte, WR, LSU
Matt's analysis: Boutte tested poorly. But the other stuff's been pretty good.
He broke out at 18 in the SEC. He delivered big numbers in an abbreviated 2021. And then he endured a meh 2022.
Boutte will be just 21 when his first NFL season begins. And we've seen plenty of WRs produce despite forgettable athletic testing.
3.03 – Alex: Zach Evans, RB, Ole Miss
Alex's analysis: The rookie prospect model works in analytic and film scores for each prospect.
Zach Evans was one of the few running backs to show up better on film than his "estimated" analytic score.
If he can get and stay healthy, he is a steal in the third round of this superflex rookie mock draft.
Check out our full breakdown of Zach Evans' dynasty value.
3.04 – Jared: Israel Abanikanda, RB, Pittsburgh
Jared's analysis: Abanikanda was my favorite sleeper in this RB class before he clocked a 4.39-second 40 time at 216 pounds at his pro day. That gives him an elite 116.3 speed score.
Abanikanda will go much earlier than this in dynasty rookie drafts if he gets Day 2 draft capital.
3.05 – Herms: Darnell Washington, TE, Georgia
Herms' analysis: Dude, he's HUGE.
The risk is that Washington blocks too often and doesn't become a go-to receiver in the NFL. But his combo of 6'6, 264-pound frame and 4.64 speed makes him unique – and a potential matchup nightmare.
Give me a Godzilla-type athlete at TE all day, every day.
Darnell Washington is monster. See what else we had to say in his full profile.
3.06 – Luke: Evan Hull, RB, Northwestern
Luke's analysis: Hull impressed me at the NFL Combine. All of his workouts were phenomenal. He nailed his media session. And it stuck with me that he finished every on-field drill in the end zone – no matter how far away he started.
More importantly, Hull was a terrific back in college. I believe he can make a quick impact in a RB committee if given a chance.
3.07 – Kevin: Roschon Johnson, RB, Texas
Kevin's analysis: Johnson posted 5.3 yards per carry – plus 23 catches – as a true freshman.
He split carries with Keaontay Ingram that year, despite transitioning from QB to RB in August.
Johnson wasn't used much behind Bijan Robinson the past three seasons. But his limited tape shows a powerful runner with the size (6'0, 219) of an NFL back.
3.08 – Herms: Kendre Miller, RB, TCU
Herms' analysis: I'm not as high on Miller as others, but he showed a penchant for the big play at times throughout his TCU career.

It wouldn't shock me to see him earn early Day 3 draft capital and have a chance to compete for an immediate role in training camp.
3.09 – Alex: Andrei Iosivas, WR, Princeton
Alex's analysis: It has been difficult to find enough film on Iosivas to form a solid opinion of him as a prospect. But he's interesting and fun, and that's why we play fantasy football.
Of course, if he doesn't get any draft NFL draft capital, don't pick him in your rookie drafts.
3.10 – Jared: Tyler Scott, WR, Cincinnati
Jared's analysis: Scott is coming off a breakout junior campaign, hogging 34% of Cincinnati's receiving yards and 47% of the receiving TDs.
He's undersized at 5'10 and 177 pounds (a common theme in this WR class) but is a legit big-play threat with 4.44 speed.
The gap between Scott and guys like Josh Downs and Zay Flowers should be smaller than in this mock draft.
3.11 – Matt: Sam LaPorta, TE, Iowa
Matt's analysis: Jonathan Mingo sits higher in my rankings. But I picked him in our previous mock draft and want a chance to address LaPorta.
The college production was terrific. LaPorta showed 90th-percentile speed at the Combine. He's an elite athlete.
The only downside is that LaPorta checks in small for a TE (6'3, 245 pounds). The right coaching staff should be able to work around that.
(So please, draft gods, don't let LaPorta go to the Patriots.)
3.12 – Luke: Stetson Bennett, QB, Georgia
Luke's analysis: I BELIEVE!!!
Bennett just has that dawg in him. Back-to-back national champion at Georgia. Poised, all-around solid passer.
The primary concerns are his frame and age. However, if Bennett earns his chance in the NFL, he will make the most of it.
He was impressive in his throwing session at the Combine, and I think he has a shot to be a training-camp and preseason warrior.
I love taking an upside shot at Bennett late in a superflex rookie draft.
More Dynasty Content
Luke went out on a limb with his Bennett selection. Check out our dynasty superflex rookie rankings to see which QB was the unanimous choice as sixth off the board.
Want to know how each of these players fits in your specific dynasty format?
Create your own Draft War Room today to get detailed, customized player values.