Best Rookie Wide Receivers (WR) 2023 Fantasy
Best Rookie Wide Receivers
You want to build a perennial dynasty powerhouse, right?
Well, you can't do that without nailing the rookie draft. And you can't do that without knowing the best rookie wide receivers in the class.
Even if you're not playing dynasty, knowing the rookie WRs will give you a jump on some great values in best ball drafts.
And you'll definitely want to know all about these players come August, when everyone's firing up their redraft leagues for 2023.
What You Need to Know About the 2023 Rookie WR Class
So let's dive into the 2023 NFL Draft class and pinpoint the best rookie wide receivers.
Click the links below each player to view our full outlook on each rookie wide receiver's dynasty value.
1. Jaxon Smith-Njigba, Seahawks
Junior
6'1, 196 lbs.
Drafted: 20th overall
Draft Sharks Model Score: 7.91 (out of 10)
The Next Interior Target Hog?
Garrett Wilson and Chris Olave. Heard of them?
Jaxon Smith-Njigba, aka JSN, out-produced them both as a sophomore in 2021, exploding for 1,606 yards and 9 TDs on 95 catches.
He was quiet as a freshman, though, and limited to just three games by a lingering hamstring injury this past season. So he's a one-year wonder -- but wow was it a year!
Smith-Njigba is a well-rounded receiver on tape, with the ability to beat man and zone coverage, make tough grabs in traffic, and create extra yards after the catch.
He has the potential to be a high-volume receiver in the NFL. Think Amon-Ra St. Brown.
Tough Path to Targets in Seattle
Not surprisingly, Smith-Njigba was the first WR off the board in the draft, going 20th overall.
But he joins a Seahawks WR corps anchored by D.K. Metcalf and Tyler Lockett. Don't count on JSN out-targeting either proven veteran in 2023, leaving him as a shaky bet in redraft leagues.
Lockett turns 31 in September, though. His contract runs through 2025 but carries cap hits of nearly $24 million in both 2024 and 2025. So it wouldn't be surprising to see Seattle cut ties with Lockett one of those two years.
Metcalf is a bigger roadblock for Smith-Njigba. He turns just 26 in December and is signed through 2025.
Of course, if Smith-Njigba truly is the stat-piling stud we saw in 2021, he'll command targets regardless of the competition.
Get the full breakdown of Jaxon Smith-Njigba's Dynasty Fantasy Football Value.
2. Quentin Johnston, Chargers
Junior
6'3, 208 lbs.
Drafted: 21st overall
Draft Sharks Model Score: 7.84 (out of 10)
Highlight Reel as Impressive as Any in Class
Johnston is a 6'3, 208-pounder with power, speed, and the movement skills of a much smaller man.
It makes him one of the best after-catch receivers we've seen come into the league in recent memory.
Johnston is also a weapon on deep balls and averaged a huge 19.0 yards per catch across three seasons at TCU.
His overall production profile isn't as strong as some of the other top WRs in the class, though. He's underwhelming in contested situations. And his route running needs work.

Johnston isn't the safest bet in this rookie WR class. But his fantasy football ceiling might be the highest.
High-Upside Landing Spot
That ceiling was only raised when Johnston landed with the Chargers in Round 1 of the draft. He's tied to uber-talented QB Justin Herbert and will be playing for one of the sharpest coaching staffs in the league.
"It's being able to make plays with the ball in your hands," HC Brandon Staley said of Johnston. "He gives us the run-after-catch element. ... For him to average 8.9 yards after the catch [last season], that's an element of our offense that we needed."
Johnston will open his career behind WRs Keenan Allen and Mike Williams. But both guys carry cap hits north of $30 million in 2024 that will force the Chargers to make tough decisions.
It's unlikely that L.A. will be able to keep both, paving the way for Johnston to step into a top-2 spot on the depth chart.
And he has the potential to develop into Herbert's long-term No. 1 WR.
Here's a comprehensive look at Quentin Johnston's Dynasty Fantasy Football Value.
3. Jordan Addison, Vikings
Junior
5'11, 173 lbs.
Drafted: 23rd overall
Draft Sharks Model Score: 7.77 (out of 10)
Too Skinny ... or a Potential Stud?
Addison broke out as an 18-year-old true freshman at Pittsburgh and then turned in one of the best sophomore seasons in NCAA history:
100 catches
1,593 yards
17 TDs
Biletnikoff Award (nation's top WR)
He transferred to USC for the 2022 season and -- though not quite as dominant -- still looked good on his way to 875 yards and 8 TDs in 11 games.
Size is a concern with this 5'11, 173-pounder. Addison can struggle in contested-catch situations and has a relatively small catch radius.
But he's an explosive and sudden mover who shouldn't have trouble creating separation in the NFL.
Perfect Landing Spot
Minnesota looks like an ideal spot for Addison. He won't need to worry about carrying the passing game as a No. 1 WR. That job belongs to Justin Jefferson, who will continue to attract loads of defensive attention -- and create favorable matchups for Addison.
Jefferson caps Addison's target upside, but there's plenty of volume to go around. The Vikings quietly ranked third in both pass rate and pass attempts last year.
Adam Thielen -- whom Addison is essentially replacing -- drew 107 targets on a 15.9% share in 2022. That's a realistic range for Addison this season, putting him squarely in the WR3 mix in redraft leagues.
Longer term, Addison could push for a ~20% target share and WR2 value.
Learn more about Jordan Addison's dynasty fantasy football value.
Get Customized Dynasty Rankings
See exactly how these rookie WRs are valued in YOUR dynasty league.
4. Zay Flowers, Ravens
Senior
5'9, 182 lbs.
Drafted: 22nd overall
Draft Sharks Model Score: 7.74 (out of 10)
Produced in spite of crappy QB play at BC
Flowers' raw numbers don't pop off the page, but his market shares sure do.
He accounted for 32.7% of his team's receiving yards and a whopping 45.6% of the receiving scores over the last three seasons.
Flowers is a fun watch: An explosive route runner and dynamic after the catch.
But he's yet another undersized WR in this rookie class. Flowers goes just 5'9, 182 pounds with 2nd-percentile arm length and 9th-percentile wingspan.
That figures to be more of a problem against NFL CBs than it was in college. And it figures to push Flowers primarily into the slot as a pro.
Flowers Joins a Ravens Offense in Transition
Baltimore's offense seems ready to shift at least a bit toward the pass. They replaced run-loving OC Greg Roman with the pass-happier Todd Monken. Then they signed WR Odell Beckham Jr. and spent a first-round pick on Flowers.
Those two join Rashod Bateman to give the Ravens a nice WR trio. It wouldn't be surprising to see them finish in any order this season in fantasy.
Looking beyond this season: Beckham is signed for only 2023. But Bateman is under contract through 2024 with a team option for 2025. And target-hogging TE Mark Andrews is signed through 2025.
Getting first-round draft capital was a boost to Flowers' dynasty stock, but we don't particularly like this landing spot.
Get the full scoop on Zay Flowers' Dynasty Fantasy Football Value.
5. Rashee Rice, Chiefs
Senior
6'1, 204 lbs.
Drafted: Round 2, Pick 24 (55th overall)
Draft Sharks Model Score: 7.56 (out of 10)
A Sleeper Rookie WR Prospect
Rice flew under the radar playing at SMU. But he turned in a monster 2022 season, racking up 96 catches, 1,355 yards, and 10 TDs. He ranked ninth among 286 qualifying WRs in yards per route run (3.05) and seventh in Pro Football Focus receiving grade.
Rice also led SMU in catches as a sophomore and junior, so he wasn't just a one-hit wonder.
Rice boosted his stock at the Combine, clocking a 4.51-second 40 time with an elite 41-inch vertical at 6'1 and 204 pounds to earn a 95th percentile Relative Athletic Score.
The knocks against him? He played against lesser competition in the American Athletic Conference, spent four years in college, and is already 23.
Post-Draft Riser
The NFL Draft couldn't have gone better for Rice. He got surprisingly strong draft capital, landing in Round 2 as the seventh WR off the board. And he landed with Patrick Mahomes.
That doesn't guarantee Rice fantasy success, of course. He's the third WR the Chiefs have drafted in the second round over the last five years, joining Mecole Hardman and Skyy Moore. Hardman rarely hit the fantasy radar as a Chief; the jury is still out on Moore.
But landing in Kansas City certainly boosts Rice's dynasty upside. He's tied to the most talented QB in the game. And there's a clear path to immediate playing time, with Moore, Kadarius Toney, and Marquez Valdes-Scantling the primary competition.
The Chiefs view Rice as a potential replacement for JuJu Smith-Schuster.
6. Jonathan Mingo, Panthers
Senior
6'2, 220 lbs.
Drafted: Round 2, Pick 8 (39th overall)
Draft Sharks Model Score: 7.54 (out of 10)
A Boom/Bust Prospect
Mingo's college production profile is lacking. He didn't lead Ole Miss in receiving in any of his four years on campus. And he totaled just 12 TDs.
But turn on the tape and it's tough to not be excited about Mingo's pro potential. He's a downfield dynamo; one of 12 WRs in the nation to earn a 99.9 Pro Football Focus receiving grade on deep targets. And he's a weapon with the ball in his hands, averaging 7.3 yards after the catch per reception last year.
Mingo confirmed his high-end athleticism at the Combine, posting a 4.46-second 40 time and registering a 39.5-inch vertical at 6'2 and 220 pounds.
Mingo Goes Early in the Draft
The Panthers made Mingo the 39th overall pick as the fifth WR off the board. He teams up with fellow rookie QB Bryce Young and new HC Frank Reich in a remade offense.
Carolina also added WRs Adam Thielen and D.J. Chark this offseason. WRs Terrace Marshall and Laviska Shenault return from last year's squad. But none of those guys is a lock for a big role short or long term.
"We just see him as a really good scheme fit," Reich said of Mingo. "When a guy has elite ball skills and you have a super-accurate passer like we do, that's just a really good combination. Just get it near him. He's got strong hands to the ball, and he'll be a great target for Bryce."
Check out the full breakdown on Jonathan Mingo's dynasty fantasy football value.
7. Marvin Mims, Broncos
Junior
5'11, 183 lbs.
Drafted: Round 2, Pick 32 (63rd overall)
Draft Sharks Model Score: 7.29 (out of 10)
One of the Class' Strongest Production Profiles
Mims broke out as a true freshman at Oklahoma and led the Sooners in receiving yards each of his three seasons, finishing with a 1,083-yard 2022.
Mims averaged a huge 19.5 yards per catch for his college career and projects as one of the best deep threats among this year's rookie WRs.
He blazed a 4.38-second 40 time at the Combine and is a natural ball tracker downfield.
Mims' 183-pound frame figures to push him into the slot in the NFL. But his speed can still be a serious weapon there.
A T.Y. Hilton-esque career feels like the higher end of his range of outcomes.
A Sean Payton Favorite?
Mims became the first draft pick in the Sean Payton Era when Denver traded up to select him 63rd overall.
"His traits — he's got return skills, character makeup and he's smart," Payton said of Mims. "He's someone that can play at 'Z.' He can play at 'X.' He brings an element of speed you can feel on tape. … He was a captain and face the program. His makeup was fantastic. He's extremely intelligent, and you feel the top-end speed."
Mims joins a WR corps headed by Jerry Jeudy and Courtland Sutton. But Payton has no previous ties to either guy. Plus, Sutton is set to hit free agency next year, with Jeudy following him to the open market in 2025.
Don't miss the full scouting report on Marvin Mims' Dynasty Fantasy Football Value.
8. Jalin Hyatt, Giants
Junior
6'0, 176 lbs.
Drafted: Round 3, Pick 10 (73rd overall)
Draft Sharks Model Score: 7.36 (out of 10)
Speed for Spike Weeks but Might Struggle for Consistency
Hyatt exploded for 1,267 yards and 15 TDs last year, winning the Biletnikoff Award as college football's most outstanding receiver.
He averaged a huge 18.9 yards per catch and looks like one of the most dangerous deep-ball weapons in this year's class.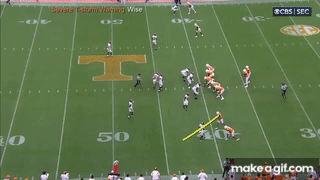 Much of his 2022 production was schemed up by HC Josh Heupel's offense, though.
Hyatt will have a big transition to make to a more pro-style attack. His route running needs work. And he has very little experience against press coverage.
Hyatt Falls ... But Lands in Nice Spot
Considered a potential first-rounder by many in the media, Hyatt wound up falling to the third round of the draft.
He landed in a nice spot, though. The Giants have a lot of bodies in their WR room, but no one that's locked into a significant role short or long term.
And this offense seems to be ascending under HC Brian Daboll. The G-Men ranked 18th in total yards and 15th in points in Daboll's 2022 debut, way up from 31st-place finishes in yards and points in 2021.
We ultimately see Hyatt settling in as a secondary WR in the NFL -- and a WR2 or 3 for fantasy squads.
But his 4.4-second 40 time should produce plenty of spike scoring weeks.
Get the complete scouting report on Jalin Hyatt's dynasty fantasy football value.
9. Jayden Reed, Packers
Senior
5'11, 187 lbs.
Drafted: Round 2, Pick 19 (50th overall)
Draft Sharks Model Score: 7.20 (out of 10)
Potential Sleeper in the 2023 Rookie WR Class
Reed has been producing since the moment he stepped on a college campus.
He started at Western Michigan, leading the 2018 Broncos with 56 catches, 797 yards, and 8 TDs -- ahead of then-junior and eventual 2021 second-round NFL pick D'Wayne Eskridge.
Reed then transferred to Michigan State and finished among the top two in catches, yards, and TDs each of the past three seasons. He was also a productive return man, which is often a sneaky pointer to future fantasy football value.
Reed is on the smaller side and tested as just a 67th-percentile athlete, so the upside doesn't seem huge. But he has a shot to have a lengthy career as a WR3 type for fantasy squads.
Chance to Make an Immediate Impact
Reed flew off the board at pick 50 overall to Green Bay.
He joins one of the youngest WR corps in the league, alongside 2022 draftees Christian Watson and Romeo Doubs.
Watson is coming off a flashy rookie season and projects to lead the group. But Reed has a shot to quickly emerge as Green Bay's #2 WR.
Both GM Brian Gutekunst and HC Matt LaFleur have already talked up Reed's ability to win from the outside and the slot. And it's worth noting that the Packers lost their top two in slot snaps last year with the offseason departures of Allen Lazard and Randall Cobb.
Reed is a late-round sleeper in redraft leagues and figures to be undervalued in your dynasty rookie drafts. See where he sits in our dynasty WR rankings.
Learn more about Jayden Reed's Dynasty Fantasy Football Value.
10. Cedric Tillman, Browns
Redshirt Senior
6'3, 213 lbs.
Drafted: Round 3, Pick 11 (74th overall)
Draft Sharks Model Score: 6.97 (out of 10)
Intriguing Combo of Size, Power, and Ball Skills
A high-ankle sprain wrecked Tillman's 2022 season … but has turned him into an intriguing dynasty sleeper.
Tillman easily led the Volunteers with 1,081 yards and 12 TDs back in 2021. (Teammate and fellow 2023 third-round WR Jalin Hyatt finished with just 226 yards and 2 scores that year.)
Even this past season, Tillman out-gained Hyatt 230 to 101 over the first 2 games before going down with that high-ankle sprain.
Physicality defines Tillman's game. He's dominant in contested situations and is tough to tackle.
The concerns? He didn't break out until his fourth college season and will already be 23 when his rookie season kicks off this fall.
That adds downside to Tillman's dynasty value. But his combination of size, power and ball skills gives him exciting upside.
A Sneaky Good Landing Spot
Tillman joins a crowded Browns WR corps alongside Amari Cooper, Elijah Moore, and Donovan Peoples-Jones.
But Cooper and Moore are signed for just two more years. And Peoples-Jones is set to hit free agency next offseason. Tillman looks like a perfect replacement as a big-bodied, downfield weapon.
This entire Browns passing game has a chance to break out in 2023 if QB Deshaun Watson rediscovers pre-suspension form.
Get the full breakdown of Cedric Tillman's Dynasty Fantasy Football Value.
11. Josh Downs, Colts
Junior
5'9, 171 lbs.
Drafted: Round 3, Pick 16 (79th overall)
Draft Sharks Model Score: 7.12 (out of 10)
Quicks, Acceleration Make Him Difficult to Cover and Tough to Tackle
Downs racked up 195 catches, 2,364 yards, and 19 TDs over the past two seasons. And he registered stronger market shares than first-rounders Jordan Addison, Jaxon Smith-Njigba, and Quentin Johnston.
The concern? He's just 5'9 and 171 pounds with average speed.
Downs can struggle against physical coverage and has a small catch radius.
The majority of Downs' production at North Carolina came from the slot -- and he figures to be stuck on the inside at the next level.
Downs seems like a relatively safe bet for a nice NFL career. But the fantasy football upside doesn't look exciting.
Draft Loser
Downs dropped to the middle of Round 3 as the 12th WR. And he didn't land in the best spot.
The Colts are in transition, with a new HC in Shane Steichen and a new QB in Anthony Richardson. The range of outcomes on that tandem is wide.
And, even if the duo delivers, we're probably looking at a run-heavy offense similar to what Steichen helped build with QB Jalen Hurts in Philadelphia.
On the plus side, Downs has a clear path to playing time. His only legitimate competition for primary slot duties is Isaiah McKenzie, who has never reached 500 receiving yards across six NFL seasons and got just $400,000 guaranteed on his 1-year deal from the Colts.
Check out the full breakdown of Josh Downs' dynasty fantasy football value.
Dynasty Rankings
It's rookie-draft season now. But that doesn't mean you should ignore everyone else on your dynasty rosters.
Our dynasty rankings are the only ones in the industry that use award-winning player projections and carefully crafted algorithms to deliver 1-year, 3-year, 5-year, and even 10-year outlooks for your players.
Check those dynasty rankings now to see how your roster stacks up ... and how you might be able to improve.
Changing Dynasty Values ...
Matt, Jared, and Herms break down the post-NFL Draft rookie landscape.