C.J. Stroud Dynasty Fantasy Football Value
C.J. Stroud, QB, Texans
Height: 6'3
Weight: 214
BMI: 26.7
Age: 21.4
NFL Draft Pick: Round 1, Pick 2
Draft Sharks Model Score: 8.63
Analytics Score: 0.68
Film Score: 0.64
Production Score: 0.94
C.J. Stroud Dynasty Fantasy Football Value
Stroud checks boxes for size, experience (25 starts), and arm talent. He's polished throwing from inside the pocket, a skill that should translate well to the pros.
Stroud didn't run much at Ohio State, but the tape shows enough athleticism to believe he'll add value on scrambles.
C.J. Stroud Team Fit: Houston Texans
After Carolina traded up to No. 1, rumors swirled that Stroud would be the pick. Instead, he went second overall to a Texans squad breaking in new HC DeMeco Ryans and OC Bobby Slowik.
We're buying the Kyle Shanahan disciples as successful long-term coaches. They supply optimism for Stroud's long-term QB1 upside -- albeit on the low-end.
Clearly, though, Houston needs a young pass-catching corps to take flight. Nico Collins looks like a solid complimentary piece. (As does veteran TE Dalton Schultz.) But there are some major questions in WR John Metchie, who missed all of 2022, and Tank Dell, a Round 3 pick at only ~170 pounds.
We'll track their progress closely come training camp.
Question: Is Stroud a top-3 lock in superflex drafts? Find out in our consensus superflex rookie rankings.
Dynasty Valuation
Our Dynasty Draft War Room assigns dynamic player values based on your league's specific settings. These DMVP values range from 100 to 0, with 100 being the most valuable player in your league and 0 being the worst rostered player. Use these values to compare players at the same position and across positions for help with draft, trade and add/drop decisions.
C.J. Stroud Dynasty Values:
Dynasty: 1-QB, Non-PPR – 27.8
Dynasty: 1-QB, PPR – 29.2
Dynasty: 1-QB, PPR, TE Premium – 19.3
Dynasty: Superflex, Non-PPR – 44.2
Dynasty: Superflex, PPR – 49.9
Dynasty: Superflex, PPR, TE Premium – 49.0
*To see C.J. Stroud's dynasty fantasy value for your league setup, visit the Dynasty Draft War Room.
C.J. Stroud Combine Results
Arm length: 32 5/8"
Hand size: 10"
40-yard dash: n/a
10-yard split: n/a
Bench press: n/a
Vertical: n/a
Broad jump: n/a
3-cone drill: n/a
Percentiles vs. Combine Quarterbacks since 1999, per MockDraftable.
C.J. Stroud Stats
| | | | | | | | | | | |
| --- | --- | --- | --- | --- | --- | --- | --- | --- | --- | --- |
| 2020 | 1 | 0 | 0 | 0 | 0 | 0 | 0 | 1 | 48 | 1 |
| 2021 | 12 | 317 | 441 | 71.9 | 4,435 | 44 | 6 | 32 | -20 | 0 |
| 2022 | 13 | 258 | 389 | 66.3 | 3,688 | 41 | 6 | 47 | 108 | 0 |
Stroud Sits Behind Justin Fields
Schools lined up to court Stroud, a unanimous five-star recruit. He ultimately chose Ohio State over other premier programs such as Georgia and Michigan.
The 2020 Buckeyes featured junior Justin Fields, who started all eight games. Stroud saw only one touch that season – a 48-yard rushing score vs. Michigan State.
Stroud then earned the starting gig in 2021.
He'd soon show everyone why.
Explosive Breakout
Across all of FBS, Stroud ranked top 5 in passing yards, completion rate, yards per attempt, TD passes, and QBR.
His Pro Football Focus (PFF) passing grade? No. 4 in the nation.
He also set several major OSU records: single-game passing yards (573), single-game passing TDs (6, twice), and season-long completion rate (71.9%).
Stroud dominated the Big Ten. And it wasn't always a cakewalk, despite what you might have heard...
Early Injury Scare
Stroud's 2021 season nearly went south.
"I was just banged up. Fall camp, I had stressed my rotator cuff," he said via Cleveland.com. "In the Minnesota game [Week 1], I got a hit right on my shoulder and separated my AC joint. So that one wasn't fun. It was kind of painful."
The modest Stroud took a one-week breather – he wasn't needed against Akron – before resuming a torrid pace.
By season's end, he ranked fourth in Heisman voting behind Bryce Young, Aidan Hutchinson, and Kenny Pickett.
NFL-Quality WRs
Stroud's 2021 pass-catchers read like an All-Star roster:
Garrett Wilson
Chris Olave
Jaxon Smith-Njigba
Marvin Harrison Jr.
Emeka Egbuka
That's two first-round picks – Wilson and Olave – plus 3 others with Round 1 profiles.
It's an all-time great WR corps, which certainly needs to be factored into Stroud's evaluation.
The group broke up last spring, as Wilson and Olave turned pro. And Smith-Njigba played only parts of three games due to hamstring trouble.
How Would Stroud Respond?
Stroud proved he could handle having "only" two projected Round 1 WRs …
Combined, Harrison and Egbuka accounted for 58.5% of Stroud's completions, 65.4% of his yards and 58.5% of his TDs.
Sure, Stroud's numbers declined. But that was simply because of how high he set the bar in 2021.
Starting all 13 games, he still ranked top 15 nationally in:
Passing yards
TDs
TD rate
INT rate
YPA
PFF passing grade
PFF's Big Time Throw Rate
No matter how you slice it, Stroud's dynasty value remained enticing.
C.J. Stroud Highlights
Games watched: Georgia (2022), Michigan (2022), Notre Dame (2022), Maryland (2022), Oregon (2021)
Let's start with where Stroud wins: inside the pocket.
He doesn't even step into this first throw, yet it's placed perfectly.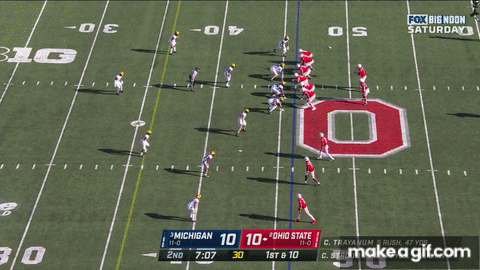 Per PFF's tracking, Stroud actually leads the nation with a 26.7% rate of "perfectly placed passes" since 2021.
Is there a subjective element to that stat? Sure. But it's noteworthy for a guy who played with top-tier talent. And it's backed up by the tape.
His pinpoint accuracy wasn't restricted downfield, either. While Harrison fails to come up with this next pass, you have to love Stroud's ball placement.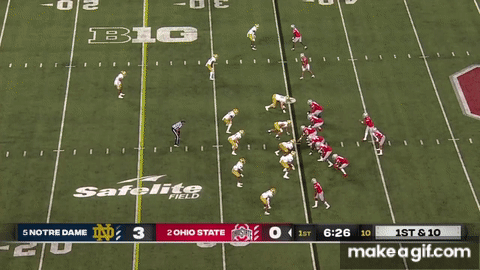 Legendary Playoff Performance
Stroud saved his best work for the playoff semifinal vs. Georgia.
What was most noteworthy? His playmaking outside the pocket. Previously, that element of his game rarely popped.
Stroud simply enjoyed the game of his life, the type that elevated his draft stock into the top 5.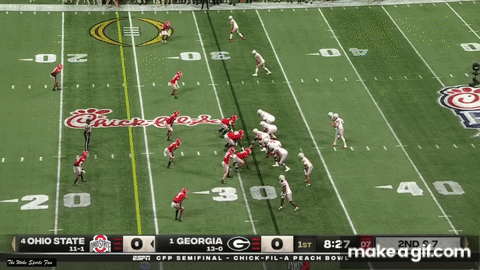 And here's another layer: Stroud actually lost Harrison late in the third quarter to a concussion. Top TE Cade Stover left in the first quarter following a back injury.
Still, Stroud led the Buckeyes to a FG attempt that would have won the game.
His final line: 348 yards, 4 TDs (0 turnovers) and a 67.6% completion rate.
What About the Legs?
At the Combine, Stroud admitted he felt "regret" over not running more at OSU.
"I'll be honest," he said via Pro Football Talk. "I told [pro teams] like I'll tell y'all: I didn't do it a lot in college, and I feel like I should have."
When he did take off, Stroud showed above-average wheels. He didn't test at the Combine, but you can see he's no Philip Rivers when given space …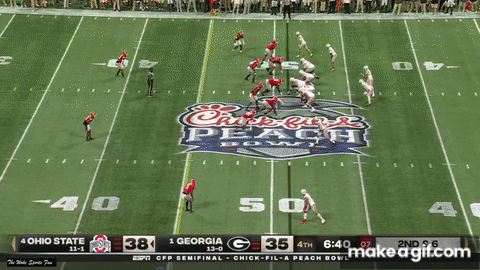 Don't expect Stroud to post anything close to league-leading rushing stats. Clearly, though, he's capable of supplying enough to bolster his QB1 profile.
Want Dynasty Sleepers?
Stick around until the end of this video to get some rookie-draft sleepers across ALL positions: