Hendon Hooker Dynasty Fantasy Football Value
Hendon Hooker, QB, Lions
Height: 6'3
Weight: 217
BMI: 27.1
Age: 25.4
NFL Draft Pick: Round 3, Pick 68
Draft Sharks Model Score: 7.18
Analytics Score: 0.73
Film Score: 0.55
Production Score: 0.72
Hendon Hooker Dynasty Fantasy Football Value
Hendon Hooker is old … for a rookie.
You could call him ancient.
He'll enter Week 1 at about 25.5 years old. He's older than:
There was a chance for Hooker to become the second-oldest Round 1 QB in league history (behind only Brandon Weeden).
Instead, he dropped to Round 3...
So how should this factor into Hooker's dynasty fantasy value?
Hendon Hooker Team Fit: Detroit Lions
Hooker's draft fall supplied a shock to his dynasty value.
Was it completely surprising, though? Nope. The negatives here were always clear: advanced age, his background in a QB-friendly scheme, and a November ACL tear. Note: Hooker didn't participate in OTAs/minicamp, and he's highly questionable for training camp.
In Detroit, he'll sit for at least one year behind Jared Goff. The former Ram is under contract for two more seasons, but the Lions can cut him next offseason at a dead cap cost of only $5 million.
Of course, that won't happen if Goff repeats a strong 2022.
At bottom, Hooker's not in complete control of his dynasty value, with a range of outcomes that includes starting 2024 games -- or continuing on as a No. 2/3 throughout his rookie deal.
Dynasty Valuation
Our Dynasty Draft War Room assigns dynamic player values based on your league's specific settings. These DMVP values range from 100 to 0, with 100 being the most valuable player in your league and 0 being the worst rostered player. Use these values to compare players at the same position and across positions for help with draft, trade and add/drop decisions.
Hendon Hooker Dynasty Values:
Dynasty: 1-QB, Non-PPR – 17.5
Dynasty: 1-QB, PPR – 10.5
Dynasty: 1-QB, PPR, TE Premium – 16.6
Dynasty: Superflex, Non-PPR – 27.6
Dynasty: Superflex, PPR – 34.6
Dynasty: Superflex, PPR, TE Premium – 33.8
Tip: To see Hendon Hooker's dynasty fantasy value for your specific league, visit the Dynasty Draft War Room.
Hendon Hooker Combine Results
*Hooker didn't test at the NFL Combine due to a November ACL tear.
Arm length: 33"
Hand size: 10 1/2"
40 time: n/a
10-yard split: n/a
Bench press: n/a
Vertical: n/a
Broad jump: n/a
3-cone drill: n/a
Percentiles vs. Combine Quarterbacks since 1999, per MockDraftable.
Hendon Hooker Stats
| | | | | | | | | | | |
| --- | --- | --- | --- | --- | --- | --- | --- | --- | --- | --- |
| 2018 | 6 | 0 | 0 | 0 | 0 | 0 | 0 | 4 | 57 | 1 |
| 2019 | 11 | 99 | 162 | 61.1% | 1,555 | 13 | 2 | 123 | 356 | 5 |
| 2020 | 8 | 98 | 150 | 65.3% | 1,339 | 9 | 5 | 120 | 620 | 9 |
| 2021* | 13 | 206 | 302 | 68.0% | 2,945 | 31 | 3 | 166 | 616 | 5 |
| 2022 | 11 | 229 | 329 | 69.6% | 3,135 | 27 | 2 | 104 | 430 | 5 |
*Hendon Hooker Transfer: Tennessee after the 2020 season.
A four-star recruit, Hooker began his marathon college career at Virginia Tech.
He never stood out as a future pro in Blacksburg. Still, his time there laid the foundation for a breakout down the road.
Uneventful Beginnings
Hooker's raw stats won't jump out. At Virginia Tech, he topped 275 passing yards only once in 15 starts.
The most exciting part of his game came as a rusher, especially in 2020.
Per Pro Football Focus, Hooker ranked second in the country in designed rushing yards (598).
Only five QBs topped his 9 rushing scores.
After he transferred to Tennessee in 2021, all of college football would see Hooker's full potential.
Finally ... The Breakout Arrives
Hooker took over the starting gig in Week 3 and never looked back.
Among 91 QBs with 300+ dropbacks, he ranked top 12 nationally in:
TDs (31)
Completion rate (68.1%)
Yards Per Attempt (9.7)
Hooker's leading WRs, in order: Cedric Tillman, Velus Jones Jr., and Jalin Hyatt.
Tillman was a Round 3 pick in April (Cleveland Browns). Jones came off the board in the third last year. And Hyatt – with DeSean Jackson-like speed – was just a Round 3 pick (New York Giants).
But what would happen in 2022, when Tillman battled a high-ankle sprain, and Jones left for the pros?
Hooker for Heisman?!
Hooker built off Year 1 in Knoxville, improving his PFF passing grade (78.3 to 85.3) and completion rate (68.1% to 69.2%).
Decision-making remained a strong suit, too. Hooker's 0.9% INT rate from 2021 dropped even further -- to 0.6% -- in 2022.
After he tallied 620 rushing yards in 2021, Hooker again added value with his legs. He recorded 19 carries of 10 or more yards and ranked 12th nationally in scramble yards, per PFF.
Hooker did so despite missing the last two games with an injury that'll alter his immediate fantasy football value.
Hendon Hooker Injury - Left ACL
Hooker suffered a left ACL tear on Nov. 19 that ended his magical season. A mid-December surgery followed.
If there's a positive spin, rehab has gone smoothly for the North Carolina native.
Hendon Hooker Injury Update: At Tennessee's March 30 Pro Day, Hooker told reporters he's about 10 days away from taking dropbacks -- three weeks from running.
NFL Network's Ian Rapoport recently called the ACL tear "clean" and Hooker's 2023 outlook "positive." So it's at least possible he takes some snaps in the fall.
But what does the tape say about Hooker's potential dynasty value?
Hendon Hooker Highlights
Games watched: Ball State (2022), Pittsburgh (2022), Missouri (2022), Florida (2022), LSU (2022), Georgia (2022), Alabama (2021)
Scheme-Aided Production
Let's begin with HC Josh Heupel's offense.
Using an up-tempo version of the spread, Heupel effectively mixed wide splits (WRs lining up very close to the sideline) with downfield shots.
Hooker attempted deep passes (20+ air yards) at a higher rate than Bryce Young, C.J. Stroud, Anthony Richardson, and Will Levis (coming soon!).
The Volunteer sprinkled in deep throws with a heavy dose of predetermined ones – primarily screens and slants. And that's the bulk of the criticism he receives.
Hooker's arm, however, shows no significant limitations.
Obvious Arm Talent
Hooker displayed excellent touch on deep balls, earning a 93.4 PFF passing grade. That nearly matched Stroud's mark.
He can also rip throws into the intermediate range without issue.
Performance Under Pressure
One thing to keep an eye on: Hooker's performance under pressure. He regressed in that area last season, recording a PFF passing grade of 43.7 and an adjusted completion rate of 57.9%.
So his pocket presence doesn't exactly rival Bryce Young's. Hooker rarely navigated muddy pockets to deliver a nice ball – again, due to Tennessee's play design.
It's simply an adjustment he'll need to make in the pros. The highlight below shows one of the few examples in my sample: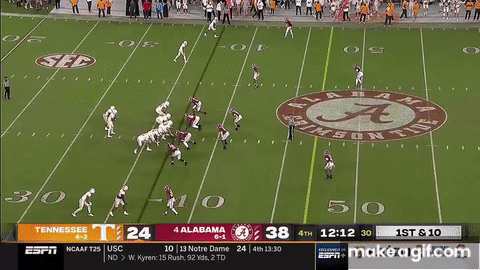 More often, Hooker showed off his rushing ability on scrambles. He exploited even the smallest gaps, displaying quick-twitch athleticism that should translate to Sundays.
Hooker Responds to Criticism
Let's end this section here, with Hooker rebutting criticism of Tennessee's offense.
"So a lot of these questions about one-sided reads and stuff … we have pure progression routes," Hooker said at his pro day. "It's not my fault my first read is getting open. But we have pre-snap looks, one-high, two-high. Which side. Double footwork combo. We have pure progression with an alert, with an option.
"So, you know, any of these questions, they're cool and all, but if you really dig into our offense and watch the film then you would understand it's elevated to a whole 'nother level. And how fast we're going, I have to process a lot of information at the same time and communicate with everyone."
Need Dynasty Sleepers?
Stick around until the end of this video to get some under-the-radar rookie-draft sleepers: