Luke Musgrave Dynasty Fantasy Football Value
Luke Musgrave, TE, Oregon State
Height: 6'6
Weight: 253
BMI: 29.2
Age: 22.6
NFL Draft Projection: Round 2
Draft Sharks Model Score: 7.90
Analytics Score: 0.66
Film Score: 0.46
Production Score: 0.36
Luke Musgrave Dynasty Fantasy Football Value
Musgrave isn't a finished product.
He exits college with 47 total receptions in 34 games. And he never hit 250 routes in a single season.
But you know what? That's OK.
High-End Traits = Fantasy Upside
The NFL places a premium on high-end athletes at TE. Consider the Relative Athletic Score – a 1-10 scale – of Round 1 TEs since 2013:
2021: Kyle Pitts (9.67)
2019: T.J. Hockenson (9.26), Noah Fant (9.89)
2018: Hayden Hurst (7.67)
2017: Evan Engram (9.19), David Njoku (9.44), O.J. Howard (9.80)
2014: Eric Ebron (7.89)
2013: Tyler Eifert (9.42)
That comes out to an average RAS of 9.1. If you just look at RAS scores of top-12 fantasy TEs from last season, the number is nearly identical.
So, while you need more than top-end athleticism to deliver in fantasy, Musgrave clearly checks that box. His 9.89 RAS ranks fourth among all TEs over the past five drafts.
His on-field development might take a year or two. But long term, there's a ceiling safely inside the top-10.
*To see exactly where Luke Musgrave's dynasty fantasy football value sits today, visit our updated Dynasty Rankings.
Luke Musgrave Combine Results
Wingspan: 79.5"
Arm length: 32.6"
Hand size: 10.4"
40-yard dash: 4.61 seconds
10-yard split: 1.58 seconds
Bench press: DNP
Vertical: 36"
Broad jump: 10'4"
3-cone drill: DNP
Percentiles vs. Combine tight ends since 1999, per MockDraftable.
Luke Musgrave College Stats
| | | | | | | |
| --- | --- | --- | --- | --- | --- | --- |
| 2019 | 12 | 5 | 2 | 18 | 9.0 | 0 |
| 2020 | 7 | 24 | 12 | 142 | 11.8 | 0 |
| 2021 | 13 | 40 | 22 | 304 | 13.8 | 1 |
| 2022 | 2 | 15 | 11 | 169 | 15.4 | 1 |
Slow Start in Corvallis
Musgrave joined Oregon State as a 3-star recruit. The high school WR/TE soon added ~35 pounds, giving him an NFL frame.
His production never followed, however.
After a COVID-shortened 2020, the next season at least turned up a spark. In the final week, Musgrave posted 7 catches, 85 yards, and 1 score vs. Oregon.
Promising…
2022 Hype
Come last fall, expectations soared. Musgrave was placed on the watch list for the Mackey Award, given annually to college football's top TE.
Recent winners include:
Mark Andrews
T.J. Hockenson
Kyle Pitts
Musgrave delivered early on. Through two games, he tallied 11 catches, 169 yards, and 1 TD. All on a team-leading 30% target share.
Then, abruptly — the dagger.
Luke Musgrave Injury (Season-Ending) … and a Silver Lining
Late in Week 2, an MCL tear ended Musgrave's season. It marked the only injury of his football career.
Here's some good news: Musgrave progressed to running routes in January, when he called the knee a "non-issue."
The 22-year-old even participated in the Senior Bowl, where his speed took center stage:
OK – so Musgrave didn't go 4.4 in the 40-yard dash. (He registered a 4.61.)

But how evident was that play speed at Oregon State? And what other clues can we gather to help determine Musgrave's dynasty fantasy football value?
Luke Musgrave Highlights
Games watched: Oregon (2021), Fresno State, Boise State
Limited Sample
With only 3 games viewable, it's tough to draw any sweeping conclusions. Still, the limited sample shows enticing potential.
Take this first clip. Musgrave sheds the defender with quick feet and excellent hand usage. He maintains speed up the seam to secure an on-target throw.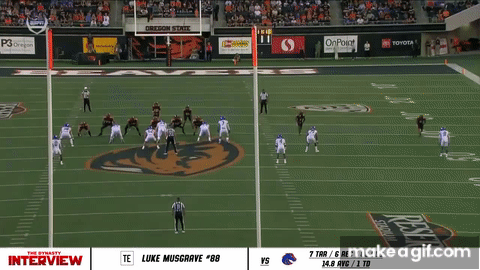 At 6'6, Musgrave uses his size to effectively wall off LBs and DBs. And he doesn't appear bothered by contact …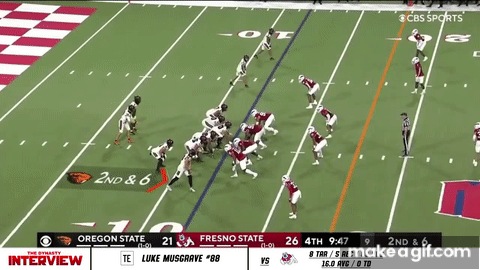 In this next clip, we see him on another in-breaker. This one lacks some snap, and overall, it's fair to say his route-running could use work.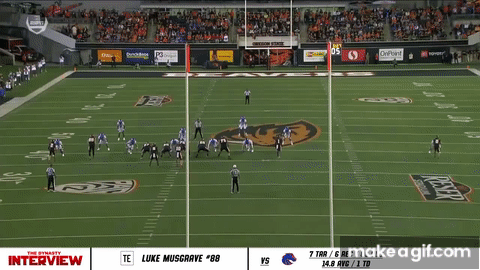 Note: Musgrave caught the pass above vs. 6'4, 204-pound S JL Skinner, who projects as a Day 2 pick in the NFL Draft.
A 9.89 RAS Score athlete, Musgrave shows his run-after-catch ability in this final clip: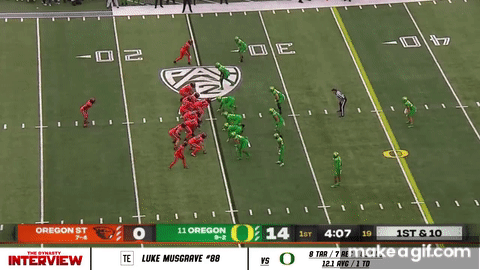 What's interesting, though, is how he struggled to avoid tackles. Per Pro Football Focus, Musgrave forced only 2 missed tackles on 47 career receptions.
Also per PFF: Musgrave's career drop rate is a crazy-high 16.1%.
It's not a reason to ignore someone with rare size-adjusted athleticism. But it'll be an area to monitor this summer.
For more dynasty fantasy stats and info, check out these fresh rookie profiles:
Dynasty Fantasy Football Trade Analysis:
Find out which TEs are worth selling -- or buying -- in your dynasty league: