Marvin Mims Dynasty Fantasy Football Value
Marvin Mims, WR, Broncos
Height: 5'11
Weight: 183
BMI: 26.0
Age: 21.1
NFL Draft Projection: Round 2, Pick 32 (63rd overall)
Draft Sharks Model Score: 7.29
Analytics Score: 0.59
Film Score: 0.44
Production Score: 0.44
Player Comp: John Ross (pessimistic) -- T.Y. Hilton (optimistic)
Marvin Mims Dynasty Fantasy Football Value
Betting against Marvin Mims seems foolish.
He followed a historic high school career in football-mad Texas with a true-freshman breakout at Oklahoma.
Mims averaged 19.5 yards per catch across three college seasons – 20.8 over the past two years.
He backed that up with a blazing 40 and explosive jumps at the NFL Scouting Combine.
So What's the Downside?
Mims worked deep a lot in college. He clearly has that ability, and should continue to deliver big plays at the next level.
But Mims' size likely makes him nearly slot-only in the NFL. That means he'll need to win in the short range more often than he's used to. And he'll need to get stronger to do that.
Oklahoma moved him inside and outside quite a bit. Mims primarily ran from the slot in 2021: 75.5% of pass snaps, according to Pro Football Focus.
Even then, though, he was primarily taking off downfield. Mims logged a career-high 17.6-yard average depth of target (ADOT) that season.
What Are We Gonna Get?
Figuring out Mims' dynasty fantasy football value takes more projection than with other top WR prospects in this class.
He'll need to alter his body, expand his route tree, and win in different ways.
Mims brings the talent to develop into a useful WR on your dynasty roster. But there's also downside risk in his outlook.
Beware a John Ross Future
Let's use WR John Ross as the cautionary comp. Ross hasn't worked out in the pros, but it clearly wasn't for lack of talent.
The Bengals drafted him ninth overall in 2017 after Ross turned lightning speed into strong yardage efficiency in college.
In the pros, he has languished as a little-used outside receiver.
Even with better health than Ross has endured, Mims likely wouldn't become a high-volume outside WR in the NFL.
High End: T.Y. Hilton?
If you want a more positive comp, my colleague Jared likens Mims to T.Y. Hilton.

The former Colts speedster's slot time has fluctuated throughout his career. His four best PFF passing grades came in seasons with the following slot rates (in order):
2018: 27.6%
2016: 56.6%
2014: 39.1%
2013: 48.7%
Know what else each of those seasons included? A healthy (or at least active) Andrew Luck.
Mims would obviously benefit from becoming the lead target for a high-end QB.
Marvin Mims Team Fit: Denver Broncos
Mims landed with a formerly high-end QB in Denver. Russell Wilson is coming off a disappointing 2022 season, though, and turns 35 in November.
The Broncos are praying for bounce back this year. Wilson carries a bloated contract that makes him very tough to cut before 2026. His performance is key to Marvin Mims' dynasty value.
Target Competition
The rookie faces tough immediate target competition in WRs Jerry Jeudy and Courtland Sutton. But his path to the No. 3 WR job got a whole lot easier when Tim Patrick went down with a season-ending torn Achilles early in training camp. That leaves Marquez Callaway as the primary competition.
Beyond this coming season, Sutton is set to become a free agent next year. Jeudy is signed through the 2024 campaign.
A Sean Payton Favorite?
The whole WR group is working in a new offense under HC Sean Payton, which adds volatility to the situation.
Payton has no ties to Jeudy or Sutton. But he spent his very first draft pick with the Broncos on Mims -- and traded up to get him.
"His traits — he's got return skills, character makeup and he's smart," Payton said of Mims. "He's someone that can play at 'Z.' He can play at 'X.' He brings an element of speed you can feel on tape. … He was a captain and face the program. His makeup was fantastic. He's extremely intelligent, and you feel the top-end speed."
You might need to be patient with Mims. And Denver's QB situation is a potential problem.
But Mims' college production profile and landing spot with a top offensive mind in Sean Payton make him worth betting on long term.
Dynasty Valuation
Our Dynasty Draft War Room assigns dynamic player values based on your league's specific settings. These values range from 100 to 0, with 100 being the most valuable player in your league and 0 being the worst rostered player. Use these values to compare players at the same position and across positions for help with draft, trade and add/drop decisions.
Marvin Mims Dynasty Values:
Dynasty: 1-QB, Non-PPR – 29.8
Dynasty: 1-QB, PPR – 23.3
Dynasty: 1-QB, PPR, TE Premium – 14.7
Dynasty: Superflex, Non-PPR – 16.0
Dynasty: Superflex, PPR – 8.4
Dynasty: Superflex, PPR, TE Premium – 7.3
Marvin Mims Combine Results
Arm length: 31.6"
Hand size: 9"
40 time: 4.38 seconds
10-yard split: 1.55 seconds
Bench press: n/a
Vertical: 39.5"
Broad jump: 10'9
3-cone drill: 6.9 seconds
20-yard shuttle: n/a
Percentiles vs. Combine wide receivers since 1999, per MockDraftable.
Marvin Mims Stats
| | | | | | | |
| --- | --- | --- | --- | --- | --- | --- |
| Year | Games | targets | receptions | REC. YARDS | YARDS PER REC. | tds |
| 2020 | 11 | 51 | 37 | 610 | 16.5 | 9 |
| 2021 | 13 | 41 | 32 | 705 | 22.0 | 5 |
| 2022 | 13 | 91 | 54 | 1083 | 20.1 | 6 |
Mims finished his high school career with the most receiving yards in Texas history (5,485) and the state's single-season record (2,629 yards).
His senior-year line:
117 receptions
2,629 yards
32 TDs
Mims chose Oklahoma over Stanford as a four-star recruit and then immediately broke out.
He tied for the team lead in receptions as a 2020 true freshman. Mims also led the Sooners in receiving yards and caught 4 more TD passes than his nearest teammate (30% of the team total).
Mims became the first Oklahoma WR to ever garner freshman All-America status.
Mims sustains production
His reception market share dipped from 14.9% in 2020 to 11.5% his sophomore year, when Mims tied for just fourth on the team in catches.
But he actually increased his yardage share (17.6% to 20.6%), leading the team in that category. Mims ranked second among Sooners in TDs.
As a junior, Mims led the team by 15 receptions and more than doubled his nearest teammate in yards. That'll happen when you're a demon in both average target depth and yards after catch. More on that in a minute.
Marvin Mims Highlights
Games watched: Texas (2021), Tulane (2021), Texas Tech (2021), Texas Tech (2022), Kansas State (2022), TCU (2022)
Mims is small and runs a 4.38-second 40.
Shocker: His game incorporates a lot of speed.
A 16.7-yard career average depth of target points to the Sooners targeting him downfield often.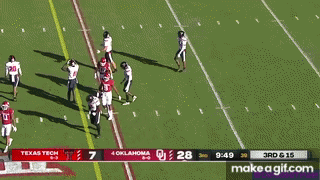 In just about any sample of games, you're likely to see Mims simply run past the defense at least a couple of times.
He'll probably have a harder time doing that in the NFL than in the Big 12. But a team that drafts Mims would be stupid not to send him deep at times.
Mims shows more than just speed on this long TD. There's body control to adjust for ball placement.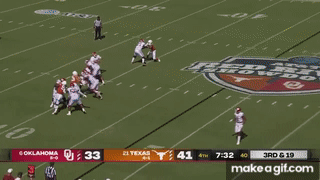 Film scouts commonly praise Mims for his ball-tracking ability.
He can get down the field. He can find the ball. And he can get it.
Mims Good After Catch as Well
Mims also earns praise for his run-after-catch ability. My sample didn't turn up impressive RAC examples. But the numbers agree with the scouts.
Mims increased his yards after catch per reception each year, according to Pro Football Focus. His 8.1 in 2022 ranked 11th nationally among 212 WRs with 60+ targets.
Mims didn't fare quite so well in contested situations. His contested catch rate also increased each of the past two years. But the 54.5% rate of 2022 tied for just 52nd among the same 212 WRs.
On the plus side, he's capable of this level of concentration through the catch …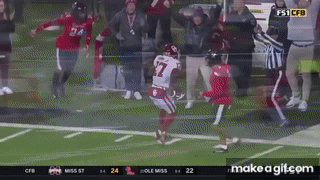 It's also worth noting that Mims totaled just 30 contested targets across three college seasons. That'll happen when you're speedy and running fly routes.
What He Needs to Do
Mims will almost certainly need to win more often in the shorter range as a pro. If he doesn't – or isn't asked to – then it'll cap his volume upside. That, in turn, would hurt Mims' week-to-week scoring floor and limit his fantasy football utility.
Mims will need to get stronger to produce in the NFL. That need could limit his early opportunities and production.
The upside is there, however, as long as you don't overpay in rookie drafts and stay patient through his development.
Don't bet on big impact in 2023 redraft leagues. Mims' downfield ability makes him a solid late-round option for best ball drafts.
Where Does Marvin Mims Land in the Dynasty Rankings?
Everyone has dynasty rankings. But not like these ...
Our dynasty rankings start with the award-winning Draft Sharks projections. Then we apply career aging curves specific to each player type.
The result: You get 1-year, 3-year, 5-year, and even 10-year outlooks for every player.
Not only that, you get a specific DMVP value for each player customized to your league format.
So you get a clear picture of who to select at every turn of your dynasty rookie draft. And you'll know exactly where the value lies in your dynasty trades.
See where Marvin Mims sits in our dynamic dynasty rankings.
More Changing Dynasty Values ...
Watch Matt, Jared, and Herms break down the post-NFL Draft rookie landscape.