Tank Bigsby Dynasty Fantasy Football Value
Tank Bigsby, RB, Auburn
Height: 6'0
Weight: 210
BMI: 28.5
Draft Age: 21.7
NFL Draft Pick: Round 3, Pick 88
Draft Sharks Model Score: 6.93
Analytics Score: 0.45
Film Score: 0.46
Production Score: 0.42

Tank Bigsby Dynasty Fantasy Football Value
Bigsby dealt with adversity at Auburn. But he found a way to be highly productive in the toughest conference for three years in a row.
With creative vision, a strong lower half, and a fun nickname, this "Tank" is the type of player who could sneak his way into early-down work in the NFL.
He may produce solid flex-level value for fantasy managers as soon as 2023 in Jacksonville.
Tank Bigsby Team Fit: Jacksonville Jaguars
Dynasty managers who roster Travis Etienne may be disappointed to see Bigsby arrive.
Fortunately, the Jaguars backfield has plenty of room for a secondary option.
Though Bigsby is built similarly to Etienne (5'10, 215), he's a bit more of a between the tackles thumper than Etienne.
This contrast in play style should bode well for the Jags' offense. Especially given HC Doug Pederson's record of committee backfields dating back to his days with the Eagles.
History of Doug Pederson Committees
Prior to trading James Robinson to the Jets, here's how Pederson split the backfield work from Week 1 through Week 7 in 2022:
Robinson: 81 carries (43.3%)
Etienne: 69 carries (36.9%)
We're not saying Bigsby is going to challenge Etienne for the starting role per se, but short-yardage touches and goal-line work could go his way.
The only competition the former Auburn standout has to beat out in camp for the RB2: JaMycal Hasty and D'Ernest Johnson.
This duo can peacefully coexist and put together one of the strongest backfields in the NFL if everything breaks right.
Off to a Flying Start
Bigsby has shown out early in training camp.
Doug Pederson, says the third-round rookie has been a "sponge" in terms of understanding his assignments. That's high praise for a rookie.
Word out of camp is that Bigsby has been so impressive — particularly catching the ball — that he has a legit chance of taking some touches away from Travis Etienne. That would obviously be a big deal for his draft value.
Dynasty Valuation
Our Dynasty Draft War Room assigns dynamic player values based on your league's specific settings. These values range from 100 to 0, with 100 being the most valuable player in your league and 0 being the worst rostered player. Use these values to compare players at the same position and across positions for help with draft, trade and add/drop decisions.
Tank Bigsby Dynasty Values:
Dynasty: 1-QB, Non-PPR – 26.2
Dynasty: 1-QB, PPR – 21.9
Dynasty: 1-QB, PPR, TE Premium – 23.1
Dynasty: Superflex, Non-PPR – 23.4
Dynasty: Superflex, PPR – 23.4
To see Tank Bigsby's value for your exact league setup, check out our Dynasty Draft War Room.
Tank Bigsby Combine Results
Wingspan: n/a
Arm length: 32"
Hand size: 9 1/2"
40-yard dash: 4.56
10-yard split: 1.54
Bench press: n/a
Vertical: 32.5"
Broad jump: 9'11
3-cone drill: n/a
20-yard shuttle: n/a

Percentiles vs. Combine running backs since 1999, per MockDraftable.
Tank Bigsby Stats
| | | | | | | | | | |
| --- | --- | --- | --- | --- | --- | --- | --- | --- | --- |
| | GMS | car | Yds | ypc | Tgts | rec | Yds | ypr | tds |
| 2020 | 10 | 138 | 834 | 6.0 | 13 | 11 | 80 | 7.6 | 5 |
| 2021 | 13 | 223 | 1,099 | 4.9 | 28 | 21 | 184 | 8.8 | 10 |
| 2022 | 12 | 179 | 970 | 5.4 | 42 | 30 | 180 | 6.0 | 10 |
Cartavious "Tank" Bigsby, a four-star recruit in 2020 from Hogansville, Ga., wasn't given his nickname as a joke. He's always been known for his stout frame and hard-nosed play style.
Bigsby received 34 scholarship offers before deciding to stay close to home and attend Auburn (about an hour from his hometown).
He performed well in each of his three Tigers seasons. However, none of this production leaps off the page to indicate Bigsby is a superstar.
Unlike with other profiles in this series, it's important to paint the picture of the program's broader situation. That might help explain why Bigsby didn't produce more.
Head Coach Carousel
In 2020, longtime HC Gus Malzahn was fired during the season -- in somewhat shocking fashion.
Malzahn had inked a seven-year contract extension in 2017, and this move ended up costing Auburn $21.7 million up front to make the change.
DC Kevin Steele finished out the year as interim HC but was not retained at the end of the season.
Despite the leadership shakeup, Bigsby had a strong freshman campaign. He dominated touches, logging 138 carries for 834 yards (fifth-best in the SEC) and 5 rushing TDs.
Change Doesn't Help
Auburn hired former Boise State HC Bryan Harsin as coach just two weeks after firing Malzahn.
In many ways, Harsin's tenure was a disaster. The Tigers finished 6-7 in his first year, marking only their third losing season since 2000.
Although the team was bad, a sophomore Bigsby posted his most productive season, tallying career highs in carries (223) and rushing yards (1,099).
From Bad to Worse: Tank Bigsby Transfer Time?
The program began to unravel the following spring.
Eighteen players transferred away amid turmoil stemming from Harsin's leadership. Bigsby himself entered the transfer portal but decided to stick around for a final season.
He later explained this decision in a diplomatic way: "Me leaving would be like I was running away from my problems. Then, I just told myself, if I run, I can't run forever. So, I put my foot down, and I feel like I made the right decision."
Though admirable, Bigsby's choice may not have been for the best.

Auburn fired Harsin in October, and the Tigers finished 5-7. Bigsby, however, delivered a third consecutive top-5 SEC ranking in rushing yards (970).
A Closer Look at Auburn's Struggles
Despite the obstacles, Bigsby almost single-handedly carried the Tigers' offense for three years.
On top of the revolving door of coaches, the Auburn offensive line got progressively worse.
Here's how the group performed in Football Outsiders' Average Line Yards over the last three seasons:

2020: 2.95 (18th in NCAA)
2021: 2.72 (59th in NCAA)
2022: 2.64 (81st in NCAA)
Bigsby finished his career seventh in Auburn history among RBs in total scrimmage yards, ahead of former NFL RBs Stephen Davis, Kerryon Johnson, and Ronnie Brown, among others.

Now let's see what the tape says about his performance ...
Tank Bigsby Highlights
Games watched: Alabama 2020, Arkansas 2020, Penn State 2021, Alabama 2022, Ole Miss 2022, Missouri 2022
Let's start with the negatives:
Bigbsy isn't particularly fast, and he's limited as a pass catcher.
The O-line issues mentioned above show up on tape, too. I didn't see many moments where Bigsby had the room to produce highlight-worthy plays.
Once you get past that, though, there's plenty to like.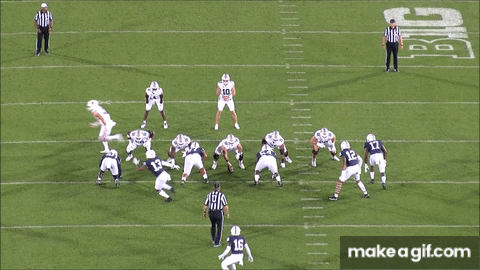 Bigsby one of strongest runners in class
His contact balance is questionable at times, but Bigsby's center of gravity is tremendous. He's strong in his lower half despite not being physically imposing.
On top of that, he possesses a great deal of burst and lateral running ability.
That, coupled with the frequency of seeing suboptimal running lanes in front of him, forces Bigsby to be a creative runner. He deserves credit for paving his own way to relevance.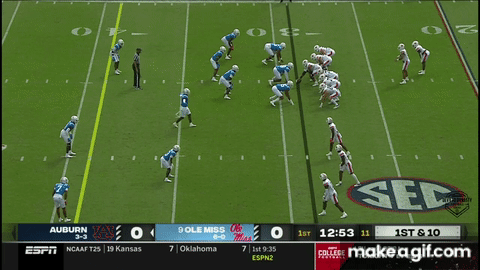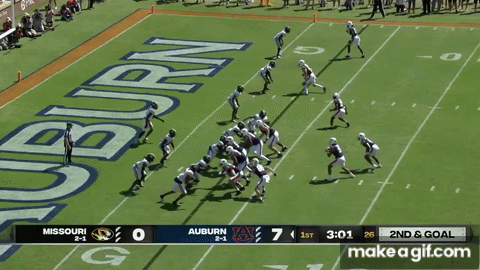 I don't have a strong pro comparison for Bigsby. But I view him similarly to fellow 2023 rookie Zach Evans from Ole Miss.
Both guys had some bad breaks and circumstances to deal with in college. But each shows out on film and should inspire belief in his NFL upside.
What's His Fantasy Football Value?
If NFL Draft capital and situation go Bigsby's way, we could see him become a Jeff Wilson Jr. kind of player. Not someone you'll put atop your list of bonafide star RBs, but a player that will find his way into the flex spot of your fantasy lineups.
He plays with a lot of guts, managed to be a grinder in a poor offense, and is certainly worth a mid-to-late second-round rookie draft pick for prospective dynasty managers.
Post-Draft Changes
Tank Bigsby and others moved in our Dynasty Rookie Rankings after the NFL Draft.
Check out this video for more reactions and some dynasty sleepers ...