Darnell Washington Dynasty Fantasy Football Value
Darnell Washington, TE, Steelers
Height: 6'7
Weight: 264
BMI: 29.7
Draft Age: 21.7
NFL Draft Pick: Round 3, Pick 30
Draft Sharks Model Score: 7.85
Analytics Score: 0.70
Film Score: 0.54
Production Score: 0.50
Darnell Washington Dynasty Fantasy Football Value
Finding historical comps as a basis for Washington's dynasty value is impossible.
Well, almost...
A Rare Breed
In league history, there's only been one TE at Washington's size (6'7+ and 260+ pounds) to record a 50-catch season. (No TE that size has ever posted a top-12 fantasy season.)
Any guesses? It's up to you, #Billsmafia …
Answer: Scott Chandler. You know, that 4th-round pick from 2007 …
Clearly, Washington is a TE unicorn – even more so when you consider his Combine results (listed below).
Darnell Washington Team Fit: Pittsburgh Steelers
Washington's career at Georgia turned up only a pair of four-catch games.
His season-high in catches? 28.
There were legit reasons for Washington's poor numbers, namely: stud teammate (TE) Brock Bowers and a run-first offense.
But both reasons are likely to remain in place with Pittsburgh. Pat Freiermuth -- signed through the 2024 season -- is well established as a lead TE. He's racked up 123 catches across two seasons.
The Steelers, still under the direction of OC Matt Canada, ranked 20th in pass rate in 2022.

From all accounts, Washington started strong at OTAs. We haven't heard much on the positive or negative side early in training camp. But as long as Freiermuth stays healthy, it's tough to see Washington emerging as a true fantasy asset in Pittsburgh.
Medical Red Flag?
A fringe Round 1 talent for many draft evaluators, Washington instead slid into Round 3. A troublesome knee was reported as the reason.
Just consider that Washington also dealt with foot and ankle issues in college. Durability will remain an area to watch closely in the NFL.
Dynasty Valuation
Our Dynasty Draft War Room assigns dynamic player values based on your league's specific settings. These values range from 100 to 0, with 100 being the most valuable player in your league and 0 being the worst rostered player. Use these values to compare players at the same position and across positions for help with draft, trade and add/drop decisions.
Darnell Washington Dynasty Values:
Dynasty: 1-QB, Non-PPR -- 43.5
Dynasty: 1-QB, PPR -- 38.2
Dynasty: 1-QB, PPR, TE Premium -- 38.3
Dynasty: Superflex, Non-PPR -- 36.3
Dynasty: Superflex, PPR -- 33.8
Dynasty: Superflex, PPR, TE Premium: -- 45.1
*To see the Darnell Washington dynasty fantasy football value for your league, visit the Dynasty Draft War Room.
Darnell Washington Combine Results
Arm length: 34 3/8"
Hand size: 11"
40-yard dash: 4.64 seconds
10-yard split: 1.61 seconds
Bench press: 21 reps
Vertical: 31"
Broad jump: 122"
20-yard shuttle: 4.08 seconds
Percentiles vs. Combine tight ends since 1999, per MockDraftable.
Darnell Washington Stats
| | | | | | | |
| --- | --- | --- | --- | --- | --- | --- |
| Year | Games | TGT | REC | Yards | YPR | TDs |
| 2020 | 10 | 15 | 7 | 166 | 23.7 | 0 |
| 2021 | 11 | 12 | 10 | 154 | 15.4 | 1 |
| 2022 | 15 | 43 | 28 | 454 | 16.2 | 2 |
A five-star recruit, Washington committed to Georgia in January 2020.
His freshman season passed without much excitement. Even in 2021, there wasn't anything to brag about.
Injuries Stunt Growth
Washington missed the first four games of 2021 with a training-camp foot injury. Upon returning, he never topped 2 catches in a game.
Another injury surfaced in 2022. This time, Washington missed spring practices with an ankle issue.
HC Kirby Smart said in-season that Washington played through bumps and bruises: a shoulder that popped out on Oct. 1; a 'soft tissue contusion and strain' from Dec. 31.
Fortunately, Washington stayed on the field for all 15 games.
Washington's 2022 … Breakout?
At first glance, Washington's raw numbers don't pop.
43 targets
28 catches
454 yards
2 TDs
But think about it. That's 16.2 yards per catch … at nearly 270 pounds! (For what it's worth, Georgia listed Washington at 270.)
Plus — among 53 FBS TEs with 40+ targets, he tied for fifth in average yards after catch (per Pro Football Focus).
Not something you'd expect from a supersized TE.
Brock Bowers, Production Killer
Washington ranked just fifth among Bulldogs in catches. That was surely by design, though. Keep in mind: Washington played with Brock Bowers, the top TE in college football and a future 1st-round pick.
The Bulldogs also ranked mid-pack with 32.1 pass attempts per game.
Georgia simply leaned into Washington's blocking. Per Pro Football Focus, he ran 257 routes in 2022 — well below Bowers' mark (397).
That means there's not a huge sample to evaluate on film. But even his limited reps are fascinating …
Darnell Washington Highlights
Games watched: Mississippi St (2022), LSU (2022), Missouri (2022), Vanderbilt (2022)
At 6'7, 264 pounds, Washington won't glide through secondaries like Travis Kelce.
The good news? Washington routinely played up to his size in the four-game sample. And that'll be the bulk of what you see below.
Here, he completes a downfield catch despite a huge hit.
Look at the way he hauls in this high pass as he stretches the seam. With an absurd, 98th-percentile wingspan, Washington will provide his pro QB with extra margin for error.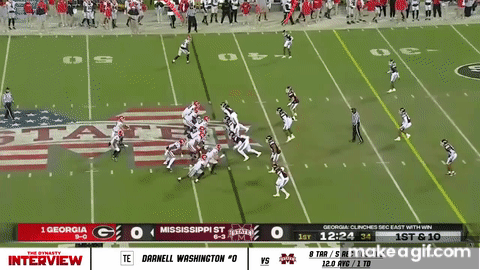 Once again — it's all about the size popping. Walling off the defender. Shaking him off into open space. Hauling in a pass nearly thrown over his head and showing some juice after the catch: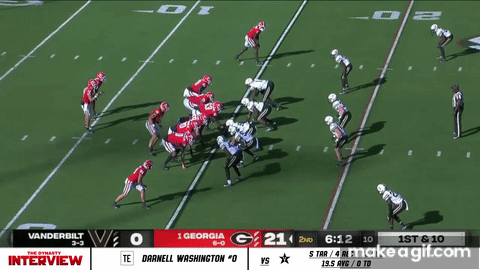 Here's an example of Washington using his frame to box out a defender. The guy boasts a basketball background — of course — and it shows up on film: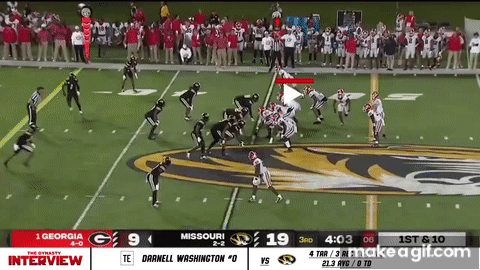 The real mystery is this: how did Washington catch only 3 career TDs? For context, Georgia totaled 70 team receiving scores over the past two seasons.
As for negatives: Washington lacks polish in his routes, but that's not a surprise considering his physical stature.
Washington's hands could stand to improve, too. On 45 career catches, his drop rate checks in at 10%.
It's not a major knock — rather, something to monitor early in his Steelers career.
For more dynasty fantasy stats and info, check out these fresh rookie profiles:
Jalin Hyatt: He's fast, but can he run more routes?
C.J. Stroud: Should he be the consensus QB1 in the class?
Luke Musgrave: Raw prospect, but another athletic freak
Dynasty Fantasy Football Trade Analysis:
Marquee names like George Kittle and David Njoku came up in a recent dynasty podcast. Find out which TEs are worth selling -- or buying -- in your dynasty league: