Jahmyr Gibbs Dynasty Fantasy Football Value
Jahmyr Gibbs, RB, Lions
Height: 5'9"
Weight: 199
BMI: 29.4
Age: 20.9
NFL Draft Pick: Round 1, Pick 12

Draft Sharks Model Score: 8.00
Analytics Score: 0.66
Film Score: 0.52
Production Score: 0.56

Jahmyr Gibbs Dynasty Fantasy Football Value
As special as Texas RB Bijan Robinson is, missing out on him won't sting as much if you can land this former Alabama back.
Gibbs is a tremendous receiving back with elite speed who figures to immediately complement David Montgomery. He has room to deliver high-end RB2 fantasy production right away.
And Gibbs just might already sit there in our fantasy football PPR rankings.
If Gibbs hits his highest-percentile outcome long-term, he could be similar to former Chiefs All-Pro Jamaal Charles.
(Admittedly, that's a tad lofty to expect.)

Even if he doesn't reach Charles territory, Gibbs could be similar to Tony Pollard or Alvin Kamara, without the interior rushing acumen.
Jahmyr Gibbs Team Fit: Detroit Lions
Although Gibbs being selected at 12th overall was a bit of a shock, he fits a lot of what the Lions' offense likes to do.
Gibbs should fit in quite nicely as the pass-catching back in OC Ben Johnson's offense, with D'Andre Swift gone.
Big Opportunity for Targets
Johnson has spent the last two years on the Lions' staff (passing game coordinator in 2021, OC in 2022). Swift received 70+ targets each season. He ranked 10th among RBs in targets last year, despite missing time and falling out of favor with coaches.
The Lions clearly believe Gibbs to be an upgrade over Swift.
On top of that, the team will be missing WR Jameson Williams for the first six games of 2023 due to suspension.
That might not directly impact Gibbs' outlook, but it at least leaves some early targets available.
Dynasty Valuation
Our Dynasty Draft War Room assigns dynamic player values based on your league's specific settings. These values range from 100 to 0, with 100 being the most valuable player in your league and 0 being the worst rostered player. Use these values to compare players at the same position and across positions for help with draft, trade and add/drop decisions.
Jahmyr Gibbs Dynasty Values:
Dynasty: 1-QB, Non-PPR -- 53.3
Dynasty: 1-QB, PPR -- 52.6
Dynasty: 1-QB, PPR, TE Premium -- 54.2
Dynasty: Superflex, Non-PPR -- 48.4
Dynasty: Superflex, PPR -- 51.4
Dynasty: Superflex, PPR, TE Premium -- 51.4
To see Jahmyr Gibbs' value for your exact league setup, check out our Dynasty Draft War Room.
Jahmyr Gibbs Combine Results:
Wingspan: n/a
Arm length: 30 1/2"
Hand size: 9 1/4"
40-yard dash: 4.36 seconds
10-yard split: 1.52 seconds
Bench press: n/a
Vertical: 33.5"
Broad jump: n/a
3-cone drill: n/a
20-yard shuttle: n/a

Percentiles vs. Combine running backs since 1999, per MockDraftable.
Jahmyr Gibbs College Stats:
| | | | | | | | | | |
| --- | --- | --- | --- | --- | --- | --- | --- | --- | --- |
| | GMS | car | Yds | ypc | Tgts | rec | Yds | ypr | tds |
| 2020 | 7 | 89 | 460 | 5.2 | 28 | 24 | 303 | 12.6 | 7 |
| 2021 | 12 | 143 | 746 | 5.2 | 43 | 35 | 465 | 13.3 | 6 |
| 2022 | 12 | 151 | 926 | 6.1 | 52 | 44 | 444 | 10.1 | 10 |
A Red-Hot Yellow Jacket
A four-star prospect from Dalton, Ga., Gibbs ranked among the top 10 RBs in the 2020 recruiting class. He received 28 scholarship offers and visited Florida before choosing to attend Georgia Tech.
Gibbs made an immediate impact on the Yellow Jackets in 2020. Splitting the backfield with Jordan Mason, he recorded 89 carries and 460 rushing yards. Gibbs also displayed significant promise as a pass-catcher, finishing second on the team in receptions (24) and receiving yards (303).
As a sophomore, Gibbs took a massive leap in productivity. His market share of the rushing attempts grew from 21.9% in 2020 to 32.2% in 2021. His rushing yardage (746) nearly doubled.

Gibbs gains national notice
Additionally, Gibbs' target share (17%) ranked fifth among all Power 5 conference RBs, per Campus2Canton.
By the end of the year, Gibbs cemented his status as an all-around playmaking machine and was named to the All-ACC first team in addition to securing honors as a second-team All-American.
Sweet Home Alabama
Georgia Tech only managed to win six games over Gibbs' first two seasons. So the highly touted back transferred to Alabama ahead of 2022.
In his lone Alabama campaign, Gibbs tallied 1,370 scrimmage yards and 10 total touchdowns, earning All-SEC second-team honors.

Though 2022 was considered a down year for the Tide overall, Gibbs' replication of his production from the ACC in a tougher conference shored up his reputation as one of the nation's most dynamic backfield weapons.
An Overshadowed Star?
Coming out in the same class as Bijan Robinson isn't helping Gibbs. And two years at Georgia Tech likely delayed his stardom. But that stat profile alone suggests high fantasy upside.
Gibbs makes up a RB tier by himself. He's not on the same level as Robinson, but he's firmly ahead of the rest of the pack. Now let's see if he looks as good on film as he does in the box scores ...
Jahmyr Gibbs Highlights
Games watched: Louisville 2020, Pitt 2021, Texas 2022, Auburn 2022, Arkansas 2022

Gibbs stands out most as a receiver. And he can handle more than just dump-offs in the flat or swing routes

An NFL offense can count on Gibbs to execute a seam route, wheel route, Texas/angle route, etc. He's even pretty solid lining up out wide.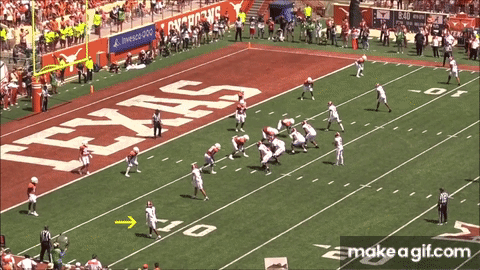 Put On Your Dancing Shoes
Both as a receiver and a runner, Gibbs is twitchy with swift feet and a ton of burst/acceleration. He's a strong line-drive hitter that can deliver big chunk plays.
Gibbs has demonstrated growth in falling forward when hit. That said, he is a little lanky and expresses his cuts and jukes with a flamboyance reminiscent of a flapper from the 1920s.

Obviously, Gibbs isn't doing The Charleston. But you'll see that running style isn't ideal for tight quarters. He's much more dangerous in the open field in the second level and beyond with his incredible lateral agility.

There are moments of hesitation when he's confronted with heavy traffic near the line, which raise questions about his decisiveness at the first level.

This is perhaps the biggest knock against Gibbs. His 5'9, 199-pound frame doesn't help in that area either.
Zone blocking the best fit?
A team that runs a lot of outside zone will adore having Gibbs. That scheme asks the RB to move with lateral blocking, find a crease, and take off. Perfect for this speedster.
If a team gives Gibbs the requisite time and space to find the hole, he'll torch opponents. And if the worst criticism of an RB is that he needs his offensive line to adequately block for him, then that's a good sign.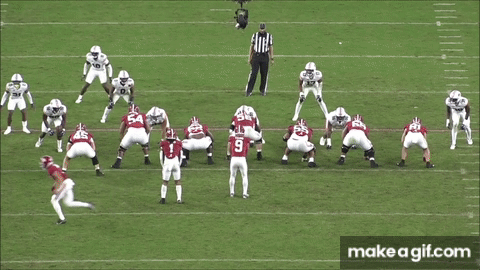 He's a video game playmaker. Once he gets to the second level and beyond, Gibbs kills with quickness and sudden movement(s). This ability is even more remarkable when he's operating as a receiver.
Gibbs can fight through light contact but lacks the power to keep a play going for more than a brief moment in heavy contact. Fortunately, he reaches top speed quickly when allowed the space. Keep this information tucked away as we move to the next section.

Kirkland Brand Kamara?
The player comparison that comes to mind is rather ironic.
Saints RB Alvin Kamara began his college career at Alabama but had to transfer away to see his growth manifest.
While a Kamara-Gibbs comp is apt on the surface, it's not perfect. Kamara demonstrates more ability to escape defenders in traffic at any level with his physicality. He's more likely to work through heavy contact. Gibbs isn't as strong as Kamara between the tackles.
That's what makes Gibbs more of a Kirkland brand Kamara. He's certainly a step above your regular store brand, but not quite the same as the original.

This is why a comparison to Tony Pollard is more apt.

Gibbs should immediately become an NFL team's top receiving back if nothing else. He sports plenty of rushing upside as well. But even splitting work with a between-the-tackles runner wouldn't be terrible. That would keep Gibbs from taking too many hits to his smallish frame.
Where Does Jahmyr Gibbs Land in the Dynasty Rankings?
Everyone has dynasty rankings. But not like these ...
Our dynasty rankings start with the award-winning Draft Sharks projections. Then we apply career aging curves specific to each player type.
The result: You get 1-year, 3-year, 5-year, and even 10-year outlooks for every player.
Not only that, you get a specific DMVP value for each player customized to your league format.
So you get a clear picture of who to select at every turn of your dynasty rookie draft. And you'll know exactly where the value lies in your dynasty trades.
See where Jahmyr Gibbs sits in our dynamic dynasty rankings.
More Rookie Analysis
Gibbs landed in a much better spot than some other top rookies. We run through the impact of some key NFL draft landings in this video ...