Jonathan Mingo Dynasty Fantasy Football Value
Jonathan Mingo, WR, Panthers
Height: 6'2
Weight: 220
BMI: 28.2
Age: 22.0
NFL Draft Pick: Round 2, Pick 8 (39th overall)
Draft Sharks Model Score: 7.54
Analytics Score: 0.55
Film Score: 0.45
Production Score: 0.32
Player Comp: Laviska Shenault
Jonathan Mingo Dynasty Fantasy Football Value
There's a lot to like about Mingo.
He looks the part at 6'2, 220 pounds.
He tested as a 98th-percentile athlete, highlighted by a 4.46-second 40 time and 39.5-inch vertical.
And his tape shows an intriguing combination of downfield and after-catch skills.
Unfortunately, Mingo's production profile underwhelms. He spent four years at Ole Miss and never led the team in receiving yards. And, despite the plus size and athleticism, he totaled just 12 college TDs.
It makes Mingo a bit of an enigma heading into the NFL. And he doesn't start out high in our 2023 fantasy football WR rankings.
Jonathan Mingo Team Fit: Carolina Panthers
Mingo was a post-draft riser in the dynasty rookie rankings.
He got strong draft capital, going 39th overall as the fifth WR off the board.
Immediate Opportunity
Mingo landed in a nice spot in a remade and wide-open Panthers WR corps. Prior to drafting Mingo, Carolina signed WRs Adam Thielen and D.J. Chark in free agency. WRs Terrace Marshall and Laviska Shenault return from last year's squad.
That's a lot of names but no bonafide alphas.
Thielen is the best bet to play a big role in 2023 after getting $14 million guaranteed on his three-year deal. But he's coming off his least productive season since 2015 and turns 33 in August.
Chark is on a one-year deal, has played in just 15 games over the past two seasons, and is recovering from ankle surgery.
Marshall and Shenault still have a lot to prove.
New Coaching Staff and QB
So there's opportunity for Mingo to earn a big role right out of the gate, especially considering it's a brand new coaching staff in Carolina under HC Frank Reich.
Mingo is also tied to an exciting, young QB in Bryce Young, who the Panthers selected with the first pick of this year's draft.
"We just see him as a really good scheme fit," Reich said of Mingo shortly after drafting him. "When a guy has elite ball skills and you have a super-accurate passer like we do, that's just a really good combination. Just get it near him. He's got strong hands to the ball, and he'll be a great target for Bryce."
Dynasty Valuation
Mingo's lack of college production shouldn't be overlooked. We've seen plenty of WRs with his profile bust.
But the size and athleticism are exciting. The traits on tape are intriguing. And the draft capital and landing spot were positive.
Our Dynasty Draft War Room assigns dynamic player values based on your league's specific settings. These values range from 100 to 0, with 100 being the most valuable player in your league and 0 being the worst rostered player. Use these values to compare players at the same position and across positions for help with draft, trade and add/drop decisions.
Jonathan Mingo Dynasty Values
Dynasty: 1-QB, Non-PPR – 33.1
Dynasty: 1-QB, PPR – 28.0
Dynasty: 1-QB, PPR, TE Premium – 24.5
Dynasty: Superflex, Non-PPR – 20.3
Dynasty: Superflex, PPR – 15.7
Dynasty: Superflex, PPR, TE Premium – 14.5
See Jonathan Mingo's value in your dynasty league.
Jonathan Mingo Combine Results
Wingspan: n/a
Arm length: 32"
Hand size: 10.5"
40 time: 4.46 seconds
10-yard split: 1.54 seconds
Bench press: 22
Vertical: 39.5"
Broad jump: 10'9
3-cone drill: DNP
20-yard shuttle: DNP
Percentiles vs. Combine wide receivers since 1999, per MockDraftable.
Jonathan Mingo College Stats
| | | | | | | |
| --- | --- | --- | --- | --- | --- | --- |
| year | games | Targets | Receptions | Rec. Yds | yards per Rec. | tds |
| 2019 | 12 | 31 | 12 | 172 | 14.3 | 1 |
| 2020 | 10 | 50 | 27 | 379 | 14.0 | 3 |
| 2021 | 6 | 38 | 22 | 346 | 15.7 | 3 |
| 2022 | 13 | 87 | 51 | 861 | 16.9 | 5 |
Mingo capped his career at Brandon High School in Mississippi with a 1,451-yard, 14-TD senior season.
The four-star prospect passed on 10+ other scholarship offers to stay in-state at Ole Miss.
A Quiet Start
Mingo officially started all 12 games as a true freshman but was used in a rotation behind Elijah Moore. Mingo finished fifth on that Rebels team in catches and tied for fourth in receiving yards.
Mingo became a full-time player in 2020 and boosted his numbers across the board. Moore, at that point a junior, continued to dominate the passing game, though.
Mingo's market shares:
11.3% of the receptions
11.0% of the receiving yards
10.0% of the receiving TDs
A Brief Flash in 2021
Moore's departure left Mingo atop Ole Miss' depth chart in 2021.
He got off to a strong start, racking up 15 catches, 290 yards, and 3 TDs over the first three games of the season.
Jonathan Mingo Injury
But Mingo went down with a stress fracture in his left foot in a mid-September practice. He underwent surgery and missed the next seven games.
Mingo returned for the Rebels' final three games but was largely ineffective, totaling just 56 scoreless yards on seven receptions.
He needed a second surgery on that left foot in April 2022, because the injury hadn't healed properly.
Senior Year: Good Not Great
Mingo was ready for the season opener and played in all 13 of Ole Miss' games last year.
He set career highs in all major receiving categories but finished second to transfer Malik Heath (60-971-5) in catches and yards.
Mingo's market shares were solid but unspectacular:
21.3% of the receptions
27.6% of the receiving yards
22.7% of the receiving TDs
He ranked 44th among 286 qualifying WRs in Pro Football Focus receiving grade and 96th in yards per route run. Mingo edged Heath in PFF receiving grade but trailed him 2.56 to 2.14 in YPRR.
Jonathan Mingo Highlights
Games watched: Kentucky (2020), Tulane (2021), Vanderbilt, LSU, Arkansas
An Efficient Downfield Weapon
Mingo moves well for a big guy.
He doesn't have the quickest get-off but certainly has the speed to blow by defenders once he gets rolling.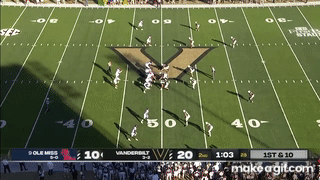 Mingo caught 10 balls 20+ yards downfield last season, turning them into 416 yards and 1 TD.
He was one of 12 WRs in the nation to earn a 99.9 PFF grade on deep targets.
Mingo is a good bet to create dynasty fantasy football value with his downfield ability.
A Good-Enough Route Runner
Mingo isn't the burstiest or most refined route runner. But he's a fluid mover with enough change-of-direction ability to create openings for his QB on short and intermediate routes.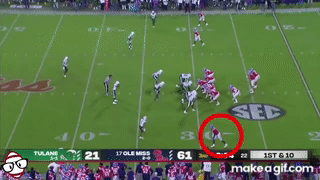 Comfortable in Contested Situations
And when he doesn't create separation, Mingo is comfortable making plays in tight coverage with his 6'2 frame.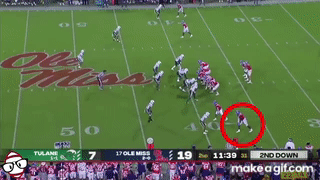 A Beast After the Catch
Mingo is at his best with the ball in his hands. He averaged a strong 7.3 yards after the catch per reception last year.
DBs don't wanna see this guy barreling toward them.
Mingo clearly relishes contact. But he also has enough wiggle to make a guy miss. And if you give him open field, he can take it to the house.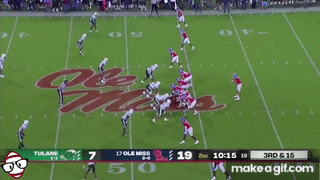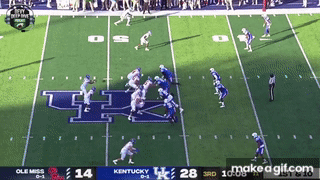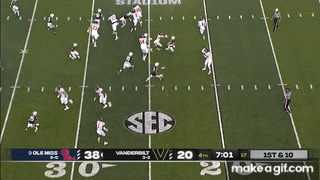 Where Can He Improve?
Mingo needs work against press coverage. (He reportedly struggled in that department at the Senior Bowl.) And he ran a fairly limited route tree at Ole Miss.
So he's not the most NFL-ready WR prospect. But the tools are there for him to develop into a No. 2 or No. 3 WR at the next level.
Where Does Jonathan Mingo Land in the Dynasty Rankings?
Everyone has dynasty rankings. But not like these ...
Our dynasty rankings start with the award-winning Draft Sharks projections. Then we apply career aging curves specific to each player type.
The result: You get 1-year, 3-year, 5-year, and even 10-year outlooks for every player.
Not only that, you get a specific DMVP value for each player customized to your league format.
So you get a clear picture of who to select at every turn of your dynasty rookie draft. And you'll know exactly where the value lies in your dynasty trades.
See where Jonathan Mingo sits in our dynamic dynasty rankings.
Want to Learn More About DMVP?