Roschon Johnson Dynasty Fantasy Football Value
Roschon Johnson, RB, Bears
Height: 6'0
Weight: 219
BMI: 29.7
Draft Age: 22.3
NFL Draft Pick: Round 4, Pick 13
Draft Sharks Model Score: 6.50
Analytics Score: 0.35
Film Score: 0.41
Production Score: 0.24

Roschon Johnson Dynasty Fantasy Football Value
The world will never know what Johnson was capable of in college. Texas teammate Bijan Robinson overshadowed him for most of his career.
If nothing else, Johnson can be a role player in the NFL as a pass protector with a smattering of touches.
At best, he possesses the raw traits to be molded into a three-down RB.
We're talking about a wide range of outcomes here, but that's what you get with fourth-round NFL draft picks.
Roschon Johnson Team Fit: Chicago Bears
After letting David Montgomery walk in free agency this offseason, the Bears needed to add talent at RB.
Khalil Herbert is a talented back in his own right. He's currently the favorite to lead this backfield in touches in 2023.
But beyond that, there's a lot of opportunity for Johnson to establish himself.
The only other move the Bears made at RB was signing D'Onta Foreman to an inexpensive 1-year deal.
Johnson Has A Chance To Separate Himself
But what makes Johnson different from his counterparts are his receiving skills and excellent pass protection ability.
Bears GM Ryan Poles recently came out and spoke about these traits, too.
You don't earn fantasy points for blocking, but being good at that will keep an RB on the field more often.
Run-Friendly Offense
If Johnson does find himself as the RB2 in Chicago before too long, he'll be running behind an offensive line that ranked 5th in PFF run blocking grade in 2022 on a team that ranked 2nd in team rushing attempts.
Opportunity + volume = fantasy success, right?
It's not that simple, of course, but the potential is certainly intriguing.
Keep an eye on this position battle during training camp.
Slow start for Roschon
As training camp began, it looked like Johnson was going to compete for the starting RB job in Chicago. But an undisclosed injury cost him some time, and it sounds like Johnson is well behind Herbert and Foreman for now.
There's still hope that by the end of the year, Johnson will get the bulk of the reps in a RB-by-committee arrangement.
Dynasty Valuation
Our Dynasty Draft War Room assigns dynamic player values based on your league's specific settings. These values range from 100 to 0, with 100 being the most valuable player in your league and 0 being the worst rostered player. Use these values to compare players at the same position and across positions for help with draft, trade and add/drop decisions.
Roschon Johnson Dynasty Values:
PPR - 1 QB: 30.6
PPR - Superflex: 31.7
Non-PPR - 1 QB: 33.5
Non-PPR - Superflex: 30.2
TE Premium: 34.8
PPR - Superflex - TEP: 31.7
Tip: Create your own Dynasty Draft War Room now to see how Johnson fits in your specific dynasty league.
Roschon Johnson Combine Results

Arm length: 32"
Hand size: 9 5/8"
40-yard dash: 4.58
10-yard split: 1.52
Bench press: n/a
Vertical: 31.5"
Broad jump: 122"
3-cone drill: n/a
20-yard shuttle: n/a

Percentiles vs. Combine running backs since 1999, per MockDraftable.
Roschon Johnson Stats
| | | | | | | | | | |
| --- | --- | --- | --- | --- | --- | --- | --- | --- | --- |
| | gms | car | yds | ypc | tgts | rec | Yds | ypr | tds |
| 2019 | 13 | 123 | 649 | 5.3 | 30 | 23 | 158 | 5.5 | 8 |
| 2020 | 10 | 80 | 418 | 5.2 | 11 | 8 | 51 | 5.3 | 7 |
| 2021 | 12 | 96 | 569 | 5.9 | 12 | 11 | 83 | 6.1 | 5 |
| 2022 | 12 | 93 | 554 | 6.0 | 21 | 14 | 128 | 6.4 | 6 |
Once upon a time, Johnson was a four-star dual-threat QB recruit from Port Neches, Texas.
He received significant interest from colleges (17 scholarship offers) before choosing to attend Texas.

New Position, Who Dis?
Johnson began his career with the Longhorns as the third-string QB in 2019. He eventually became a RB after several injuries to other players.
Former Texas HC Tom Herman said Johnson took to the position "like a fish to water" and showered the then-freshman with praise:
"He's tough. I have no doubt that he'll play well regardless of the competition because he's that fearless of a competitor."
Johnson concluded 2019 with 123 carries, 649 rushing yards, and 8 total TDs. He added 23 catches and 158 receiving yards.
Bijan In, Roschon (Mostly) Out
By 2020, Johnson had lost the Texas backfield to an elite freshman.
Maybe you've heard of him: Bijan Robinson, anyone?
Unlike the other RBs we've profiled, Johnson was never the leading rusher on his team during college. He played second fiddle to Robinson and only tallied 11 games with double-digit carries from 2020 on.
Because of this, we can't point to many stats or metrics in his profile. But, if nothing else, we can fairly say Johnson has been effective on a per-touch basis.
Johnson finished in the top 10 of college RBs (min. 80 attempts) in PFF's elusive rating in three consecutive seasons. His yards per carry totals ranked within the top 10 RBs in the Big 12 all four seasons.
That's about all we can glean from the stat sheet. Hopefully, his film analysis can help fill in the knowledge gaps for this part-time runner.
TIP
See where Roschon Johnson and the rest of the rookie RBs sit in our updated dynasty rankings.
Roschon Johnson Highlights
Games watched: Kansas State 2020, Louisiana 2021, Alabama 2022, Iowa State 2022, Baylor 2022
Johnson was essentially Bijan Robinson's Hollywood stunt double.
They're around the same size, versatile as athletes, but it's clear that only one of them is the star (hint: It's Bijan).
That's not to say Johnson is vastly inferior. He has a strong initial burst through the hole and uses his size to play like a hammer. Johnson is also fairly shifty relative to his size and physical play style.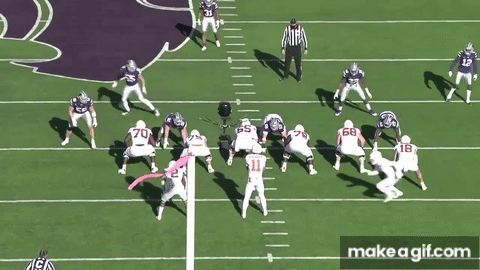 Moreover, Johnson displays solid hands as a receiver. It's unlikely he'll ever see more than the occasional dump-off in the NFL, but he's capable of being a functional pass catcher.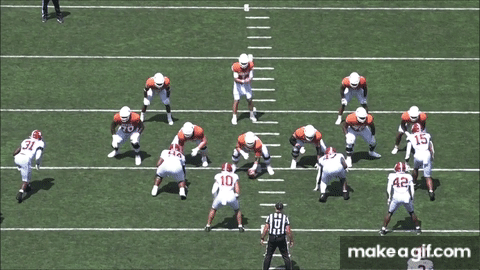 A QB's Best Friend
What helps Johnson's profile the most is his pass protection capabilities. He's not afraid to throw himself into harm's way, stave off would-be tacklers, and keep the pocket clean.
Pro teams will rest easy knowing that this player can be trusted to block. Watch Johnson takes on this Iowa State defender (#34), maintaining his center of gravity and helping to allow the pass to get out: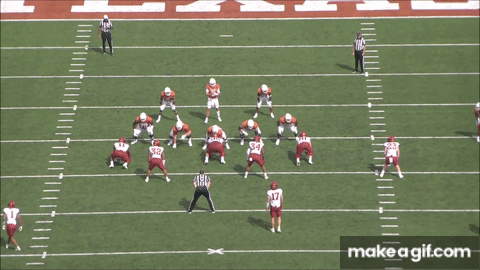 Although the play ultimately wasn't successful, Johnson executed his responsibilities. These little things go a long way in earning a role in an NFL backfield.
It's plain to see that Johnson is an excellent football player. The looming question in his evaluation is, how good of a RB is he?

Solid Roots With Room to Grow
Johnson's lapses in footwork and vision remind viewers that he is still relatively new to the position. For every quality highlight, there are several instances of Johnson struggling to identify the proper running lane.
On these plays, Johnson fails to kick into high gear and gets stopped by defenders quickly. An NFL coaching staff will need to work on building up this aspect of his game.

This reminded me a lot of what Falcons RB Tyler Allgeier showed on film in 2020 as a redshirt sophomore at BYU.
A key difference here is that Allgeier was recruited to BYU as an RB. But like Johnson, he played a different position in college for a while.
Allgeier spent 2019 as a LB for the Cougars before converting to RB, and while he ran well, it was evident that Allgeier had some refining to do.
Johnson's athleticism allows him to cover up his lack of RB experience. Still, if he can take a step forward developmentally as Allgeier did in 2021 -- before landing in Round 4 of the NFL Draft -- we could see Johnson land a similar role in the NFL.
Plenty of Upside
I don't have a solid player comparison for Johnson, but the raw traits are all there.
It wouldn't be shocking if he becomes a three-down RB.

It would be equally unsurprising to see him stay a situational role player who only finds fantasy relevance when players ahead of him on the depth chart get hurt.
That would make Johnson a risky bet early in dynasty rookie drafts. But in Round 3 and beyond, you're chasing upside; not worrying about downside.
Take a stab and see what happens.
Where Does Roschon Johnson Sit in the Dynasty Rankings?
Everyone has dynasty rankings. But not like these ...
Our dynasty rankings start with the award-winning Draft Sharks projections. Then we apply career aging curves specific to each player type.
The result: You get 1-year, 3-year, 5-year, and even 10-year outlooks for every player.
Not only that, you get a specific DMVP value for each player customized to your league format.
So you get a clear picture of who to select at every turn of your dynasty rookie draft. And you'll know exactly where the value lies in your dynasty trades.
More Dynasty Strategy Talk