Sam LaPorta Dynasty Fantasy Football Value
Sam LaPorta, TE, Iowa
Height: 6'3.4
Weight: 245
BMI: 31.2
Age: 22.3
NFL Draft Pick: Round 2, Pick 3 (34th overall)
Draft Sharks Model Score: 7.81
Analytics Score: 0.64
Film Score: 0.45
Production Score: 0.44
Player Comp: Jordan Reed
Sam LaPorta Dynasty Fantasy Football Value
LaPorta is one of the most interesting players in a TE class that's much more interesting than usual.
You don't usually find much immediate dynasty fantasy football value from a TE. But LaPorta made immediate impacts at each of his previous two levels.
And he lands in a good setting to do the same in the NFL.
His college numbers won't wow you, but they look even better once you realize how bad the rest of his offense became.
Sam LaPorta Team Fit: Detroit Lions
First of all, LaPorta's 34th-overall draft position put him earlier than nearly anyone expected. That points to how much the Lions think of the young TE. And he has generated consistent buzz on the field since arriving.
The Lions traded away TE T.J. Hockenson after seven games last year, and he still led all Detroit TEs in catches for the season (26).

LaPorta could get a jumpstart on his enticing long-term potential. WR Amon-Ra St. Brown is the only returnee who reached 50 catches last year. WR Jameson Williams is suspended for the first six games.
You normally need to be patient with a rookie TE. That might not be required in this case.
Sam LaPorta Dynasty Values
Our dynasty draft cheat sheet assigns dynamic player values based on your league's specific settings. These values range from 100 to 0, with 100 being the most valuable player in your league and 0 being the worst rostered player. Use these values to compare players at the same position and across positions for help with draft, trade and add/drop decisions.
Dynasty Rookie Only: 4.3
Dynasty Superflex Rookie Only: -10.7
Dynasty Startup: 6.7
Dynasty Superflex Startup: -3.2
Tip: Create your own Dynasty Draft War Room now to see how LaPorta fits in your specific dynasty league.
Dynasty Rookie Mock Draft
See how early Sam LaPorta went in our TE-premium rookie mock draft
Sam LaPorta Combine Results
Arm length: 32.1"
Hand size: 10.25"
40 time: 4.59 seconds
10-yard split: 1.62 seconds
Bench press: n/a
Vertical: 35"
Broad jump: 10'3
3-cone drill: 6.91 seconds
20-yard shuttle: 4.25 seconds
Percentiles vs. Combine tight ends since 1999, per MockDraftable.
Sam LaPorta Stats
| | | | | | | |
| --- | --- | --- | --- | --- | --- | --- |
| Year | Games | Tgt | Rec | Yards | ypr | tds |
| 2019 | 6 | 21 | 15 | 188 | 12.5 | 0 |
| 2020 | 8 | 53 | 27 | 271 | 10.0 | 1 |
| 2021 | 14 | 85 | 53 | 670 | 12.6 | 3 |
| 2022 | 12 | 94 | 58 | 657 | 11.3 | 1 |
LaPorta earned various all-star honors as a WR and DB across four years at Highland High School in Illinois.
He spent three seasons as a team captain – and also lettered in basketball and track – before heading to Iowa as a three-star recruit.
Hawkeyes coaches quickly moved LaPorta to TE, and he earned a role for the final six games. LaPorta finished sixth on the team in receptions and fifth in receiving yards as a true freshman.
Second-Year Breakthrough
LaPorta's sophomore numbers don't look huge. But he led the team in receptions for the COVID-shortened campaign. The TE finished second in receiving yards. He trailed only WR Ihmir Smith-Marsette, who would land with the Vikings in Round 5 of the ensuing NFL Draft.
LaPorta followed that by dominating bad pass offenses over his final two seasons.
As a junior, he tallied 22 more catches and 318 more yards than any teammate. LaPorta did more of that in 2022, leading the Hawkeyes by 24 receptions and 259 yards.
Despite missing a game, LaPorta posted these senior-year market shares:
30.2% of receptions
32.2% of yards
14.3% of TDs (Iowa threw SEVEN total)
Held Back by the Offense?
LaPorta was a finalist for the 2022 John Mackey Award (top FBS TE), yet he probably could have done even more in a better offense.
Iowa's passing yards per game declined in each of the TE's seasons:
2019: 228.9
2020: 197.6
2021: 180.1
2022: 156.7
LaPorta's average depth of target also decreased each of the past three years.
His low of 7.1 last season came despite LaPorta more than tripling his outside routes. He ran 50.6% of his pass plays from the slot or out wide in 2022, after falling short of 40% each other year (according to Pro Football Focus).
That kind of usage should mean deeper routes, if not for incompetent quarterbacking and pass blocking.
No Lag in Performance
LaPorta overcame his situation to set the school career mark in TE receptions and rack up the second most career yards at the position.
PFF graded him 10th best in receiving among all FBS TEs in 2022. LaPorta also ranked 20th among 133 TEs with 20+ targets in 2021.
Even a torn meniscus late in 2022 couldn't stop him. LaPorta missed the final regular-season game but return to catch five balls for 56 yards in the bowl game.
Tip: Check out our updated 2023 dynasty rookie rankings.
Sam LaPorta Highlights
Games watched: Ohio State (2022), Illinois (2022), Iowa State (2022), Purdue (2022), Indiana (2021)
If you're going to check out 2022 Iowa games, bring a barf bag.
It's ugly.
The poor QB play shows up in any game you watch (unless I just got lucky). And the pass "protection" might be even worse.
PFF graded Iowa sixth-worst among all 131 FBS teams in pass blocking. And it shows.
When there's time for LaPorta to work downfield, though, he can.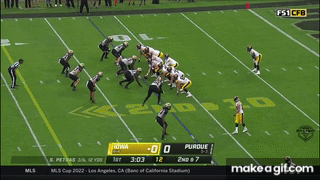 That play came from an inline position, and he ran by an NFL prospect in coverage: Colorado LB Jalen Graham, who posted a 67th-percentile 40 time at the Scouting Combine.
Here's LaPorta (bottom of the screen) abusing the same dude to create space early in his route …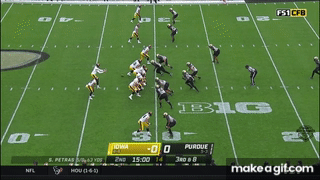 He's not likely to be asked to do either of those things on a regular basis in the NFL, where they have plenty of WRs with more speed and quickness.
LaPorta looks plenty capable of doing more typical TE stuff, though, such as finding the hole in the zone for a solid gain.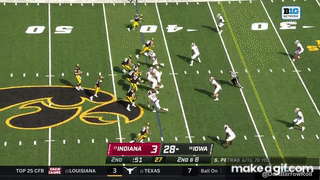 And here he displays the smooth movement of a former WR …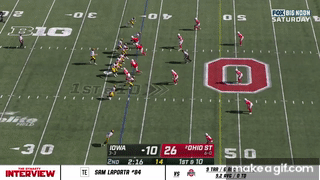 LaPorta's Limitations
LaPorta had some issue with drops (14 over the past three years) …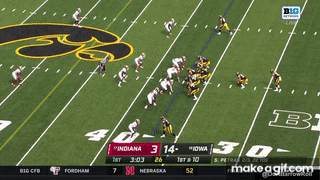 He also wasn't great with contested targets, catching just 40.9% for his career and 37.5% last year, according to PFF.
But neither of those issues should alter his dynasty outlook unless it bothers his NFL team enough to take him off the field.
The biggest remaining question might be whether LaPorta can garner enough blocking work to stay on the field in all passing packages.
As fantasy players, we'd like to see him block as little as possible. But we also want LaPorta's team to feel confident enough to keep him on the field at all times.
He didn't grade wonderfully as a college blocker. But LaPorta did log more total snaps and run-blocking snaps than No. 2 TE Luke Lachey last year, despite playing one fewer game.
How Does He Fit?
LaPorta's size figures to factor into his NFL blocking role.
He's small -- height and weight wise -- for the position historically, as you can see above. But LaPorta's not unprecedentedly small.
His list of Mockdraftable comps (based on Combine measurements) includes former first-round TEs Daniel Graham, Kellen Winslow II, and Evan Engram.
LaPorta stands nearly identical to Graham and Winslow in size. He's taller and heavier than Engram was at the 2017 Scouting Combine, though Engram has much longer arms (70th percentile vs. LaPorta's 16th).
Graham proved a much more limited NFL pass catcher than Winslow or Engram. But he also arrived earliest of the three.
The Right Time to Enter the League
LaPorta doesn't sport a profile that can work everywhere. But he brings the talent, skills, and proven production that a good OC should want to work into the offense.
You saw him succeed on a few different routes from different spots in just the limited clips above. PFF rated him best in this TE class on screens and out routes.
I compared LaPorta to Jordan Reed, who was smaller, slower and less productive as a collegian. Like Reed, though, LaPorta can be WR-like in a TE role. His target share will likely depend a lot on situation.
More Dynasty Fantasy Football Advice
Learn more about this year's best rookie tight ends.
See where Sam LaPorta and the rest of the group already sit in our dynasty rankings.
This podcast breaks down all the names you need to know among the 2023 TE prospects (as well as the QBs):