Devon Achane Dynasty Fantasy Football Value
Devon Achane, RB, Dolphins
Height: 5'9"
Weight: 188
BMI: 28.2
Draft Age: 21.5
NFL Draft Pick: Round 3, Pick 21
Draft Sharks Model Score: 7.10
Analytics Score: 0.52
Film Score: 0.48
Production Score: 0.46

Devon Achane Dynasty Fantasy Football Value
Achane needed to land in the proper NFL offense and scheme to have a chance to reach his full potential.
Fortunately, HC Mike McDaniel and the Dolphins invested Day 2 NFL Draft capital. This is an excellent situation.
At his size (5'9 188 pounds), it's unlikely that we see a traditional role. And that will affect his fantasy football value.
That said, Achane's combination of receiving skills, lateral agility, and elite speed and acceleration can make him a game-breaking weapon.
Devon Achane Team Fit: Miami Dolphins
Because of his size and limited interior rushing upside, it was important that Achane end up on a team that runs a lot of outside zone.
The bread and butter of the McDaniel offense is just that.
In this scheme, Achane will be able to run to the perimeter and get up to his high-end speed quickly and have good opportunities to explode for big chunk yardage plays.
Everything the Dolphins do on offense is predicated on having players with speed, and Achane has plenty of it with his 4.32-second 40 time.
The Fantasy Ceiling Could Rise High
On top of the glove-like running scheme fit, there's plenty of opportunity for Achane to get targets in Miami.
WRs Tyreek Hill and Jaylen Waddle accounted for a combined 51% of the Dolphins' target share in 2022.
But did you know the Dolphins also targeted RBs 112 times?

Achane is a skilled receiver who saw 78 targets over 3 seasons at Texas A&M.
The Fantasy Floor Could Also Be Low
The flip side of Achane landing with the Dolphins is the crowded RB room.
The team re-signed Raheem Mostert and Jeff Wilson Jr. on two-year deals this offseason.
This backfield could be a three-headed committee. At worst, we could see Achane pigeonholed into a specific role that will make it difficult to know when to start him.
Once you weigh all the factors, it's best to be excited but not too overzealous about Achane.
Training Camp Update
The biggest news about Achane out of camp has been his availability — or lack thereof. He's been slowed by an undisclosed injury, and there's no word on when he'll be back (though head coach Mike McDaniel called his imminent return "day-to-day.")
The Texas A&M product was recently spotted at camp with two compression sleeves, one on each of his legs. Let's see if he can live up to his expectation of being Miami's third-down back.
Dynasty Valuation
Our Dynasty Draft War Room assigns dynamic player values based on your league's specific settings. These values range from 100 to 0, with 100 being the most valuable player in your league and 0 being the worst rostered player. Use these values to compare players at the same position and across positions for help with draft, trade and add/drop decisions.
Devon Achane Dynasty Values:
PPR - 1 QB: 36.5
PPR - Superflex: 37.4
Non-PPR - 1 QB: 36.8
Non-PPR - Superflex: 33.2
TE Premium: 38.0
PPR - Superflex - TEP: 37.4
To see Devon Achane's value for your exact league setup, check out our Dynasty Draft War Room.
Devon Achane Combine Results:
Wingspan: n/a
Arm length: 29"
Hand size: 8 1/2"
40 time: 4.32
10-yard split: 1.51
Bench press: n/a
Vertical: 33"
Broad jump: n/a
3-cone drill: n/a
20-yard shuttle: n/a

Percentiles vs. Combine running backs since 1999, per MockDraftable.
Devon Achane Stats
| | | | | | | | | |
| --- | --- | --- | --- | --- | --- | --- | --- | --- |
| 6 | 43 | 364 | 8.5 | 5 | 5 | 97 | 19.4 | 5 |
| 12 | 130 | 910 | 7.0 | 29 | 24 | 261 | 10.9 | 10 |
| 10 | 196 | 1,102 | 5.6 | 44 | 36 | 196 | 5.4 | 11 |
He was part of a record-setting 400- and 800-meter relay team at Fort Bend Marshall High School, earning him 2020 Gatorade Track Athlete of the Year in the state of Texas. Achane recorded a personal-best 10.53 100-meter dash time during that season as well.

In an alternate universe, we're talking about Devon Achane the track & field star.
As a football player, Achane was a four-star prospect described as a speedy athlete with a 'tweener profile. Some felt he'd benefit from converting to WR, though Achane chose to remain at RB.
He drew 20 major-program scholarship offers and two official visits. Achane eventually chose to stay in state (and run track) at Texas A&M.

Rolling into College Station
Achane only appeared in six games as a freshman in the COVID-afflicted 2020 season, struggling to earn a role in the shadow of then-sophomore Isaiah Spiller.
That said, Achane ranked fourth in Pro Football Focus (PFF) rushing grade for his 43 carries. It's a small sample size but foreshadowed the impact he would eventually have.
Achane began to stand out in 2021. He cut into Spiller's workload significantly, logging 130 carries and 910 rushing yards. Achane added 24 receptions for 261 yards, with 10 total TDs.
He was also named the 2021 Orange Bowl MVP after recording 12 carries for 140 rushing yards and 2 TDs in Texas A&M's victory over North Carolina.
Achane ranked eighth in PFF rushing grade and 21st in Elusive Rating among all RBs with at least 100 carries. Perhaps more impressively, he achieved this level of production with a mere 31.1% rushing market share (to Spiller's 42.8%).
Seriously ... This Dude is FAST
Before his junior season, Achane recorded an absurdly fast 10.48-second 100-meter time in the semifinals of the NCAA Division I outdoor track championships. (Check out his long list of track accomplishments here, if you'd like.)
Spoiler alert: that 10.48 100-meter time isn't even close to his personal best.
The ridiculous speed Achane brings to the table will be a recurring theme.
We're not just talking "normal" fast. Achane is Tyreek Hill-level fast. And the two are pretty darn close to the same size.
Keep that in mind for later.
All Aboard the Hype Train
Achane's final college season ended with career lows in each of the two PFF categories we discussed earlier.

More importantly, though, he tallied the fourth-most carries of any RB in the SEC (196), operating as a bell-cow back

Oh, and he still managed to haul in 36 receptions for 196 yards.
At the NFL Combine, Achane recorded the fastest 40 time (4.32 sec) and second-fastest 10-yard split (1.51 sec) of any RB.
The biggest question going into the draft process is exactly how a player of Achane's size and skill set will translate to the NFL.
Let's go to the film and see what we can gather.
Devon Achane Highlights
Games watched: Kent State 2021, Alabama 2021, Miami 2022, LSU 2022, Alabama 2022
Achane's greatest strength is well established: speed.
It's also abundantly clear what his biggest weakness is: size.
We can go ahead and toss those two items out of the way. There's no need to beat those facts into the ground.
So, what else does Achane do well?
His quick feet and lateral agility jump off the screen. Even though this play doesn't end in a home run, it's plain to see Achane is capable of stopping on a dime and making an effective cut in traffic.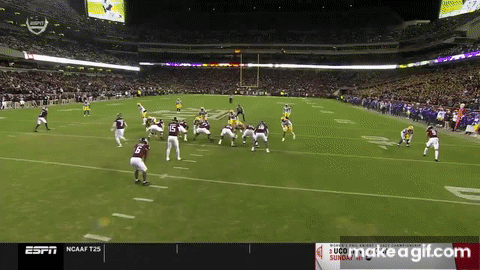 Another great aspect of Achane's game is his ability to make himself compact in tight spaces and slip defenders as needed.
He generally runs relatively upright in the open field, but his form when confronting defenders has a subtle yet noticeable difference.
On top of those skills, Achane possesses incredible burst and acceleration. It's one thing to be fast, but it's another thing to be able to kick into high gear and break away in a flash.
The big play upside that Achane carries is absolutely massive.
Watch out for this moment when Achane runs to the perimeter and turns on the burners just past the 30 yard line: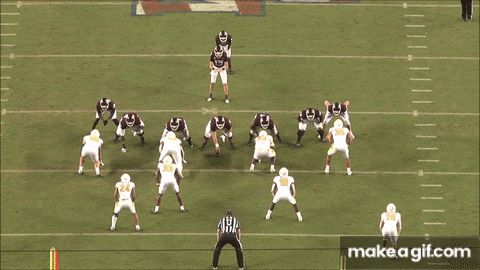 Before you ask, the answer is no: that video is not edited or sped up. That's just how quickly he can get up to full speed.
Achane's explosiveness translates to the receiving game as well.

This wheel route against Alabama in 2021 is one of the more impressive plays observed in this film study.
Take a look at the different angles of this play: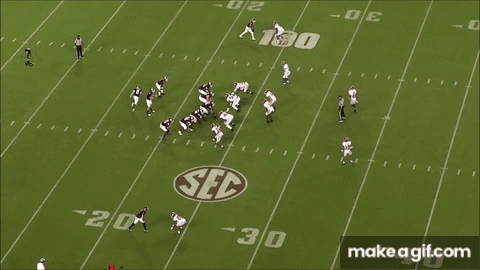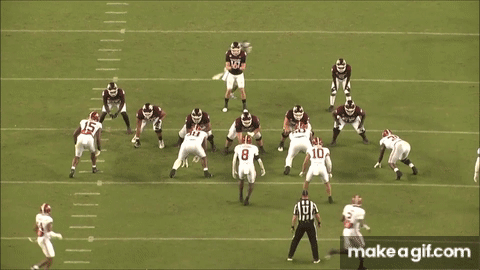 We see his acceleration create separation from defenders. Not only that, but Achane's concentration and ability to haul in an over-the-shoulder catch harkens back to his profile as a high school recruit suggesting that he could've made the transition to WR.
As attractive as this collection of skills is, Achane does occasionally struggle inside against stacked boxes.
In more than a few ways, Achane is neither a conventional RB, nor is he a WR. He possesses some of the core skills required to play either position, but he ultimately profiles as a uniquely handsy scat back at the next level.
If you're into Pokémon: Achane is the Charmeleon to Isiah Pacheco's Charmander and Tyreek Hill's Charizard. He is too small and lacking as an interior runner to be Pacheco. He is also not refined enough to be a WR like Hill.

But there's nothing wrong with that!
Achane is like a taller, faster Darren Sproles. You could even say Achane can be what would happen if you changed Tyreek Hill's position in Madden from WR to RB.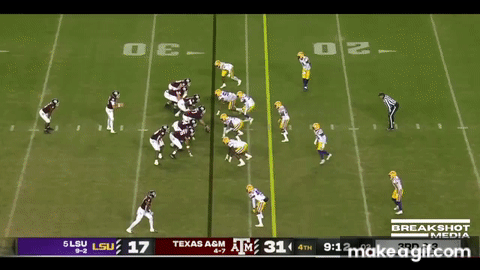 Any NFL team that can pair Achane with a 1A-type hammer RB in a committee will allow him to thrive. Between his ability to make sharp cuts and accelerate quickly in the open field, Achane would best be served operating in an offense that runs heavy zone blocking schemes.
Achane has the ceiling to be a game-breaker on a level just shy of classmate Jahmyr Gibbs.

Don't be afraid to target him in your rookie drafts.
Where Does Devon Achane Sit in the Dynasty Rankings?
Everyone has dynasty rankings. But not like these ...
Our dynasty rankings start with the award-winning Draft Sharks projections. Then we apply career aging curves specific to each player type.
The result: You get 1-year, 3-year, 5-year, and even 10-year outlooks for every player.
Not only that, you get a specific DMVP value for each player customized to your league format.
So you get a clear picture of who to select at every turn of your dynasty rookie draft. And you'll know exactly where the value lies in your dynasty trades.
See where Devon Achane sits in our dynamic dynasty rankings.
More Rookie RB Info
Before we got landing spots for this year's rookie RBs, here's how the guys felt about the top options and a few sleepers ...