Kendre Miller Dynasty Fantasy Football Value
Kendre Miller, RB, Saints
Height: 5'11
Weight: 215
BMI: 30.0
Draft Age: 20.9
NFL Draft Pick: Round 3, Pick 71
Draft Sharks Model Score: 7.38
Analytics Score: 0.62
Film Score: 0.44
Production Score: 0.62

Kendre Miller Dynasty Fantasy Football Value
It's tough to say how much of an impact Miller will have on dynasty rosters.
He's very young. He put up nice numbers at TCU. And he has the size.
Invest in Miller in your rookie draft and you might land a RB2 for years.
But he's got some refining to do, and his January knee sprain prevented fantasy managers from having a complete athletic profile to evaluate.
His film also presents some contradictory evidence.
We're left with an enigmatic prospect whose dynasty value will rely pretty heavily on how he develops.
Kendre Miller Team Fit: New Orleans Saints
There's some good news/bad news with Miller's situation.
The good is that even without athletic testing, like a 40 time or anything else, the Saints felt comfortable enough to use a third round NFL draft pick off the strength of his film alone.
Miller's age is also a huge boon. He hasn't even turned 21 yet.
On the flip side, the Saints signed Jamaal Williams to a three-year deal this offseason.
Between Williams and incumbent starter Alvin Kamara, the top of the depth chart is going to be difficult for Miller to penetrate in 2023.
Kamara's ongoing legal troubles could make that a little easier, if the league finally suspends him.
With all that in mind, here's where Miller sits in our 2023 fantasy football rankings.
Lack of Immediate Opportunity = Blessing in Disguise?
As annoying as it is to see a Day 2 RB stuck in a crowd, this might end up being the best situation long term.
Miller will have more time to rehab his injury without the added pressure of contributing right away.
Additionally, he runs in a way that leaves his body open to unnecessary contact and sometimes struggles to pick up blocks.
Being so young and sitting more in 2023 will give Miller a chance to round out the rougher edges of his game with Saints coaches.
And come 2024, the Saints can get out of Kamara's contract.
It may take some patience and luck, but Miller has the potential to be one of the best rookie RBs.
Dynasty Valuation
Our Dynasty Draft War Room assigns dynamic player values based on your league's specific settings. These values range from 100 to 0, with 100 being the most valuable player in your league and 0 being the worst rostered player. Use these values to compare players at the same position and across positions for help with draft, trade and add/drop decisions.
Kendre Miller dynasty values:
PPR - 1 QB: 27.3
PPR - Superflex: 28.6
Non-PPR - 1 QB: 32.1
Non-PPR - Superflex: 29.1
TE Premium: 33.6
PPR - Superflex - TEP: 28.6
Tip: Create your own Dynasty Draft War Room now to see how Miller fits in your specific dynasty league.
How should RBs fit into your Dynasty Strategy?
Kendre Miller Combine Results
Arm length: 32 3/8"
Hand size: 9 3/8"
40-yard dash: n/a
10-yard split: n/a
Bench press: n/a
Vertical: n/a
Broad jump: n/a
3-cone drill: n/a
20-yard shuttle: n/a

Percentiles vs. Combine running backs since 1999, per MockDraftable.
NOTE: Miller's injury prevented him from participating in athletic testing at both the NFL Combine and pro day workouts.
Kendre Miller Stats
| | | | | | | | | |
| --- | --- | --- | --- | --- | --- | --- | --- | --- |
| 9 | 54 | 388 | 7.2 | 3 | 1 | -4 | -4.0 | 2 |
| 10 | 83 | 623 | 7.5 | 12 | 12 | 117 | 7.8 | 8 |
| 14 | 224 | 1,399 | 6.2 | 22 | 16 | 116 | 6.3 | 17 |
Miller was a relatively unheralded high school recruit, a three-star prospect who played RB and OLB at Mount Enterprise High School in Texas.
He chose TCU after receiving only four scholarship offers.
Slow and Steady Ramp-Up
As a freshman at TCU, Miller split reps with teammate Zach Evans behind Horned Frogs starting RB Darwin Barlow.
Miller concluded the COVID-afflicted 2020 season with minimal production, logging 54 carries, 388 rushing yards, and 2 TDs in nine games.
The 2021 season saw Miller receive increased opportunity, although the TCU backfield was largely a three-headed monster:
Miller
Evans
Emari Demercado
His sophomore counting stats don't jump off the page but get more impressive if you dig a little deeper.
Miller ranked first among all collegiate RBs (min. 80 carries) in yards per attempt (7.5), yards after contact per attempt (5.06), and PFF's elusive rating (181.1).
That's pretty good for a part-time player. And the story got even better in 2022.
An Evans Lost is a Miller Gained
A disgruntled Zach Evans transferred to Ole Miss for 2022, allowing Miller to take over as starting RB.
Note: You can read more about Evans' journey and dynasty outlook here.
Miller seized this opportunity -- much like Eminem's character B-Rabbit in "8 Mile" -- and put up production far stronger than the outdated pop-culture reference I just used to preface it.
Miller ranked 15th in the country in rushing yards (1,399) and 12th in total yards after contact (816), in addition to scoring a strong 119.9 PFF elusive rating.
Unfortunately, his season ended with a right MCL sprain in the Horned Frogs' playoff semifinal matchup against Michigan in January.
The production was there before the injury. Now let's see if he backed up those stats on film:

Kendre Miller Highlights
Games watched: Texas 2020, Kansas 2022, Michigan 2022, Kansas State 2022, Oklahoma State 2022
As strong as Miller's production profile is, his film leaves a lot to be desired.
Let's start with the positives: He's big, with strong contact balance, a forceful lower half, and relatively good breakaway speed.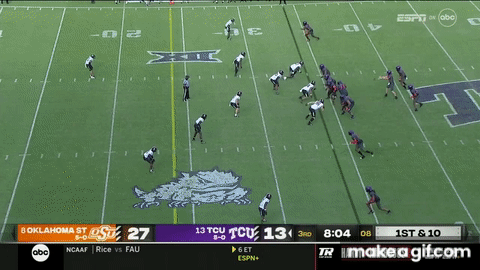 On top of this, he won't turn 21 until June.
Miller's youth and limited college usage (390 total touches at TCU) means that despite the MCL sprain, he's relatively fresh and potentially malleable.
Kendre Miller Status: He's a Project
Miller's upright running leads the list of red flags. It's generally good for an RB to run leaning forward with his pad level low to set himself up with leverage against potential tacklers.
When a player stays too upright, he leaves more of his body open to contact. That tends to make him easier to bring down and increase risk of injury.
I like to call these players "Frankenstein runners." And their effectiveness depends on how many additional skills they present.
Miller Sports Redeeming Qualities
Fortunately, Miller's lower-half strength and balance mitigate some of the risk with his Frankenstein running style.
His speed is inconsistent (we'll revisit this soon), but Miller can be quick with his first step and shows the burst to break off big plays: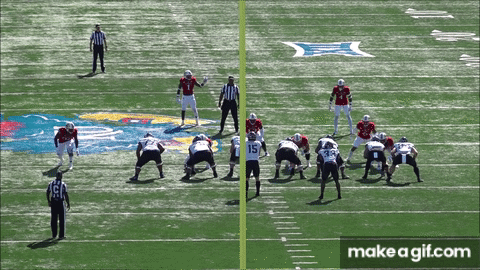 Unfortunately, it's unclear how fast Miller really is.
He lacks consistency in his initial burst and takes some time to ramp up to speed. And Miller's breakaway ability is good, not great.
There are more than a few times on film when he doesn't separate from would-be tacklers in the open field.
Miller Could Stand to be More Elusive
There are plenty of examples in Miller's film -- like this one -- where a more complete and consistent back would be able to make a bigger play:

You'll notice here that Miller's leg movement isn't particularly fluid either. Although he is strong, Miller's lack of flexibility makes you wonder how often he'll be able to shake defenders in the NFL.
This play also highlights the dangers of upright running, as he's quickly brought down.
Pro Comp for Miller Difficult to Define
If we're talking prospect comparison, Miller reminds me a lot of how I felt about Eagles RB Trey Sermon when he came into the league from Ohio State in 2021.
My fellow Draft Sharks analyst Matt Schauf's overview of Sermon's pre-draft profile seems to line up with my views, too.
Both players ticked the size and production boxes. But they lacked ideal running form and inconsistently utilized their best traits.
I'm not suggesting Miller will disappoint like Sermon.
I am saying Miller also looks like a candidate for quality draft capital. But he'll need the right landing spot and perhaps some patience.

Where Should You Take Miller in Rookie Drafts?
Don't get overly excited about Miller. You can consider him with a late second-round rookie draft pick. I don't see a player who will contribute to an NFL team right away, though, without injuries clearing the depth chart in front of him.
This isn't meant to be a polemic attack on Miller. Many fantasy analysts have touted him as one of the top RB prospects in this class.

To me, however, there are gaps between Miller's production and film that point to downside risk.
Check out where Miller sits in our dynasty rookie rankings.
More Dynasty Fantasy Football Info
Dive into some more of our rookie RB profiles:
Bijan Robinson
Jahmyr Gibbs
Zach Charbonnet
Zach Evans
Devon Achane
Tyjae Spears
Tank Bigsby
Israel Abanikanda