Will Levis Dynasty Fantasy Football Value
Will Levis, QB, Titans
Height: 6'4
Weight: 229
BMI: 27.9
Age: 23.8
NFL Draft Pick: Round 2, Pick 33
Draft Sharks Model Score: 7.50
Analytics Score: 0.62
Film Score: 0.50
Production Score: 0.54
Player Comp: Carson Wentz
Will Levis Dynasty Fantasy Football Value
Levis will bring legit NFL tools to the next level.
He's big. He's strong. He can throw it a mile.
And while we don't have Combine data to examine, Levis looks like a fine athlete on tape.
Still, the question remains: Can Levis become a more consistent passer and turn into a real dynasty asset with Tennessee?

Will Levis Team Fit: Tennessee Titans
Once considered a top-5 pick, Levis instead slipped to early Round 2.
It wasn't a total shock. At nearly 24, Levis might be closer to his ceiling than the other top QB prospects. His lack of polish provides cause for concern, especially as a 26-game starter.
While the Titans lack proven playmakers, they roster two promising talents in WR Treylon Burks and TE Chig Okonkwo. Of course, QB Ryan Tannehill returns for another season. So Levis is unlikely to see the field much in 2023 ahead of a potential QB competition in 2024. (Tannehill enters a contract season.)
We're not outright dismissing Levis as a potential QB1 within a few seasons -- despite an up-and-down performance over the spring. His overall profile simply isn't one we're betting on.
Dynasty Valuation
Our Dynasty Draft War Room assigns dynamic player values based on your league's specific settings. These DMVP values range from 100 to 0, with 100 being the most valuable player in your league and 0 being the worst rostered player. Use these values to compare players at the same position and across positions for help with draft, trade and add/drop decisions.
Will Levis Dynasty Values:
Dynasty: 1-QB, Non-PPR – 17.5
Dynasty: 1-QB, PPR – 21.6
Dynasty: 1-QB, PPR, TE Premium – 6.9
Dynasty: Superflex, Non-PPR – 34.3
Dynasty: Superflex, PPR – 40.5
Dynasty: Superflex, PPR, TE Premium – 39.9
Will Levis Combine Results
Arm length: 32"
Hand size: 10 5/8"
40 time: n/a
10-yard split: n/a
Bench press: n/a
Vertical: 34"
Broad jump: 124"
3-cone drill: n/a
Percentiles vs. Combine quarterbacks since 1999, per MockDraftable.
Will Levis Stats
| | | | | | | | | | | |
| --- | --- | --- | --- | --- | --- | --- | --- | --- | --- | --- |
| | Games | Cmp | att | cmp% | yds | tds | ints | car | yds | tds |
| 2019* | 6 | 28 | 47 | 59.6% | 223 | 2 | 2 | 51 | 213 | 3 |
| 2020* | 8 | 33 | 55 | 60.0% | 421 | 1 | 0 | 82 | 260 | 3 |
| 2021 | 13 | 233 | 353 | 66.0% | 2,826 | 24 | 13 | 107 | 376 | 9 |
| 2022 | 11 | 185 | 283 | 65.4% | 2,406 | 19 | 10 | 72 | -107 | 2 |
*Levis spent 2019-2020 at Penn State before transferring to Kentucky.
A three-star recruit, Levis chose Penn State over Florida State, UNC, Ole Miss, and others.
After a 2018 redshirt, the Connecticut native started only two games over the next two seasons.
So, what was the holdup?
Depth Chart Blockage
Sean Clifford (a four-star recruit) won the starting QB job in 2019, then held it through this past season.
He wasn't invited to the Combine and projects as an undrafted free agent …
Strange, huh?
Well, here's how Ricky Rahne – Penn State's OC for 2018-2019 – explained the situation.
"Everyone always asks what happened and why Penn State didn't start Will over Sean," Rahne said via ESPN. "When we first picked Sean, Will wasn't ready to start yet, and then it became hard to replace a guy who had won 11 games. People kind of forget that."
Fresh Start in Lexington
Levis transferred to Kentucky following the 2020 season.
He instantly flashed an NFL-caliber arm under OC Liam Coen, who spent 2018-2020 on Sean McVay's staff with the L.A. Rams.

But the final numbers weren't exactly on par with C.J. Stroud or Bryce Young.
Among 91 QBs with 300+ dropbacks, Levis ranked 37th in yards per attempt and 28th in adjusted completion rate. He managed only 217 passing yards per game.
The next season arrived with huge expectations. But would Levis deliver?
Playing Through Pain
Levis suffered shoulder, foot, and finger injuries as a senior. He started 11 of 13 games, opting out of Kentucky's bowl game (and the Senior Bowl).
"It was a situation where each game, each week, I was just fighting every single day of every week in the training room to a level where I was comfortable playing," Levis said via the Pin It Deep podcast.
"Practice was pretty tough because I wasn't able to kind of get things from a numbing or medication stuff that I could get on game days, so it was really tough for me to plant and have explosive movements in practice. It definitely was limited through the games. It sucked man, it was not fun. I just felt like I was going through a constant cycle of fighting to get back to healthy enough to play each week."
Numbers (Mostly) Hold Steady
Surprisingly, there wasn't a massive statistical dropoff. Compared to 2021, Levis' YPA and adjusted completion rate actually increased slightly.
However, his PFF passing grade dropped from 82.3 to 65.8.
The question is: Was Levis (and his injuries) the only issue at play?
A-Z Changes
Nope.
Beyond transferring, he's played under four different OCs. (In November, Kentucky fired longtime NFL coach Rich Scangarello, who held the OC role in 2022.)
Levis also lost two starting O-linemen to the 2022 NFL Draft, and his protection clearly dropped off last fall.
Perhaps most critically: Levis lost go-to WR Wan'Dale Robinson. His absence removed 45% of Levis' completions, 47% of his yardage, and 29.1% of his TDs.
Kentucky's top 2022 pass catchers included two first-year players and a senior transfer.
All that aside, what does the tape say about Will Levis' dynasty value?
Will Levis Highlights
Games Watched: Mississippi State (2021), New Mexico State (2021), Georgia (2021), Florida (2022), Miami OH (2022), Tennessee (2022)
Levis' raw tools stand out above all else.
At 6'4, 229 pounds, his body type is more bodybuilder than QB. Several times, play strength showed up in games, either on passes …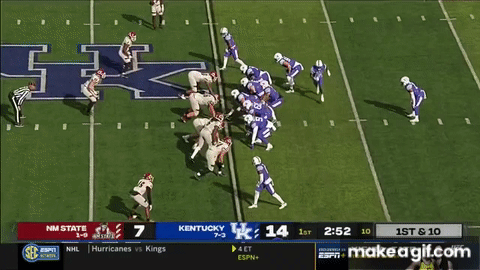 … or runs: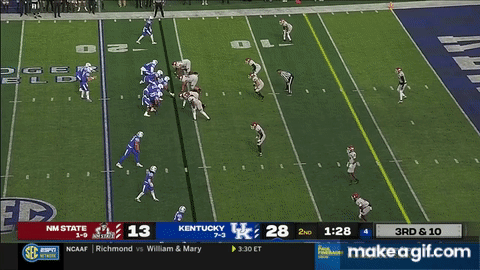 In fact, Levis handled 93 designed rushing attempts over the past two seasons. It's easy to see him adding some fantasy value with his legs. (Think Justin Herbert.)

Arm Strength
Levis posted a throw velocity of 59 MPH at the Combine, second-best among QBs.
But it's not like we needed to see that.
Here, he uncorks a deep ball that proved much more effective in 2021 than in 2022.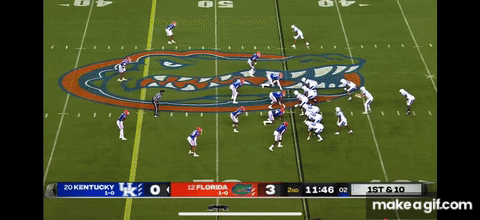 Levis' 2021 PFF deep passing grade: 90.7 (48th)
2022: 70.0 (116th)
Next, he rips a 40-yard throw – right on the money.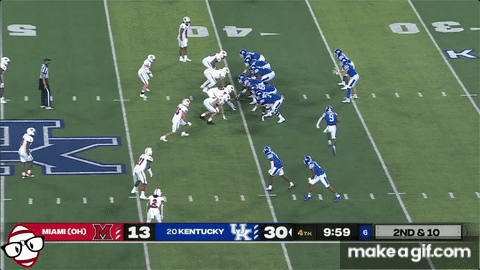 Excellent protection helped the last two throws unfold.
But it's worth noting: Per PFF, Levis' adjusted completion percentage under pressure improved from 59.3% in 2021 to 72.9% in 2023. The '22 mark beat both Bryce Young and C.J. Stroud.
At bottom, Levis is a tough, strong-armed passer who's learned to handle pressure.
So why's he catching so much heat in the pre-draft process?
Areas of Weakness
Levis' highlights are downright fun. They show what's possible at the next level – and it's understandable why some comp him to Josh Allen.
But there's a mountain to climb before Levis gets close to Allen's current form.
Levis tends to be a one-speed thrower, which causes him to miss layups. Ball placement is all over the map, too. (The Mississippi State game from 2021 provides a great example.)
Levis also took many hard hits in his career, and it's fair to question his feel for pressure. We can partly blame Kentucky's bad O-line, but it's ultimately up to Levis to protect himself in the NFL.
More Winning Dynasty Info
No matter how you feel about Will Levis, you need to focus on your overall dynasty strategy. We're here to help. Click the link for more.
Want Dynasty Sleepers?
Stick around until the end of this video to get some rookie-draft sleepers ... including a QB not named Will Levis ...