Anthony Richardson Dynasty Fantasy Football Value
Anthony Richardson, QB, Colts
Height: 6'4
Weight: 244
BMI: 29.7
Age: 20.9
NFL Draft Pick: Round 1, Pick 4
Draft Sharks Model Score: 8.47
Analytics Score: 0.68
Film Score: 0.50
Production Score: 0.40
Anthony Richardson Dynasty Fantasy Football Value
A rocket arm. Sprinter legs. And, by all accounts, a good head on his shoulders.
Richardson sounds like a QB who should be central to your dynasty strategy, right?
After all, drafting someone with his skill set at least provides you a chance to compete with fantasy's elite QBs.
Stiff Competition
High-end QB talent -- and depth -- continues to rise. (And there's no trend reversal in sight.)
Consider last year, when only 1.6 fantasy points per game separated the QB5 (Lamar Jackson) and QB12 (Kyler Murray).
QB1-QB4 – Josh Allen, Patrick Mahomes, Jalen Hurts, and Joe Burrow – supplied a true edge. Especially Allen, who beat Murray by 8.2 fantasy PPG.
Three of the top four QBs ranked top 7 in rushing attempts ...
Richardson carries the rushing upside to one day join the club.
Anthony Richardson Team Fit: Indianapolis Colts
Richardson landed in the best possible spot for Year 1 opportunity. Only Gardner Minshew stands in the way of 2023 starts.
Long term, it's all about the pairing of Richardson and new HC Shane Steichen. The 38-year-old has helped develop Justin Herbert and Jalen Hurts in recent seasons. So there's reason to be optomistic on this first-time HC.
Fantasy owners may ultimately need patience. Richardson started just 13 games at Florida, and a return to college might have been optimal for his long-term outlook. While the offseason program proved promising, he'll need to earn the Week 1 job in training camp/preseason.
As things stand today, Richardson easily leads this QB class in fantasy ceiling. And it's the kind of ceiling you don't find every year.
Dynasty Valuation
Our Dynasty Draft War Room assigns dynamic player values based on your league's specific settings. These DMVP values range from 100 to 0, with 100 being the most valuable player in your league and 0 being the worst rostered player. Use these values to compare players at the same position and across positions for help with draft, trade and add/drop decisions.
Anthony Richardson Dynasty Values:
Dynasty: 1-QB, Non-PPR – 34.5
Dynasty: 1-QB, PPR – 34.1
Dynasty: 1-QB, PPR, TE Premium – 27.2
Dynasty: Superflex, Non-PPR – 54.1
Dynasty: Superflex, PPR – 59.0
Dynasty: Superflex, PPR, TE Premium – 58.1
***To see Anthony Richardson's dynasty fantasy value for your league setup, create a Dynasty Draft War Room.
Anthony Richardson Combine Results
Arm length: 32 3/4"
Hand size: 10 1/2"
40 time: 4.43 seconds
10-yard split: 1.53 seconds
Bench press: n/a
Vertical: 40 1/2"
Broad jump: 129"
3-cone drill: n/a
Percentiles vs. Combine Quarterbacks since 1999, per MockDraftable.
Anthony Richardson Stats
| | | | | | | | | | | |
| --- | --- | --- | --- | --- | --- | --- | --- | --- | --- | --- |
| 2020 | 4 | 1 | 2 | 50% | 27 | 1 | 1 | 7 | 61 | 0 |
| 2021 | 8 | 38 | 64 | 59.4% | 529 | 6 | 5 | 51 | 401 | 3 |
| 2022 | 12 | 176 | 327 | 53.8% | 2,549 | 17 | 9 | 103 | 654 | 9 |
A four-star recruit, Richardson stayed local by committing to Florida over Georgia, Michigan, Penn State, and others.
He eventually showcased a skill set that captivated the draft community. But it sure wasn't a smooth road …
2021 Injuries
Following a 2020 redshirt, Richardson saw limited snaps behind fourth-year QB Emery Jones.
First came a hamstring injury that cost Richardson two games. Then, in his lone start vs. Georgia, he completed 12 of 20 passes for 82 yards and 2 INTs before suffering a concussion.
After one more appearance, Richardson's season ended with surgery for a torn right meniscus.
He detailed that injury (via Instagram):
Richardson gained medical clearance before spring ball, where he'd learn new HC Billy Napier's offense.
More Injuries?
Richardson started all 12 games for the Gators last fall, but that doesn't mean he played at 100%.
Most notably, a Week 2 ankle injury lingered throughout the season. And still he proved dynamic as a rusher, with 544 yards (plus 6 TDs) over the final 10 games.
But what about his work as a passer?
Peaks and Valleys
Richardson recorded two 400-yard games, nine of less than 250 yards.
Dig deeper and you'll see there's work to be done throwing the ball. Hardly a surprise, given his lone season of starting experience.
Per Pro Football Focus (PFF), Richardson ranked 120th out of 128 qualifiers in adjusted completion rate (64.1%).
His 28.2% uncatchable pass rate over the past two seasons ranks seventh-highest nationally.
So, are we looking at one of the most overhyped prospects in recent memory? Or is Richardson a true dynasty fantasy value?
Anthony Richardson Highlights
Games watched: Utah (2022), Georgia (2022), Florida State (2022), USF (2022), Tennessee (2022)
Here's an undeniable fact: Richardson lacked even a decent supporting cast.
Consider the thoughts of Nate Tice, a former college QB with NFL coaching and scouting experience with the Falcons and Raiders.
"These guys [Florida pass catchers]…they looked the part, Tice said on The Athletic Football Show. "But too many times they're running the wrong routes, where guys are squeezed together … and an already hard throw turns into a 'this is only getting completed one of 20 times' [throw]. It didn't matter who's throwing it, because it's just so tight where everybody is next to each other."
With that out of the way, let's see the goods.
One-of-One Athlete
Richardson's game doesn't resemble that of Bryce Young or C.J. Stroud.
The Gator doesn't have the polish of a multi-year starter. His footwork isn't always sound, so he'll misfire on some easy throws.
But wow – the man is a rare athlete, and it showed up on tape: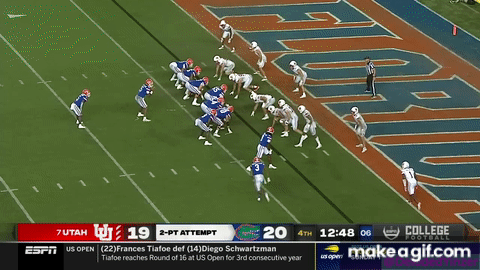 In fact, according to PFF, Richardson only took sacks on 9.2% of his pressures. In a sample of 128 QBs, only nine posted a better mark last season.
So he's adept at creating something out of nothing. Note: Richardson averaged one scramble per 12 dropbacks in 2022.
Just don't mistake him for a run-first QB.
More Advanced Than the Critics Say
Richardson showed an ability to work through progressions, giving his pass catchers a chance to uncover.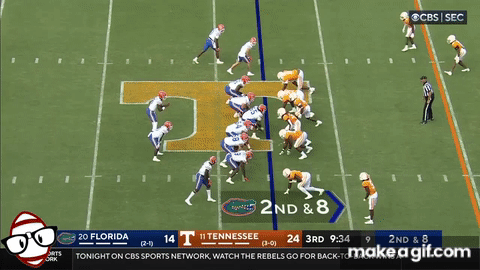 His in-pocket play translates well to the deep game. PFF charted him with only one turnover-worthy play on 64 deep-ball attempts. (Those are passes traveling 20+ yards.)
While Richardson could improve with his ball placement, he at least flashed the ability to fire the ball into tight windows.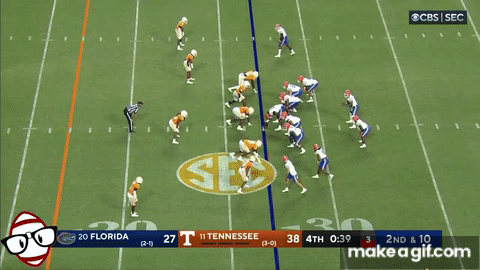 At the Combine, Richardson posted a throwing velocity of 60 miles per hour – tied for second-best ever recorded.
No issues there.
Finally, the 244-pounder proved he could bully defenses as a runner. There's legitimacy to the Cam Newton comps: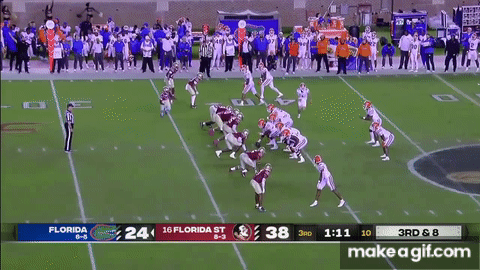 At bottom: Richardson is a bet on ceiling over floor.
Sure, his bust rate might be higher than a C.J. Stroud or Bryce Young. But you should be willing to take risks at QB, where streamers are relatively easy to find.
Within a few years, a top-5 fantasy season is within Richardson's range of outcomes in Indianapolis.
Want Dynasty Sleepers?
Stick around until the end of this video to get some rookie-draft sleepers: