Jayden Reed Dynasty Fantasy Football Value
Jayden Reed, WR, Packers
Height: 5'11
Weight: 187
BMI: 26.9
Age: 23
NFL Draft Projection: Round 2, Pick 19 (50th overall)
Draft Sharks Model Score: 7.20
Analytics Score: 0.41
Film Score: 0.34
Production Score: 0.38
Player comp: Antwaan Randle El
Jayden Reed Dynasty Fantasy Football Value
Reed was a slot WR stuck in an outside role the past two years. Just look at his deployment for the Spartans vs. the Senior Bowl.
Over his four college seasons, Reed went from running 98.3% of his routes from the slot as a 2018 freshman to 75.8% in 2020, and then 15.9% and 22.2% the past two years – according to Pro Football Focus.
Then he went to the Senior Bowl, a showcase for NFL teams run by NFL coaches. Between practices and the game, Reed spent 59 of 68 offensive snaps in the slot.
Confusing Evaluation
NFL Network's Daniel Jeremiah says Reed "can separate." NFL.com's Lance Zierlein says Reed needs to improve his ability to separate and his aptitude for stop-start routes.
Frankly, I couldn't find enough worthwhile tape to evaluate who's closer to the truth.
Despite some analysis that he can line up in multiple spots, Reed's size and lack of explosive athleticism likely relegate him to the slot in the pros.
Nothing Wrong with a Productive Slot Receiver
That's not necessarily a bad thing. It just means that his NFL team will need to define his role.
Reed earned top WR status for Senior Bowl practice week, voted on by the CBs who worked against him. He's clearly a challenging matchup. But he also clearly lacks the athleticism to consistently beat NFL corners.
Reed will need to stay a hard worker in the NFL. And he'll likely need some help to approach his fantasy ceiling.
This isn't a corps leader at the pro level. But Reed is a fighter with good speed who should be able to produce in the right situation.
Remember Antwaan Randle El?
If you're too young for the player comp above to make sense, then feel free to insert your own decent slot WR.
Randle El feels appropriate, because we didn't really know what to expect from him. He spent nearly all of college at QB before moving to WR and then going late in Round 2 of the NFL Draft. Randle El then had a nice nine-year career, including three seasons of 50+ catches.
Reed isn't nearly as much of a projection. But he's likely to play a different WR role in the NFL vs. what he did most of the past two years.
And he should hit the pros much further along in his development than Randle El, who was also a terrific return man early in his career.
Returner could be a key early role for Reed.
Jayden Reed Team Fit: Green Bay Packers
Reed was a post-draft riser in the Dynasty Rankings.
He got strong draft capital, coming off the board with the 50th overall pick as the WR6 -- notably ahead of Jalin Hyatt, Josh Downs, and Marvin Mims.
Immediate Opportunity
And he landed in a nice spot for immediate playing time. The Packers boast one of the youngest WR corps in the league, with Reed joining 2022 draftees Christian Watson and Romeo Doubs atop the depth chart.
Watson is coming off a flashy rookie season and projects to lead this group. But Reed has a shot to quickly emerge as Green Bay's #2 WR.
Both GM Brian Gutekunst and HC Matt LaFleur have already talked up Reed's ability to win from the outside and the slot.
"I think he is a super talented receiver," LaFleur said. "Certainly has a lot of the characteristics that we look for. First of all, he's fast. He can make contested catches. He's got that return ability, which is huge. I think he's got a lot of versatility, being able to go outside or inside. But more than anything else, I love the way he competes. I think he's got a dog mentality, and that is what we are looking for."
Concerns for Reed in Green Bay
The QB spot is a question mark after the departure of Aaron Rodgers. Former first-rounder Jordan Love is set to take over but has thrown just 83 regular-season passes.
Pass volume also figures to be scant. LaFleur deployed a slow-paced, balanced offense with Rodgers that figures to turn into a slow-paced, run-leaning offense with Love.
See where Reed sits in our 2023 PPR rankings.
Dynasty Valuation
Our Dynasty Draft War Room assigns dynamic player values based on your league's specific settings. These values range from 100 to 0, with 100 being the most valuable player in your league and 0 being the worst rostered player. Use these values to compare players at the same position and across positions for help with draft, trade and add/drop decisions.
Jayden Reed Dynasty Values:
Dynasty: 1-QB, Non-PPR – 29.8
Dynasty: 1-QB, PPR – 24.0
Dynasty: 1-QB, PPR, TE Premium – 30.1
Dynasty: Superflex, Non-PPR – 16.0
Dynasty: Superflex, PPR – 9.5
Dynasty: Superflex, PPR, TE Premium – 8.4
Jayden Reed Combine Results
Wingspan: n/a
Arm length: 30.5"
Hand size: 9.13"
40-yard dash: 4.45 seconds
10-yard split: 1.57 seconds
Bench press: 13 (pro day)
Vertical: 33.5"
Broad jump: 10'1
3-cone drill: DNP
20-yard shuttle: 4.29 seconds
Percentiles vs. Combine wide receivers since 1999, per MockDraftable.
Jayden Reed Stats
| | | | | | | |
| --- | --- | --- | --- | --- | --- | --- |
| 2018 | 12 | 82 | 56 | 797 | 14.2 | 8 |
| 2020 | 7 | 56 | 33 | 407 | 12.3 | 3 |
| 2021 | 13 | 105 | 59 | 1026 | 17.4 | 11 |
| 2022 | 11 | 90 | 55 | 636 | 11.6 | 5 |
Reed finished high school as just a three-star recruit with four offers. He chose Western Michigan over three other Midwest schools and delivered immediately.
As a true freshman, Reed led the team in receptions, yards, and TDs. He caught 18 more passes than then-junior D'Wayne Eskridge, who became a second-round pick of the Seahawks in 2021.
Reed accounted for 25.1% of the Broncos' total catches, 27.4% of receiving yards and 40% of TDs.
The freshman All-American then understandably decided to transfer, in search of a bigger challenge.
Consistent Production with Spartans
After sitting out 2019 under NCAA transfer rules, Reed again led his new team in receptions right away. He also finished second in yards and TDs.
The gaps grew in 2021. Reed accounted for a slightly smaller share of receptions (24.3%), despite snaring 24 more passes than any teammate. He also absorbed 31.2% of receiving yards and 37% of TDs, his best shares across three Spartans seasons.
Reed fell behind WR Keon Coleman in each of those categories as a 2022 senior, when he also lost a game and a half to a deep cut in his back.
Hurt by Offensive Downturn?
Reed and others on offense likely suffered for RB Kenneth Walker III's departure.
MSU dipped from 429.6 total yards per game in 2021 to 353.0 without Walker. Even the passing offense slipped from 253.1 yards per game to 240.0.
QB Payton Thorne posted weaker numbers in passer rating, yards per attempt and TD rate in 2022 than he did with Walker (and WR Jalen Nailor, sixth-round Vikings pick) in 2021.
Nice Career
Reed wound up sixth in Michigan State history in receptions, 12th in receiving yards and tied for seventh in TD catches. He started all 31 games in which he appeared over his three seasons.
Reed also proved to be a productive return man, averaging 20.0 yards per kick and 15.3 per punt for his career. He returned three punts for TDs: two for the Spartans in 2021 and one at Western Michigan.
His combined receiving and return efforts made Reed a finalist for the Paul Hornung Award (top all-purpose player) after the 2021 season.
Jayden Reed Highlights
Games watched: Michigan (2020), Michigan (2021), Nebraska (2021), Wisconsin (2022), Minnesota (2022)
I'm not gonna lie: This part was disappointing.
Let's start with what Reed did well over this five-game sample. He snagged contested catches in three different games.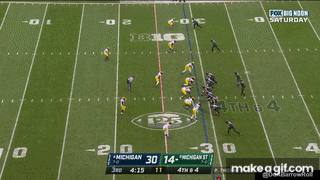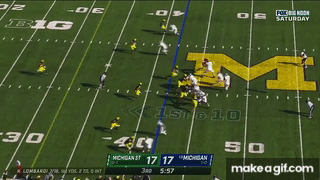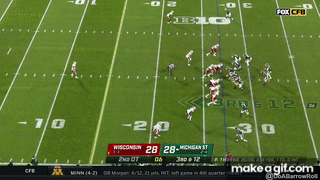 Despite 17th-percentile height and a 26th-percentile vertical, you can see the concentration from Reed winning those, including the game-clincher against Wisconsin in the final clip.
Unfortunately, he posted an unspectacular 50% contested catch rate for his college career, according to Pro Football Focus. Last season marked the only year that Reed performed particularly well in that category (64.7% catch rate).
Also, perhaps a couple of those wouldn't have been so contested if he had created more separation.
Speaking of creating separation …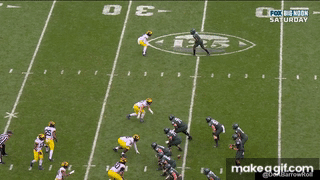 That's a meh route for a smaller wideout touted as quick. Reed will need to fare better in close quarters if he's to succeed in the NFL.
I'd love to show you more, but there wasn't much else of note. Sure, this marked just five of Reed's 43 career games. But you'd like to see more from an NFL prospect over pretty much any sample – especially when it includes two games apiece from his redshirt junior and senior seasons.
Downgrade Reed for Lacking Tape?
Rather than cast Reed aside, though, I'll lean on the analysis of others who have watched him more.
NFL Network's Daniel Jeremiah calls Reed a third-round pick, saying, "I think he's got a chance to be a really good No. 3 [receiver], maybe even grows into a No. 2."
Pro Football Focus calls him a "complete three-level route-runner," rating Reed the No. 12 WR prospect and No. 89 overall.
The Athletic's Dane Brugler puts Reed 10th among WRs and 75th on his overall board.
Lance Zierlein rates Reed in the range of "average backup or special-teamer" and comps him to limited former Eagles slot WR Greg Ward. Yet even Zierlein says, "His ball skills and feel for positioning on deep throws and jump balls are unquestioned."
Where Does Jayden Reed Land in the Dynasty Rankings?
Everyone has dynasty rankings. But not like these ...
Our dynasty rankings start with the award-winning Draft Sharks projections. Then we apply career aging curves specific to each player type.
The result: You get 1-year, 3-year, 5-year, and even 10-year outlooks for every player.
Not only that, you get a specific DMVP value for each player customized to your league format.
So you get a clear picture of who to select at every turn of your dynasty rookie draft. And you'll know exactly where the value lies in your dynasty trades.
See where Jayden Reed sits in our dynamic dynasty rankings.
More Dynasty Strategy
Build Your Dynasty Team to Compete Every Season