Zay Flowers Dynasty Fantasy Football Value
Zay Flowers, WR, Ravens
Height: 5'9
Weight: 182
BMI: 26.9
Age: 22.6
NFL Draft Pick: Round 1, Pick 22
Draft Sharks Model Score: 7.74
Analytics Score: 0.61
Film Score: 0.48
Production Score: 0.62
Player Comp: Jahan Dotson
Zay Flowers Dynasty Fantasy Football Value
There's plenty to like about Flowers.
He produced in spite of crappy QB play at Boston College, breaking out as a sophomore and registering strong market shares as a junior and senior.
He's a fun watch: explosive in his routes and dynamic after the catch.
Will Size Limit Flowers' Dynasty Value?
But there are real concerns, too. Flowers is small. And it's not just the 5'9, 182-pound frame. It's his 2nd-percentile arm length and 9th-percentile wingspan.
Flowers played primarily on the outside at Boston College and was even able to win his share of contested catches.
That stuff might not fly against bigger, stronger NFL CBs. It's more likely that Flowers spends most of his time as a pro in the slot.
More Concerning Numbers
His analytical profile has warts, too. The market shares are nice, but Flowers fared just OK in advanced metrics such as yards per route run and Pro Football Focus receiving grade.
He also spent 4 years in college and will turn 23 in September.
Zay Flowers Team Fit: Baltimore Ravens
The Ravens snagged Flowers with the 22nd overall pick of the 2023 NFL Draft, just behind Jaxon Smith-Njigba and Quentin Johnston and right in front of Jordan Addison.
More Passing in Baltimore?
The Flowers pick is part of what looks like a philosophy shift in Baltimore.
A Ravens squad that's been run-heavy since QB Lamar Jackson took over midway through 2018 also signed WR Odell Beckham Jr. this offseason and replaced OC Greg Roman with OC Todd Monken.
The Ravens averaged a -5.5% pass rate over expected under Roman over the past four seasons.
Monken, meanwhile, has averaged a +1.8% PROE across four seasons as an NFL OC.
We'll see exactly how much the Ravens lean toward the pass under Monken. We're not expecting them to become the Chiefs or Bills. But ascending into the top half of the league in pass attempts is certainly possible.
2023 Fantasy Value
That'd be good news for Flowers, who joins a WR corps that includes Beckham and 2021 first-rounder Rashod Bateman.
It wouldn't be surprising to see those three finish in any order this season in fantasy.

Flowers sits 3rd among the trio in our 2023 fantasy football PPR Rankings as of mid-May -- but that's subject to change throughout the summer.
Long-Term Dynasty Value
Looking beyond this season: Beckham is signed for only 2023. But Bateman is under contract through 2024 with a team option for 2025. And target-hogging TE Mark Andrews is signed through 2025.
It's not a particularly easy path to targets for Flowers.
On the plus side, there's QB stability after Jackson agreed to a new deal that keeps him in Baltimore for the next five seasons.
Ultimately, we wouldn't call this a bad landing spot for Flowers. But it does seemingly hurt his chances of hitting his ultimate fantasy upside.
That's reflected in Flowers' spot in the dynasty WR rankings.
Dynasty Valuation
Our Dynasty Draft War Room assigns dynamic player values based on your league's specific settings. These values range from 100 to 0, with 100 being the most valuable player in your league and 0 being the worst rostered player. Use these values to compare players at the same position and across positions for help with draft, trade and add/drop decisions.
Zay Flowers Dynasty Values:
Dynasty: 1-QB, Non-PPR – 42.9
Dynasty: 1-QB, PPR – 38.0
Dynasty: 1-QB, PPR, TE Premium – 37.8
Dynasty: Superflex, Non-PPR – 27.4
Dynasty: Superflex, PPR – 27.6
Dynasty: Superflex, PPR, TE Premium – 27.0
Zay Flowers Combine Results
Wingspan: 72.25"
Arm length: 29.25"
Hand size: 9.25"
40-yard dash: 4.42 seconds
10-yard split: 1.53 seconds
Bench press: DNP
Vertical: 35.5"
Broad jump: 10'7
3-cone drill: DNP
20-yard shuttle: DNP
Percentiles vs. Combine wide receivers since 1999, per MockDraftable.
Zay Flowers College Stats
| | | | | | | |
| --- | --- | --- | --- | --- | --- | --- |
| year | games | Targets | Receptions | rec. Yards | yards per rec. | tds |
| 2019 | 13 | 38 | 22 | 341 | 15.5 | 3 |
| 2020 | 11 | 103 | 56 | 892 | 15.9 | 9 |
| 2021 | 12 | 82 | 44 | 746 | 17.0 | 5 |
| 2022 | 12 | 124 | 78 | 1077 | 13.8 | 12 |
Flowers played WR and DB as a high schooler at NSU University School in Fort Lauderdale, Fla.
He was tabbed a three-star prospect by most scouting services and opted for Boston College over scholarship offers from 15+ other colleges, including South Carolina, North Carolina State, and Kentucky.
Dual Threat as a Freshman
Flowers earned a significant role as a true freshman, playing 45% of Boston College's offensive snaps.
He finished third on the team in catches, receiving yards, and receiving TDs. His solid 1.82 yards per route run ranked second among the team's WRs.
Flowers was also a weapon on the ground, carrying 27 times for 195 yards and one score.
Sophomore Breakout
Flowers stepped into a full-time role as a sophomore, leading the team in route rate (93%), catches, and receiving yards.
TE Hunter Long, a 2021 third-round pick, edged Flowers in catches, 57 to 56.
The sophomore season looks even better from a market share perspective. Flowers accounted for 23.1% of BC's catches, 28.5% of the receiving yards, and 39.1% of the receiving TDs.
He added another 41 yards and a score rushing and was named first-team All-ACC.
Sneaky Good Junior Season in a Bad Offense
Flowers' raw numbers went backward as a junior, but we can blame Boston College's offense.
The Eagles sunk from 284 passing yards per game in 2020 to just 185 per game in 2021, ranking 107th in the nation.
Flowers actually improved his overall market shares from his sophomore season, collecting 26.0% of his team's receptions, 33.7% of the receiving yards, and 36.1% of the TDs.
He also posted a career-best 2.27 yards per route run. That ranked just 87th among 334 qualifying WRs. But we again need to take into account the context of Boston College's offense.
The team's No. 2 and 3 receivers registered 1.46 and 0.98 yards per route, respectively.
Career-Best Senior Year
Flowers opted to return to school for his senior season and came away with career highs across the board.
He ranked 17th in the country in catches, 20th in receiving yards, and tied for fifth in TDs.
Flowers also set personal bests with a 29.8% share of BC's receptions, 36.3% of the receiving yards, and a huge 57.1% of the receiving scores.
Flowers' 76.1 Pro Football Focus receiving grade was another career high, although it still ranked just 77th among 377 qualifying WRs.
He was named first-team All-ACC and a Biletnikoff Award semifinalist.
Productive … And Reliable
Flowers left Boston College as the school's leader in career receptions (200), receiving yards (3,056), and receiving TDs (29).
It's also worth noting that he didn't miss a single game across his four college seasons.
Zay Flowers Highlights
Games watched: North Carolina (2020), Clemson (2021), Syracuse (2021), Rutgers, Wake Forest
No Help From QBs
Let's get this out of the way: Flowers dealt with some BAD QB play over the past few years.
QBs missing – or not even looking at him – when he was wide open.
While Jalin Hyatt's production was boosted by his offense, Flowers' was undoubtedly hampered.
Catch Radius & Hands
That said, Flowers isn't the easiest target to hit. Not only is he just 5'9 and 182 pounds, but he has second-percentile arm length and a ninth percentile-wingspan. That's a small catch radius.
Plus, Flowers' hands are inconsistent. He dropped 10.8% of his catchable targets over four college seasons, according to Pro Football Focus.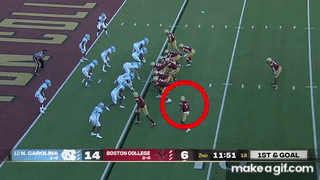 How Good in Contested Situations?
You might read that Flowers is a strong contested-catch receiver – or see highlights of him winning 50-50 balls.
He certainly flashes that ability on occasion.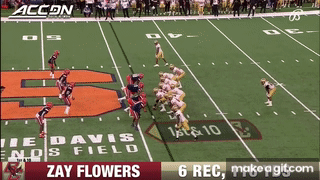 But it'd be a stretch to call it a dominant trait. There are plenty of instances on Flowers' tape when his size or hands prevent him from beating a defender for the ball.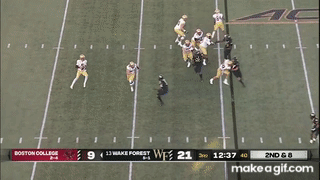 Per Pro Football Focus, Flowers came down with a respectable-but-not-spectacular 48.5% of his contested opportunities for his career.
Where He Wins
Flowers does his best work in the short and intermediate areas

He has the technique and quickness to defeat press coverage. And, while not completely polished, he runs his routes with impressive speed and explosive breaks.
Here's an example of Flowers' route-running skills … and the QB play he dealt with: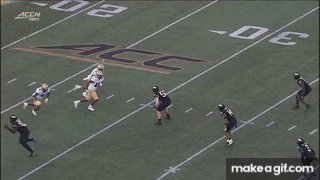 Dynamic After the Catch
Flowers' best asset is his after-catch ability.
He's a jitterbug with the ball in his hands, with start/stop and change-of-direction skills that make him a nightmare to tackle in the open field.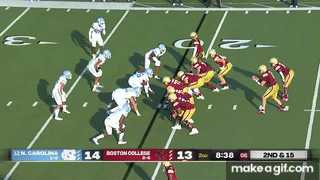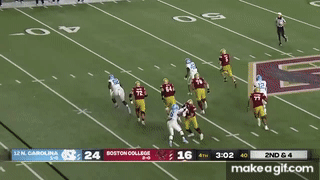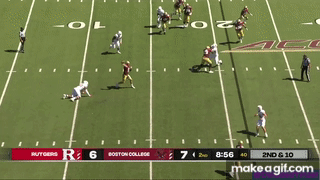 Flowers' after-catch ability will certainly translate to the next level and add to his dynasty value.
Where Does Zay Flowers Land in the Dynasty Rankings?
Everyone has dynasty rankings. But not like these ...
Our dynasty rankings start with the award-winning Draft Sharks projections. Then we apply career aging curves specific to each player type.
The result: You get 1-year, 3-year, 5-year, and even 10-year outlooks for every player.
Not only that, you get a specific DMVP value for each player customized to your league format.
So you get a clear picture of who to select at every turn of your dynasty rookie draft. And you'll know exactly where the value lies in your dynasty trades.
See where Zay Flowers sits in our dynamic dynasty rankings.
More Changing Dynasty Values ...
C.H. Herms breaks down the five biggest surprises of the 2023 NFL Draft -- and what they mean for your dynasty team.