You may have heard some diminishing comments on the top fantasy rookies for 2023…
Things like:
There are only a couple of blue chip players.
Or:
WR lacks anything close to a Ja'Marr Chase-level talent.
Sure. Overall, the top 2023 fantasy rookies don't look particularly exciting.
But does that mean you can't find upgrades for your dynasty squads? Or even redraft value?
Of course not. Let's hit the rookies you need to know from the 2023 NFL Draft.
See where rookies rank alongside veterans across ALL fantasy formats.
*Ready to jump into the redraft waters? Our 2023 fantasy football rankings have been out for weeks -- and they'll remain updated until Week 1!
Top Fantasy Rookies 2023: Quarterbacks (QB)
Bryce Young, Panthers
Aside from a small frame, Young's nearly a flawless prospect. The 21-year-old can make all the throws and is equally effective outside the pocket and in.
Unsurprisingly, he went first overall to a Panthers team that only features Andy Dalton as camp competition. We forecast a full starting season for the former Alabama star.
Get the full rundown on Bryce Young and his dynasty forecast.
C.J. Stroud, Texans
A productive two-year starter, Stroud operates from the pocket with veteran-like poise.
Rewatch the Georgia game from December and you'll see the most impressive tape of any rookie QB. Unlike most of the year, Stroud made plays off script and proved dynamic on scrambles.
But will his rushing ability routinely shine in Houston? That question leaves him as more of a high-floor, iffy-ceiling fantasy prospect.
Check out our complete fantasy breakdown of C.J. Stroud
Anthony Richardson, Colts
Richardson isn't the safest prospect in the 2023 NFL Draft. He's a one-year starter, and his accuracy needs refining.
But with unmatched rushing ability, Richardson is easily the top fantasy rookie at QB. And that's what you should chase in your dynasty rookie draft.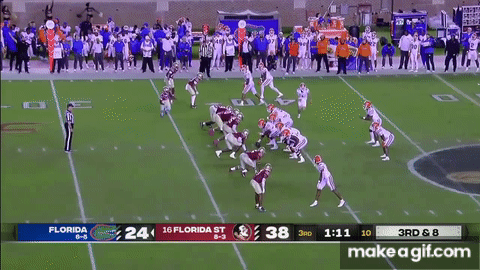 Get the complete dynasty outlook on Anthony Richardson.
Will Levis, Titans
Levis regressed in 2022. But injuries, a coaching change, and a poor supporting cast hurt.
He displayed the upside case in 2021 by flashing exceptional arm talent. If Tennessee can harness it, Levis could quickly rise in the dynasty QB rankings. Note that QB Ryan Tannehill is set to enter a contract season.
Learn more about what makes Will Levis a polarizing dynasty QB.
Hendon Hooker, Lions
Hooker, 25, posted huge numbers over the past two college seasons. He's a plus athlete with adequate arm talent.
But a November ACL tear complicated his draft status. So did a Tennessee offense that supplied well-defined reads.
Both factors contributed to Hooker landing with Detroit in Round 3 (68th overall). If Jared Goff's resurgence continues, Hooker probably sticks in a backup role for the foreseeable future.
View our in-depth dynasty evaluation of Hendon Hooker.
Top Fantasy Rookies 2023: Running Backs (RB)
Bijan Robinson, Falcons
Find me one person who doesn't rank Robinson as the RB1.
(Or the top overall fantasy asset in this class.)
The Longhorn wins on the ground with rare elusiveness, power, and vision. Robinson's talents extend to the receiving game, where he should develop into a 50+ catch player with Atlanta.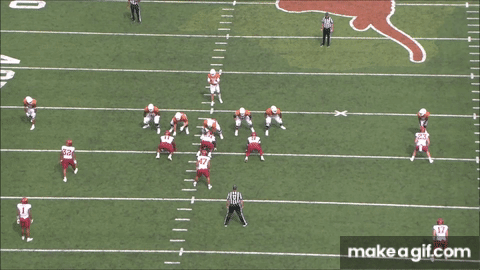 Get the lowdown on what makes Bijan Robinson an exceptional fantasy prospect.
Jahmyr Gibbs, Lions
Gibbs is the top receiving back in this class and the consensus No. 2 RB behind Bijan Robinson.
Sure, he's not built like a lead rusher at 199 pounds. But there's legit 70-80 catch upside in the right fit.
Consider this stat as well: Per Pro Football Focus, Gibbs forced 19 missed tackles on 44 catches in 2022-- one of the best RB rates in the country.
Landing with the D'Andre Swift-less Lions, Gibbs is going to be a Day 1 asset for fantasy managers.
Get our complete fantasy evaluation of the explosive Jahmyr Gibbs.
Zach Charbonnet, Seahawks
A well-rounded prospect, Charbonnet gives off major James Conner vibes.
Over the past two seasons, the Michigan transfer tallied 2,496 yards – plus 61 receptions.

Charbonnet weighed in at 214 pounds at the Combine, likely in an effort to test optimally. Yet he played north of 220 (per NFL Network's Daniel Jeremiah). So there's a lead-back frame here.
The Seattle landing spot muddies Charbonnet's long-term outlook. But he's talented enough to push for playing time right away -- especially on passing downs -- alongside Kenneth Walker.
Check out our complete fantasy breakdown of Zach Charbonnet.
Tyjae Spears, Titans
Credit Spears for overcoming a 2020 ACL tear. His best work came last fall, as he ranked top 5 nationally in rushing yards (1,581) and TDs (19).
Oh, and he averaged nearly 7.0 YPC(!)
A strong Senior Bowl showing only helped him land in Tennessee come Round 3. He'll likely spell Derrick Henry this fall, but our guess is Henry plays elsewhere in 2024. The veteran was the subject of trade rumors this offseason.
Check out our complete fantasy evaluation of Tyjae Spears -- including his unique comp.
Devon Achane, Dolphins
Achane's game is all about speed.
And at 188 pounds … it better be.
While he'll never achieve workhorse status, Achane could settle into ~12 weekly touches at his peak. And you have to love the landing spot alongside rising young HC Mike McDaniel. The 2022 Dolphins ranked 5th in yards per game; 2nd in yards per play.
Achane's pass-catching ability provides a nice boost for those in full PPR leagues.
Check out the enticing fantasy outlook for Devon Achane.
Just missed: Tank Bigsby, Kendre Miller, Roschon Johnson
Top Fantasy Rookies 2023: Wide Receivers (WR)
Jaxon Smith-Njigba, Seahawks
In 2021, Smith-Njigba out-produced teammates Garrett Wilson and Chris Olave.
Check out these numbers for the incoming rookie:
95 catches
1,696 yards
9 TDs
Had a hamstring injury not ruined his 2022, we might be talking about a top-10 lock. Still, JSN's ability to separate out of the slot bodes well for his PPR value.
The main question here: Who's Seattle's long-term QB? That remains to be seen, although for now, Geno Smith is under contract for three more seasons.
See more of what makes Jaxon Smith-Njigba a fantasy prospect worth betting on.
Quentin Johnston, Chargers
Johnston brings "X" receiver size at 6'3, 208 pounds. He wins both downfield and after the catch.
The criticism is clear: Johnston struggled with drops at TCU. He's not an advanced route runner, either.
At only 21, though, he's certainly got room for growth. And the landing spot with the Chargers looks excellent long-term. GM Tom Telesco should extend Justin Herbert's contract this offseason.
Check out our complete fantasy assessment of Quentin Johnston.
Zay Flowers, Ravens
Flowers stands just 5'9, 182 pounds. So it's a good thing he's dynamic both in his routes and after the catch.
He broke out as a 20-year-old sophomore, posting 56-892-9 on a bad BC offense. Following a career-best 2022 (78-1077-12), Flowers landed in Baltimore with the 22nd overall pick.
While the Ravens' pass catching corps looks crowded now, Flowers could blossom into the No. 2 option come 2024. Having Lamar Jackson locked up long-term certainly provides peace of mind for dynasty owners.
View our full fantasy evaluation of Zay Flowers.
Jordan Addison, Vikings
It was a rough pre-draft process for Addison.
At the Combine, he stood 5'11, 173 pounds. He also underwhelmed in the testing department.
But on the field? Addison looks like a smooth mover with easy separation skills.
He really showed that in 2021 when he and Kenny Pickett hooked up for 100-1,593-17 at Pittsburgh.
As expected, he stuck as a Round 1 pick in April. He won't ascend beyond a No. 2 target as long as Justin Jefferson remains in town. But we like the floor here -- especially in a Kevin O'Connell offense that should continue leaning pass.
Check out our complete fantasy breakdown of Jordan Addison.
Jalin Hyatt, Giants
Hyatt is the Devon Achane of this WR class.
The Volunteer lacks bulk. But, man, he can fly.

He showed that in the SEC with 18.9 yards per catch in 2022.
We're looking at just one year of production, though. Hyatt's numbers were also juiced up by a college-style offense.
So, is he something close to the next DeSean Jackson? Or does a speed-reliant skill set make the new Giant overrated?
Get our in-depth dynasty breakdown on Jalin Hyatt.
Just missed: Josh Downs, Marvin Mims, Rashee Rice, Jayden Reed
Top Fantasy Rookies 2023: Tight Ends (TE)
Dalton Kincaid, Bills
Kincaid looks more like a WR than a TE on tape. At 6'4, and 246 pounds, he excels at creating separation and making tough catches.
Kincaid didn't test at the Combine (or his Pro Day) due to a back injury. But that didn't stop Buffalo from spending the 25th overall pick on him.
Sure, he joins a squad that already features Dawson Knox (who's on a second contract, too). Still, Kincaid is expected to play a big slot role alongside Josh Allen.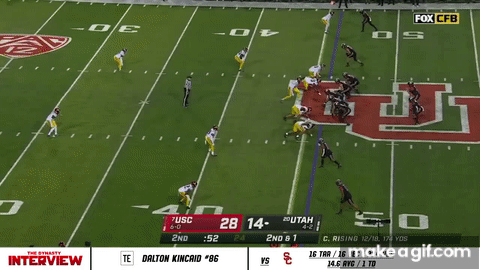 Learn why we're fired up over the dynasty value of Dalton Kincaid.
Sam LaPorta, Lions
YAC ability is LaPorta's superpower.
He's not George Kittle, but LaPorta looks similar in that category.
The league appeared high on him pre-draft, and the Lions confirmed the belief by selecting him in Round 2. Detroit supplies an immediate opportunity to soak up snaps. And Jameson Williams' 6-game suspension only increases the chance of LaPorta flashing early on.
Learn more about why Sam Laporta carries an exciting dynasty profile.
Michael Mayer, Raiders
If you're looking for an all-star tester, look elsewhere.
If you're looking for a reliable, three-year producer – with the polish of a 10-year vet – Meyer's your guy.
The 21-year-old surprisingly lasted until Round 2, but this team fit at least looks strong. He'll compete for year one snaps against uninspiring vets like Austin Hooper and O.J. Howard.
Get the complete profile on Michael Mayer and his long-term dynasty outlook.
Luke Musgrave, Packers
Musgrave earned a spot on the Mackey Award Watch List before last season.
But then he missed all but two games with an MCL tear.
The good news? He was healthy enough to participate in the Senior Bowl, where his high-end speed (at 6'6, 253 pounds) stood out.
Musgrave confirmed his freakish ability at the Combine with a near-perfect Relative Athletic Score.
Green Bay loved him enough to invest Round 2 draft capital. Unfortunately, they added some uncertainty here by spending a Round 3 pick on South Dakota State TE Tucker Kraft.
See what high-end athleticism means for the dynasty value of Luke Musgrave.
Darnell Washington, Steelers
A five-star recruit…
With a 6'7, 264-pound frame…
And athleticism rarely found at TE.
Washington's production stunk at Georgia, but there's plenty to mold here. Unless, of course, the Steelers lean into his blocking ability...
And since Pittsburgh already features Pat Freiermuth -- only in year three -- that risk is real. Washington, a Round 3 pick, also needs to overcome durability concerns.
See how the supersized Darnell Washington projects for dynasty leagues.
Just missed: Tucker Kraft, Luke Schoonmaker, Zack Kuntz, Josh Whyle
Want more fantasy stats and intel on each position? Check out these 3-5 minute reads:
Best Rookie Running Backs (RBs) 2023
Best Rookie Tight Ends (TEs) 2023
Best Rookie Wide Receivers (WRs) 2023
Best Rookie Quarterbacks (QBs) 2023
Draft Impact
We discussed the impact of NFL Draft landing spots on some key rookies in this video -- along with revealing some potential dynasty sleepers ...